PRAYERS OF TRUST IN THE SACRED HEART OF JESUS
THE FIVE FIRST SATURDAYS IS A DEVOTION NEEDED NOW MORE THAN EVER! FIND OUT MORE HERE
THE SAINT MICHAEL PRAYER AND THE ROSARY
ARE ALSO POWERFUL PRAYERS TO HELP US THROUGH VERY TURBULENT TIMES!
GROW IN FAITH AND PRAYER WITH HALLOW!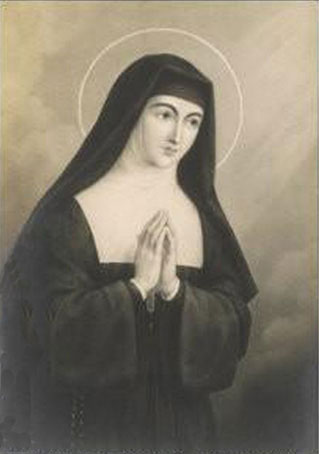 This prayer of Trust in the Sacred Heart of Jesus directly below was written by St. Margaret Mary Alacoque, a 17th century French nun, pictured above, who received numerous visions from Jesus in which he urged her to spread devotion to His Sacred Heart.
During one of these, she saw His Sacred Heart in the image we know best today as described here in flames, surrounded by thorns, surmounted by the Cross, burning with love so often unrequited for humanity!
It has been said that it is easier to love our Lord than to trust in Him. When we face our crosses, doubts naturally emerge. Am I doing what is right in God's eyes? Can I discern the right path ahead in terms of jobs, family, and other such matters when there seem to be so many forks in the road? What about when I get anxious or scared that my crosses will overwhelm me?
This prayer of Trust in our Lord is all the more comforting and powerful in that it goes straight to His Sacred Heart, asking us in effect to turn all our worries over to Him!
Jesus, I believe in Your personal love for one so sinful and worthless as I am
(Repeat after each of the following: Heart of Jesus, I put my trust in You.)
I believe that Your love for me is from all eternity and that it is as tender as a mother's love.
I believe that You have lovingly and wisely planned everything that shall ever happen to me.
I will never seek pleasure forbidden by You and will never lose heart in my efforts to be good.
I will accept the crosses of life as I accept its joys, with a grateful heart, and I will always pray, "Your holy will be done in all things."
I will not be worried or anxious about anything, for I know You will take care of me.
However weak or sinful I may be, I will never doubt Your mercy.
In all my temptations...
In all my weakness…
In all my sorrows…
In every discouragement…
In all my undertakings…
In life and in death…
Heart of love, I put all my trust in you; for I fear all things from my own weakness, but I hope for all things from Your goodness.
All this might seem like a tall order for any of us. By ourselves, it is indeed! But with God's help and grace, it becomes easier to follow the path to holiness laid out in this prayer. Those seemingly insurmountable obstacles become manageable, or at least easier to bear!
We'd like to offer here another Prayer of Trust in the Sacred Heart of Jesus that pays tribute to St. Margaret Mary. This one is short, to the point, and very inspiring.
O God, who didst in wondrous manner reveal to the virgin, Margaret Mary, the unsearchable riches of Thy Heart, grant that loving Thee, after her example, in all things and above all things, we may in Thy Heart find our abiding home.
St. Margaret Mary called confidence the "Key to the Heart of Jesus." She once wrote "Have great confidence in God and never distrust His mercy, which infinitely surpasses all our misery."
If we trust in Him to answer our prayers in accordance with His will, His light will shine through all the dark and murky corners of our lives, even if we don't see this happening right away.
We must be patient as well as persistent, however. It has been said that a confiding soul's perseverance in prayer will never be confounded.
St. Margaret Mary herself, like all the saints, had her moments of weakness, illness, and trials in her life. Yet she understood the importance of having confidence in God to get her through such moments.
At one point before she became a nun she cried out to Him looking for spiritual direction "Lord, give me someone to guide me!" To which our Lord replied: "Am I not sufficient for thee?" During one intense apparition, she cried out "Have pity on my weakness." Jesus replied "I shall be your strength."
It is no wonder then, that she once wrote "Notwithstanding my weakness, I am no longer afraid; I have placed my confidence in God Who can do all things, and from Whom I hope all things, for I rely not on myself."
HELP SUPPORT OUR WEBSITE WITH PURCHASES
FROM OUR BOOK AND GIFT STORE
OR CAFE PRESS STORE!
CHECK OUT OUR PODCASTS HERE!

22

Return from Trust to Prayers to
the Sacred Heart of Jesus