PRAYERS TO CHOOSE A VOCATION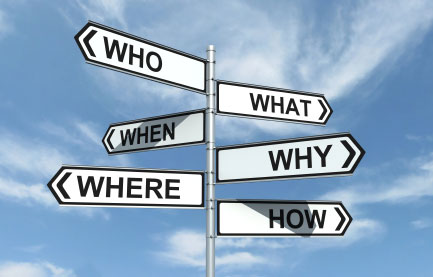 THE FIVE FIRST SATURDAYS IS A DEVOTION NEEDED NOW MORE THAN EVER! FIND OUT MORE HERE
THE SAINT MICHAEL PRAYER AND THE ROSARY
ARE ALSO POWERFUL PRAYERS TO HELP US THROUGH THESE VERY TURBULENT TIMES!
Why are we here? These prayers to choose a vocation shed light on this perplexing question by having us turn to God for an answer. The old Baltimore Catechism (#3, Q. 150) reminds us famously that God made us "to know Him, to love Him, and to serve Him in this world and to be happy with Him forever in the next, [in Heaven]."
St. Paul points out that while we all have our place in the mystical body of Christ (His church), each of us has a different mission in serving Him, just as the human body has different parts with different functions (1 Cor , Ch. 12; Rom 12:3-8). And yet, how do we recognize our calling in life, if it doesn't seem readily obvious, as is the case for most of us? It seems harder at times to discern than to do God's will for us.
This first of these prayers to choose a vocation, from a 19th Century "Manual of Catholic Prayers", says in effect, with humility, "Thy will be done."
O Lord, I beseech Thee to grant me Thy divine light, that I may know the designs of Thy providence concerning me, and that, filled with a sincere desire for my soul's salvation, I may say, with the young man in the Gospel: What must I do to be saved? All states of life are before me; but still undecided what to do, I await Thy commands. I offer myself to Thee with restriction, without reserve, with a most perfect submission.
Far be it from me O Lord, to oppose the order of Thy wisdom, and, unfaithful to the inspiration of Thy grace, to strive to subject the will of the Creator to the caprice of the creature. It is not for the servant to choose the way in which he will serve his master: do Thou lay upon me what commands Thou pleasest. My lot is in Thy hands. I make no exception, lest perchance what I except be that which Thou willest, and because I am too short-sighted to discover in the future the different obstacles I shall meet with, if without Thy guidance, I make myself the arbiter of my own conduct. Speak, Lord, to my soul; speak to me as Thou didst to the youthful Samuel: Speak, Lord; for Thy servant heareth. I cast myself at Thy feet, and I am ready, if it be Thy will, to sacrifice myself as a victim to Thee for the remainder of my days, in such ways as Thou shall deem most worthy of Thy greatness.
O my God, inspire the affections of my parents and guide their projects according to the counsels of Thy wisdom. Lord, I sincerely desire to consult Thee who are the Eternal Truth; grant that my parents also may submit themselves to its decrees, faithfully and without reserve.
Note here the scriptural references to the rich young man in the Gospels (Matt 19:16-22) and also to the prophet Samuel's introduction to God ("Speak Lord; for Thy servant heareth"; 1 Samuel 3:10).
This prayer, in making reference to one's being sacrificed as a victim, also recalls St. Paul's words "I have been crucified [to his old ways] with Christ. I live; yet now, it is not I, but truly Christ, who lives in me" (Gal 2: 19-20) The closing section referring to one's parents makes a loving conclusion.
This second prayer pleads more directly for discernment:
God of wisdom and of counsel, You see in my heart a sincere desire to please You alone and to conform myself entirely to Your holy Will in the choice of my state in life. Grant me, I humbly implore You, by the intercession of the Blessed Virgin, my Mother and my holy Patrons, the grace to know what state in life I should choose and to embrace it when known, in order that thus I may seek Your glory and increase it, work out my own salvation, and deserve the heavenly reward which You have promised to those who do Your holy Will. Amen.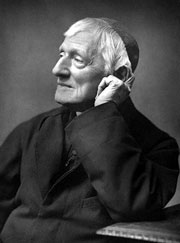 And finally, we offer among our prayers to choose a vocation this wonderful selection from John Henry Cardinal Newman, (pictured at left) author of the hymn Lead Kindly Light.
Cardinal Newman suffered some of the trials by fire listed in the prayer below in the 19th Century when he converted from Anglicanism, a move that hurt his relationships with friends and colleagues.
An influential figure in Catholicism, whose writings have inspired the faithful for generations, Cardinal Newman was beatified by Pope Benedict XVI in September, 2010.
God has created me to do Him some definite service. He has committed some work to me which He has not committed to another. I have my mission. I may never know it in this life, but I shall be told it in the next. I am a link in a chain, a bond of connection between persons. He has not created me for naught. I shall do good; I shall do His work. I shall be an angel of peace, a preacher of truth in my own place, while not intending it if I do but keep His commandments. Therefore, I will trust Him, whatever I am. I can never be thrown away. If I am in sickness, my sickness may serve Him, in perplexity, my perplexity may serve Him. If I am in sorrow, my sorrow may serve Him. He does nothing in vain. He knows what He is about. He may take away my friends. He may throw me among strangers. He may make me feel desolate, make my spirits sink, hide my future from me. Still, He knows what He is about.
This prayer reminds us of a fundamentally important truth in our faith: namely, that however cloudy or foggy our horizons may be, particularly in these troubling times, we are all precious in God's sight.
And while we may feel lost and anxious about our place in this world, remember that not one of us is useless to our Lord. Each of us is meant to be a "link in a chain" as Cardinal Newman puts it above.
We have to trust that God will help us to discern and fulfill His mission for each of us if we ask Him for His guidance with humility and sincerity. We may feel perplexed or anxious as to what our state in life should be. Yet we need not despair. God desires each of us to do His will in a particular way, which may or may not seem important to others.
St. Therese of Lisieux, the "Little Flower", became famous after her death for her "Little Way" of serving God, even in the most menial tasks, by doing everything out of love for Him. Furthermore, as St. Paul put it, as members of Christ's mystical body we all have God-given abilities, "different gifts, according to the grace that is given us" (Rom 12:6).
It is important however, not to brood if you don't get to make use of those talents in making a living. While God may ask us to bear crosses on our journey to Heaven, He will see us through our struggles if we strive to love Him, seek His will, and offer Him up our troubles for our salvation and that of others.
Ultimately, our vocation, whatever it may be, only has value if it serves God. It has been said that in the end, all that will matter is what we have done for God and for others.
May these prayers to choose a vocation help you find your role in reflecting His glory and helping yourself and others attain Eternal Life!
HELP SUPPORT OUR WEBSITE WITH PURCHASES
FROM OUR BOOK AND GIFT STORE
OR CAFE PRESS STORE!
CHECK OUT OUR PODCASTS HERE!

22

Return from Prayers to Choose a Vocation
to Prayers For Various Needs