PRAYERS TO
OUR LADY OF GOOD COUNSEL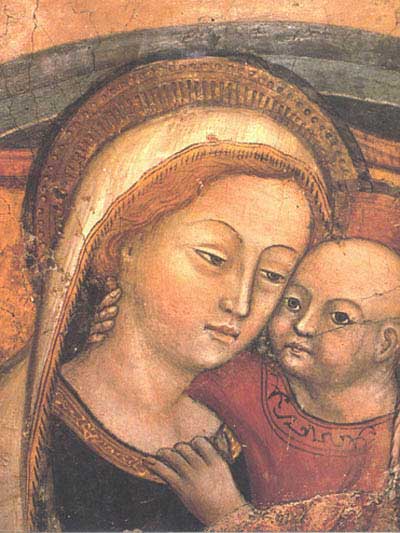 THE FIVE FIRST SATURDAYS IS A DEVOTION NEEDED NOW MORE THAN EVER! FIND OUT MORE HERE
THE SAINT MICHAEL PRAYER AND THE ROSARY
ARE ALSO POWERFUL PRAYERS TO HELP US THROUGH THESE VERY TURBULENT TIMES!
NOVEMBER IS AN ESPECIALLY IMPORTANT MONTH
TO PRAY FOR THE HOLY SOULS IN PURGATORY
WHO NEED AND ARE GRATEFUL FOR OUR PRAYERS!
THIS WEBPAGE IS ALSO AVAILABLE
AS A PODCAST HERE
This prayer to our Lady of Good Counsel, printed below, brings to mind the miraculous painting of her with her Divine Son, Our Lord and Savior Jesus Christ, shown above. According to tradition, it appeared in a church dedicated to the Mother of Good Counsel in Genazzano, Italy, a town 30 miles from Rome, on St. Mark's Feast Day, April 25, in 1467.

The painting, a fresco, was seen suspended in mid–air after a cloud descended on the church there. It was done on an eggshell-thin layer of plaster or porcelain, and it apparently had been supernaturally "transported" from its original location in Scutari, Albania, in a church that was threatened by Ottoman Turkish invaders.
The amazing thing about this wonderful picture was that it was so thin that it could not have been transported intact by any normal means, and yet here it was in a church in Italy!
Lest you be tempted to think this couldn't have really happened, remember the Angel Gabriel's words to our Blessed Mother at the Annunciation, when he informed her that she, although a virgin, was to be the Mother of our Savior: "Nothing shall be impossible with God" (Luke 1:37).
This prayer to our Lady of Good Counsel, like many other good Marian prayers, asks for Our Blessed Mother's help in obtaining our salvation. Note the reference to our earthly existence as being a "vale of tears", an expression we find also in the Hail Holy Queen. Also, we read of Jesus as being the "Eternal Word made flesh" a moving reference to our Lord found in the beginning of John's Gospel (John 1:14), as well as in the Angelus. 
Most Glorious Virgin, chosen by the Eternal Counsel to be the Mother of the Eternal Word made flesh, thou who art the treasurer of Divine graces, and the advocate of sinners, I, thy most unworthy servant, have recourse to thee; be thou pleased to be my guide and counselor in this vale of tears. Obtain for me through the Most Precious Blood of thy Divine Son, the forgiveness of my sins, the salvation of my soul, and the means necessary to obtain it. In like manner, obtain for Holy Mother the Church victory over her enemies, and the spread of the kingdom of Jesus Christ upon the whole earth. Amen.
Pope Paul II sent two bishops to investigate the image of Our Lady of Good Counsel and the numerous miracles that took place following its appearance at this church (by one account 171 alone in the period from April 27 to August 14, 1467)!
The fresco is still there to this day, having survived earthquakes over the centuries and even aerial bombardment in World War II, which otherwise destroyed much of the church.
Many popes have been great champions of Our Lady of Good Counsel and her image. Paul II first approved devotion to her. Popes Urban VIII, Pius IX and John XXIII all made trips to the church in Genarazzo to honor her. Pope Benedict XIV established the Pious Union of Our Lady of Good Counsel in 1753, which has included among its members the popes Pius VIII, Pius IX, Leo XIII, and Pius XII, who placed his papacy under her maternal care. He later composed this prayer to Our Lady of Good Counsel, which can be used as a novena:
O Holy Virgin, to whose feet we are led by our anxious uncertainty in our search for and attainment of what is true and good, invoking you by the sweet title of Mother of Good Counsel, we beseech you to come to our assistance, when, along the road of this life, the darkness of error and of evil conspires towards our ruin by leading our minds and our hearts astray. O Seat of Wisdom and Star of the Sea, enlighten the doubtful and the erring, that they be not seduced by the false appearances of good; render them steadfast in the face of the hostile and corrupting influences of passion and of sin. O Mother of Good Counsel, obtain for us from your Divine Son a great love of virtue, and, in the hour of uncertainty and trial, the strength to embrace the way that leads to our salvation. If your hand sustains us, we shall walk unmolested along the path indicated to us by the life and words of Jesus, our Redeemer; and having followed freely and securely, even in the midst of this world's strife, the Sun of Truth and Justice under your maternal Star, we shall come to the enjoyment of full and eternal peace with you in the haven of salvation. Amen.
It is also worth noting, especially in these uncertain times for the church as for the world (and in many ways the two may be said to be linked together!) that Our Blessed Mother is ready, willing, and more than able to help us "in the midst of this world's strife". We need only to approach her for assistance in drawing closer to Jesus with fervent, humble prayer and devotion.
Keep in mind as well, regarding the line in the first of our prayers above about our Church's "victory over her enemies", that Pope Pius V credited Our Lady of Good Counsel with having helped the Holy League of forces from Catholic maritime states defeat the Muslim Ottoman Empire in the famous Battle of Lepanto in 1571. This was a decisive victory that kept Italy from being overrun by the Muslims. Let us also pray to Mary for help, as Pope Pius V did, in the midst of our own battles. Her feast day is April 26th.
HELP SUPPORT OUR WEBSITE WITH PURCHASES
FROM OUR BOOK AND GIFT STORE
OR CAFE PRESS STORE!
CHECK OUT OUR PODCASTS HERE!

22

Return from Prayers to Our Lady of
Good Counsel to Marian Prayers