PRAYERS TO ST. JOSEPH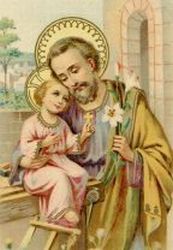 Prayers to St. Joseph, the foster-father of Jesus, date back almost as far as Our Lord's time! Although he came from King David's noble lineage, St. Joseph (left) lived a life of great humility and devotion to his Holy Family as a carpenter.
Matthew's gospel describes him as a "just man" (1:19). He is the patron saint of the Universal Church, and people invoke his aid for workers, families, home buyers and sellers, and the grace of a happy death, among other things. St. Thomas Aquinas once noted that St. Joseph is unique among patron saints in that he is able to assist us at anytime for anything.
St. Theresa of Avila echoed this sentiment when she wrote "I know by experience that the glorious St. Joseph assists us generally in all necessities. I never asked him for anything which he did not obtain for me."
This prayer is among the earliest prayers to St. Joseph, (from around A.D. 50) and also one of the best known:
Oh St. Joseph, whose protection is so great, so strong, so prompt before the throne of God, I place in you all my interests and desires.
Oh St. Joseph, do assist me by your powerful intercession and obtain for me from your divine son all spiritual blessings through Jesus Christ, our Lord; so that having engaged here below your heavenly power, I may offer my thanksgiving and homage to the most loving of Fathers.
Oh St. Joseph, I never weary contemplating you and Jesus asleep in your arms. I dare not approach while he reposes near your heart. Press Him in my name and kiss his fine head for me, and ask him to return the kiss when I draw my dying breath. St. Joseph, patron of departing souls, pray for us. Amen
These three prayers to St. Joseph tie in with the themes of a graceful life and a happy death:
Oh, Saint Joseph, foster-father of Jesus, most pure spouse of the Virgin Mary, pray for us daily to the same Jesus, the Son of God, that we, being defended by the power of His grace and striving faithfully in life, may be crowned by Him at the hour of death. Amen.
Blessed St. Joseph, I consecrate myself to your honor and give myself to you, that you may always be my father, my protector and my guide in the way of salvation. Obtain for me great purity of heart and a fervent love of the interior life. After your example, may I perform my actions for the greater Glory of God, in union with the Divine Heart of Jesus and the Immaculate Heart of Mary. Pray for me, Saint Joseph, that I may experience the peace and joy of your holy death. Amen.
Glorious Saint Joseph, spouse of the immaculate Virgin, obtain for me a pure, humble, charitable mind, and perfect resignation to the divine Will. Be my guide, my father, and my model through life that I may merit to die as you did in the arms of Jesus and Mary. Amen.
And finally, this prayer, known as St. Joseph's Blessing, captures what probably would have been his feelings in its expression of great love for his divine Foster Child:
May the poverty of my sweet and suffering little Child be your riches. His sighs and His tears the consolation of your days. The love of His adorable Heart your earthly treasure, your all. And the clear vision of His adorable and glorified humanity be your eternal joy and recompense. Amen
These prayers can help give us the kind of comfort and strength that he no doubt gave Jesus and Mary. We can truly thank God for St. Joseph's dedication to his Holy Family.
HELP SUPPORT OUR WEBSITE WITH PURCHASES
FROM OUR BOOK AND GIFT STORE
OR CAFE PRESS STORE!
CHECK OUT OUR PODCASTS HERE!

22

Return from Prayers to St. Joseph
to Prayers to Saints 




THE FIVE FIRST SATURDAYS IS A DEVOTION NEEDED NOW MORE THAN EVER! FIND OUT MORE HERE