PRAYERS TO THE INFANT JESUS OF PRAGUE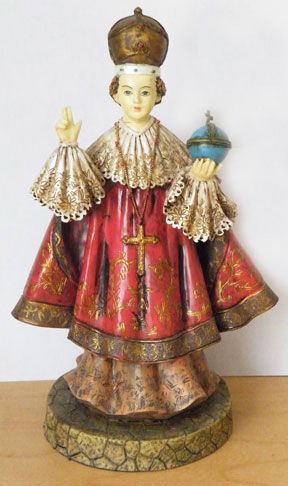 THE FIVE FIRST SATURDAYS IS A DEVOTION NEEDED NOW MORE THAN EVER! FIND OUT MORE HERE
THE SAINT MICHAEL PRAYER AND THE ROSARY
ARE ALSO POWERFUL PRAYERS TO HELP US THROUGH VERY TURBULENT TIMES!
JOIN IN THE 54-DAY ROSARY NOVENA
 FOR OUR NATION FROM AUGUST 15TH
TO OCTOBER 7TH, 2023 HERE!
THIS WEBPAGE IS ALSO AVAILABLE
AS A PODCAST HERE
These two prayers to the Infant Jesus of Prague printed below bring to mind a much beloved 19 inch high wax statue of our Lord by that name with an unusual history. (Although the original one is in Prague, it has become such an endearing symbol of Jesus' love and mercy that there are many copies of it available, like the one pictured above, in Catholic stores or on the Internet.)
If it can be said that a picture is worth a thousand words, this particular image above has been worth a thousand prayers! This statue has been the source of many blessings and miracles over the centuries and it has even been venerated by Pope Benedict XVI who added a special crown to its head when he visited the Our Lady of Victory Church in Prague, in the Czech Republic in September 2009!
While we as Catholics, do not worship statues (contrary to a mistaken opinion from some other Christian denominations), this particular one has brought many people closer to Jesus since it was first used for devotions in 1628. Transport yourself "in spirit" to the church in Prague where the original statue still stands and let Jesus help you with your intentions!
Dearest Jesus, tenderly loving us, Your greatest joy is to dwell among us and to bestow Your blessing upon us. Though I am not worthy that You should behold me with love, I feel myself drawn to You, O dear Infant Jesus, because You gladly pardon me and exercise Your almighty power over me. So many who turned with confidence to You have received graces and had their petitions granted. Behold me,in spirit I kneel before Your miraculous image on Your altar in Prague, and lay open my heart to You, with its prayers, petitions and hopes. Especially (mention your intentions here)... I enclose in Your loving Heart. Govern me and do with me and mine according to Your holy Will, for I know that in Your Divine wisdom and love You will ordain everything for the best. Almighty gracious Infant Jesus, do not withdraw Your hand from us, but protect and bless us forever. I pray You, sweetest Infant, in the name of Your Blessed Mother Mary who cared for You with such tenderness, and by the great reverence with which St. Joseph carried You in his arms, comfort me and make me happy that I may bless and thank You forever from all my heart. Amen
Legend has it that the statue was created by a monk who based it on an apparition he once saw of the Infant Jesus, and that St. Theresa of Avila owned it at one point. According to one account, it was given to María Manrique de Lara y Mendoza, a Spanish noblewoman in 1555 who in turn gave it to her daughter Princess Polyexa von Lobkowicz as a wedding gift in 1603.
The 19 inch high statue was no Christmas fruitcake being "regifted", however, far from it! The Princess gave it to the Discalced Carmelites in Prague in 1628 as a loving offering to help the destitute order. She is said to have told the religious that she was giving them her most prized possession and, furthermore, that as long as they venerated the image, they would never be in want. And, sure enough, once the statue was given special devotions at the monastery attached to the Church of Our Lady of Victory in Prague, fortuitous events for the order started taking place.
The Infant Jesus of Prague's story has some other twists and turns as well. In 1630, the Carmelite novitiate was transferred to Munich because of disturbances from the Thirty Years War, and the special devotions ceased. In the following year, the army of the anti-Catholic king of Sweden took possession of the churches of Prague and ransacked the Carmelite monastery where the statue was located.
The statue of the Divine Infant was thrown into a pile of trash there, where it remained with its hands broken off for 6 years. Fortunately, Father Cyrillus a Matre Dei found it, and placed it in the Church of Our Lady of Victory's oratory.
One day, while in prayer before the statue, he apparently heard the words "Have pity on me, and I will have pity on you. Give me my hands, and I will give you peace. The more you honor me, the more I will bless you." Father Cyrillus was able to have the statue repaired, when a donor of needed funds for its restoration materialized after the priest appealed to the Divine Infant and His Blessed Mother directly in prayer!
This wonderful prayer to the Infant Jesus of Prague is known as the Prayer of Father Cyrillus, truly one of his first champions!
Jesus, unto Thee I flee,
Through Thy Mother praying Thee 
In my need to succor me. 
Truly, I believe of Thee
God Thou art with strength to shield me; 
Full of trust, I hope of Thee 
Thou Thy grace wilt give to me. 
All my heart I give to Thee, 
Therefore, do my sins repent me; 
From them breaking, I beseech Thee, 
Jesus, from their bonds to free me. 
Firm my purpose is to mend me; 
Never more will I offend Thee. 
Wholly unto Thee I give me, 
Patiently to suffer for Thee, 
Thee to serve eternally. 
And my neighbor like to me
I will love for love of Thee. 
Little Jesus, I beseech Thee, 
In my need to succor me, 
That with Joseph and Mary
And the angels, I may Thee
Once enjoy eternally. Amen. 

Among the miracles and healings that followed from veneration of the Infant Jesus of Prague were the church's Prior's recovery from a major illness, and the protection of Prague from the Swedish army in 1639.
To this day the site of the Church of Our Lady of Victory in Prague attracts thousands of pilgrims each year, and there is a traditional procession and coronation of the Infant Jesus highlighting the annual Feast of the Infant Jesus in Prague.
Remember that Jesus is timeless! Just as we honor Him as a baby at Christmas, when we read in Isaiah how a little child will guide the coming messianic era of peace (Is 11:6), so too can we honor him as the Infant Jesus of Prague with the prayers above. 

And remember also what our Lord said in the Gospels: "Amen I say to you, unless you be converted, and become as little children, you shall not enter into the kingdom of heaven" (Matt 18:3). As long we approach Jesus with Childlike faith as children of our Heavenly Father, rather than being Childish, we should be on the right track!
HELP SUPPORT OUR WEBSITE WITH PURCHASES
FROM OUR BOOK AND GIFT STORE
OR CAFE PRESS STORE!
CHECK OUT OUR PODCASTS HERE!

22

Return from Infant Jesus of Prague 
to Special Prayers