REGINA COELI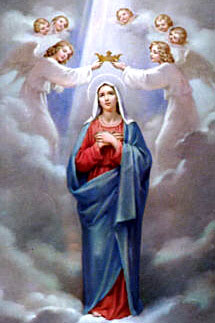 THE FIVE FIRST SATURDAYS IS A DEVOTION NEEDED NOW MORE THAN EVER! FIND OUT MORE HERE
THE SAINT MICHAEL PRAYER AND THE ROSARY
ARE ALSO POWERFUL PRAYERS TO HELP US THROUGH VERY TURBULENT TIMES!
GROW IN FAITH AND PRAYER WITH HALLOW!
THIS WEB PAGE IS AVAILABLE
AS A PODCAST HERE
The Easter prayer Regina Coeli ("Queen of Heaven" in Latin) is a wonderful tribute to our Lord's resurrection and to the Blessed Virgin Mary (pictured in her Coronation at left). Although its origins are unknown, it dates back to the 13th century. 
The Regina Coeli is one of four antiphons (short liturgical texts sung or chanted, often as seen below, in a responsorial pattern) dedicated to Our Lady. It is often sung as a hymn and has had numerous musical settings in its original Latin text, including several by Mozart.
Traditionally, it is prayed standing, often at noon, in place of another well-known prayer, the Angelus, during the Easter Season from Holy Saturday until Pentecost.

Queen of Heaven, rejoice. Alleluia.
For He, whom thou wast worthy to bear. Alleluia.
Has risen as He said. Alleluia.
Pray for us to God. Alleluia.
V. Rejoice and be glad, O Virgin Mary. Alleluia.
R. Because the Lord is truly risen, Alleluia.

Let us pray
O God, Who by the Resurrection of Thy Son, our Lord Jesus Christ, hast been pleased to give joy to the whole world, grant we beseech Thee, that through the intercession of the Blessed Virgin Mary, His Mother, we may attain the joys of eternal life. Through the same Christ, our Lord. Amen.
According to The Golden Legend, a famous 13th century work about the saints, Pope St. Gregory the Great heard angels singing the first three verses from the Regina Coeli during a procession in the 6th century and was inspired to add the fourth line "Ora pro nobis deum" ("pray for to us to God" in Latin). Although this story is itself considered to be a legend, it is, as Father Herbert Thurston once put it in his book Familiar Prayers, "inseparably associated with the Regina Coeli."
This prayer reminds us at Easter, and throughout the year for that matter, of how much we have to be thankful for, even in the midst of our daily trials. When our Lord conquered death in His resurrection he opened the gates of Heaven for us to be able to share Eternal Life with Him there, along with his Mother, the saints, and our loved ones!
Christ had prophesied of His rising from the dead during his Earthly ministry, yet His disciples couldn't fully grasp what He meant until after His Resurrection. Imagine the joy they must have felt when He appeared to them then. They saw for themselves that "He has risen, as he said," as we read in Matthew's Gospel (28:6) and in the Regina Coeli above!
In addition, when Jesus said to St. John while on the cross "Behold, your Mother" (John 19:27), He was referring to Mary not just as the beloved disciple's mother but as the mother of all Christians, that is to say our mother as well, as has been noted by theologians over the centuries. We can thank our Blessed Mother for her crucial role in our salvation as our mediator with Him.
As St. Bernard once said "the Eternal Father, wishing to show all the mercy possible, besides giving us Jesus Christ, our principal advocate with Him, was pleased to give us Mary, as our advocate with Jesus." And in the words of St. Augustine, because Mary gave "flesh to the divine Word," as the Mother of God, for our redemption, "she is more powerful than all others to help us gain eternal life."
Although she is Queen of Heaven, the Blessed Virgin Mary is by no means aloof! St. Alphonsus Liguori, in his famous work The Glories of Mary, quotes Blessed Amadeus as saying "our Queen is constantly before the Divine Majesty, interceding for us with her most powerful prayers."
We can always count on her assistance with the graces we need for our journey towards heaven if we approach her in prayers such as the Hail Mary, the Memorare, Hail Holy Queen, and the Regina Coeli with love and contrition for our sins.
Keep in mind that in our prayers to Mary, we are not worshipping her instead of our Lord but rather worshipping Him through her, as many theologians, such as St. Alphonus and St. Louis de Montfort have stressed in their writings.
Along these lines, speaking of rejoicing, as we do in this prayer, as St. Ambrose once said, "let the soul of Mary be in each of us to magnify the Lord, and the spirit of Mary be in each of us to rejoice in God!"
HELP SUPPORT OUR WEBSITE WITH PURCHASES
FROM OUR BOOK AND GIFT STORE
OR CAFE PRESS STORE!
CHECK OUT OUR PODCASTS HERE!

22

Return from Regina Coeli to Easter Prayers

Return from Regina Coeli
to The Catholic Liturgical Calendar