A PRAYER OF REPARATION TO THE SACRED HEART OF JESUS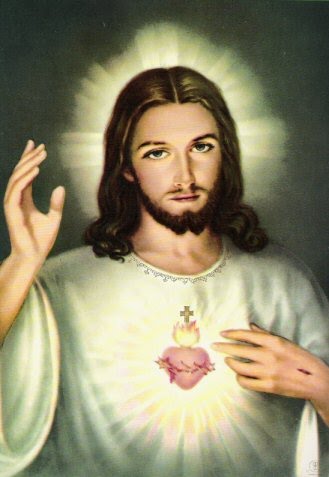 This prayer of reparation to the Sacred Heart of Jesus, printed below, touches on that important aspect of devotion to our Lord's Sacred Heart, a devotion fostered most memorably by St. Margaret Mary Alacoque, a 17th Century French nun and mystic who received many apparitions from Jesus during her life.
In one of the more celebrated visions, He showed her His Sacred Heart saying, "Behold the Heart that has loved men so much that It has spared nothing, even to exhausting and consuming Itself, in order to testify to them Its love. But in return I receive from the greater part of mankind only ingratitude, by reason of the contempt, irreverence, sacrilege, and coldness shown Me in this Sacrament of Love." This divine complaint is duly noted in this prayer!
Adorable Heart of Jesus, glowing with love for us and inflamed with zeal for our salvation. O Heart that understands the misery to which our sins have brought us, infinitely rich in mercy to heal the wounds of our souls, behold me humbly kneeling before You to express the sorrow that fills my heart for the coldness and indifference with which I have so long returned the numberless benefits which You have bestowed upon me.
With a deep sense of the outrages that have been heaped upon You by my sins and the sins of others, I wish to make reparation to Your most Sacred Majesty. It was our sins that filled Your Heart with bitterness; it was the weight of our guilt that pressed down Your face to the earth in the Garden of Olives and caused you to die in agony on the Cross. But now, repentant and sorrowful, I implore Your forgiveness.
Adorable Heart of Jesus, Source of true consolation and ever merciful to the penitent sinner, impart to our hearts the spirit of penance that we may be sincerely sorry for our sins. Pardon them, O Lord, in Your mercy, and let all who have sinned against You in the Sacrament of Your love be converted and return to You. Deliver us from our sins. And in order to repair the sins of ingratitude by which we have grieved Your most tender and loving Heart, may we love and honor You in the most adorable Sacrament of the Altar, where You are present to hear and grant our petitions and to be the food and life of our souls.
Merciful Jesus, be our Mediator with Your heavenly Father, whom we have so grievously offended. Help us to amend our ways. As Your Sacred Heart is our refuge and our hope when we have sinned, so let it be the strength and support of our repentance, and nothing in life or death shall ever separate us from You. Amen.
The reference to our Lord's Sacred Heart as being a "refuge" brings to mind one of the 12 promises He made to St. Margaret Mary for those who honor His Sacred Heart. He stated in the final promise that for all those who received Communion in a state of grace on the First Friday of nine consecutive months "My Divine Heart shall be their safe refuge in this last moment [before death]."
The more we seek refuge from the all the vicissitudes of life in Jesus and His Sacred Heart, the more we can be assured of being able to share Paradise with Him after our time here on earth!
Some of the language in this prayer might be a little off-putting to some of you, such as the use of the word "outrages" to describe our sins. You may think "I'm not really that bad, am I?" Still, many times, both in and out of church, our minds are focused on anything but Jesus and His love and His mercy, but rather on our own petty distractions and temptations.
The pressures of life can corrode our souls in ways we don't readily see, but God does. Yet as much as He hates sin, enough to have died for us on the Cross, he loves us sinners more. However, God's sense of justice demands atonement and reparation for our sinfulness.
In a world that downplays the whole notion of sin, it is important for us to remember our transgressions, not to wallow in guilt over them, but rather to repent and ask for God's Mercy when we fall. Going to confession, and saying prayers such as this prayer of reparation, can be a great way to do this!
HELP SUPPORT OUR WEBSITE WITH PURCHASES
FROM OUR BOOK AND GIFT STORE
OR CAFE PRESS STORE!
CHECK OUT OUR PODCASTS HERE!



Return from Reparation to Prayers
to the Sacred Heart of Jesus