A PRAYER BEFORE CONFESSION
BY ST. JEROME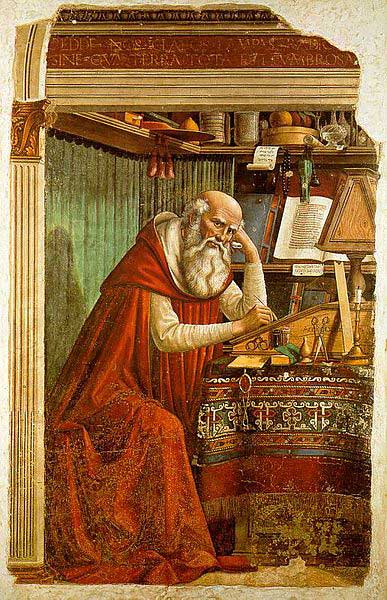 THE FIVE FIRST SATURDAYS IS A DEVOTION NEEDED NOW MORE THAN EVER! FIND OUT MORE HERE
THE SAINT MICHAEL PRAYER AND THE ROSARY
ARE ALSO POWERFUL PRAYERS TO HELP US THROUGH THESE VERY TURBULENT TIMES!
NOVEMBER IS AN ESPECIALLY IMPORTANT MONTH
TO PRAY FOR THE HOLY SOULS IN PURGATORY
WHO NEED AND ARE GRATEFUL FOR OUR PRAYERS!
This prayer before confession below is attributed to St. Jerome, the 4th century Saint and Doctor of the Church. It touches on a couple of intriguing passages from the Gospels, the parables of the Good Samaritan (Luke 10:25-37) and of the Lost Sheep (Matt 18:12-14 and Luke 15:3-7). St. Jerome's love of the Word of God is most famously reflected in his quote from his commentary on Isaiah that "Ignorance of Scripture is ignorance of Christ."
This is no wonder, coming from the man whom we best remember for his translation of the Bible from the original Hebrew and Greek texts into the Latin Vulgate in the 4th century! ("Vulgate" simply refers to the commonly known text.)
Show me, O Lord, Your mercy, and delight my heart with it. Let me find You whom I so longingly seek. Behold, here is the man whom the robbers seized, manhandled, and left half dead on the road to Jericho. Kind-hearted Samaritan, come to my aid! I am the sheep who wandered into the wilderness. Seek after me and bring me home again to Your fold.  Do with me according to Your Will, that I may abide with You all the days of my life, and praise You with all those who are with You in heaven for all eternity. Amen.
St. Jerome lived his faith to the fullest, authoring extensive commentaries and letters on scripture as well as on various theological issues and controversies. He was not shy and never minced words in condemning various heresies. He once said, concerning our faith and God's Word, "Let us seek to learn on earth those truths which will remain ever valid in heaven."
St. Jerome journeyed extensively throughout his life. In Rome, at one point, he was secretary to Pope Damasus, who first gave him the task creating a new Latin translation of biblical texts, starting with the Gospels, in about 382 A.D.
He also lived for a couple of years in Constantinople where he studied under another great Doctor of the Church, Saint Gregory Nazianzus.  Before that, he had led an ascetic life for a few years in the desert of Chalcis in Syria where he learned Hebrew from a monk who had once been a Jew. This sparse setting, along with his studies, helped him fight against temptations of the flesh which plagued him then.
In 386, he settled in Bethlehem, where he worked on translating the Bible (finishing this task in 405) and wrote many theological letters and commentaries until his death in 420.  It is worth noting that St. Jerome's Latin Vulgate translation was the standard Bible text for centuries, and was declared the official Latin text of the Church by the Council of Trent in the 16th century.
It is available today in an English translation we call the Douay-Rheims bible which can be accessed online here. (For more information on St. Jerome we'd like to recommend this excellent article.)
As mentioned earlier, one of the scripture references above is taken from the parable of the Good Samaritan found in Luke's Gospel (10:25-37). In his struggle in the desert against what he once called "wicked thoughts", St. Jerome might very well have felt as beset by them spiritually as the man beset by the robbers was physically on the road to Jericho! 
He wrote years later that as recourse against temptations "I threw myself in spirit at the feet of Jesus, watering them with my tears and tamed my flesh by fasting whole weeks." While you may not be able to fast for "whole weeks", you can still fight against your own sinful inclinations by going to Confession and perhaps doing some additional penance along with that prescribed by the priest.
St. Jerome gave us an important example in his life and in the prayer above by turning to Jesus for help in dealing with sin. Let the Good Shepherd as our Lord referred to Himself in John's Gospel (10:1-21) bring you home in confession as well, when you feel lost in this crazy world!
HELP SUPPORT OUR WEBSITE WITH PURCHASES
FROM OUR BOOK AND GIFT STORE
OR CAFE PRESS STORE!
CHECK OUT OUR PODCASTS HERE!

22

Return from a Prayer by St. Jerome
to Prayers Before Confession