PRAYERS OF ST. THERESE TO
THE HOLY FACE OF JESUS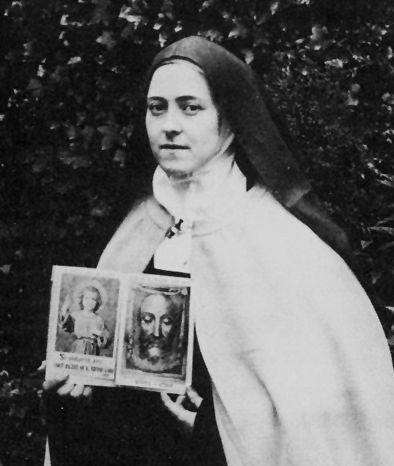 THE FIVE FIRST SATURDAYS IS A DEVOTION NEEDED NOW MORE THAN EVER! FIND OUT MORE HERE
THE SAINT MICHAEL PRAYER AND THE ROSARY
ARE ALSO POWERFUL PRAYERS TO HELP US THROUGH THESE VERY TURBULENT TIMES!
NOVEMBER IS AN ESPECIALLY IMPORTANT MONTH
TO PRAY FOR THE HOLY SOULS IN PURGATORY
WHO NEED AND ARE GRATEFUL FOR OUR PRAYERS!
These prayers from St. Therese of Lisieux, the famous Carmelite nun known affectionately as the "Little Flower", reflect her great love and devotion to our Lord Jesus Christ in His Holy Face. St. Therese entered the Carmelite convent in Lisieux, France when she was only 15, in 1888, and died there from tuberculosis in 1897.
Her autobiography Story of a Soul, published after her death, inspired people all over the world with its moving message of love for Jesus. That book, along with the various miracles attributed to her after her death, lead to her canonization by Pope Pius XI in 1925. This prayer below reflects St. Therese's special sanctity, as well as her deep humility. It is no wonder that she took the name as a religious of "Sister Therese of the Child Jesus and the Holy Face"!
"O Jesus, who, in Thy cruel Passion didst become the 'reproach of men and the Man of Sorrows,' I worship Thy divine Face. Once it shone with the beauty and sweetness of the Divinity; but now, for my sake, it is become as 'the face of a leper.' Yet, in that disfigured Countenance, I recognize Thy infinite love, and I am consumed with the desire of making Thee loved by all mankind. The tears that flowed so abundantly from Thy Eyes are to me as precious pearls that I delight to gather, that with their worth I may ransom the souls of poor sinners. O Jesus, whose Face is the sole beauty that ravishes my heart, I may not see here below the sweetness of Thy glance, nor feel the ineffable tenderness of Thy kiss, I bow to Thy Will—but I pray Thee to imprint in me Thy divine likeness, and I implore Thee so to inflame me with Thy love, that it may quickly consume me, and that I may soon reach the vision of Thy glorious Face in heaven. Amen."
St. Therese is best known for her approach to spirituality known as the "Little Way", which has inspired holiness in countless numbers of the faithful. She realized that she wasn't meant to do great heroic deeds like, for example, St. Joan of Arc, in service to our Lord. Her calling was rather to serve Him with great love in her daily errands and sacrifices, offering up to God her sufferings and her smallness. 
St. Therese was inspired in part by this line from scripture "Whoever is a little one, let him come to me" (Proverbs 9:4). She once wrote "I rejoice in my littleness, because only little children and those who are like them shall be admitted to the Heavenly Banquet." 
She also felt closer to Jesus, particularly in His Passion, in contemplation of His Holy Face which strengthened her desire, born out of a loving humility, to do our Lord's work "hidden" and "forgotten," as she put it. This brings to mind the great line in Scripture from John the Baptist when He said of Jesus "He must increase, but I must decrease" (John 3:30).  Besides this prayer above, she also composed this Holy Face Prayer for Sinners:
Eternal Father, since Thou hast given me for my inheritance the Adorable Face of Thy Divine Son, I offer that face to Thee and I beg Thee, in exchange for this coin of infinite value, to forget the ingratitude of souls dedicated to Thee and to pardon all poor sinners.
St. Therese also wrote this moving Canticle to the Holy Face, that highlights her devotion to Jesus in His Holy Face quite well, as we read in this translation below from the original French:
Jesus! Thy dear and holy Face
Is the bright star that guides my way;
Thy gentle glance, so full of grace,
Is my true heaven on earth,  today.
My love finds out the holy charm
Of Thy dear eyes with tear-drops wet;
Through mine own tears I smile at Thee,
And in Thy griefs my pains forget.

Oh! I would gladly live unknown,
Thus to console Thy aching heart.
Thy veiled beauty, it is shown
To those who live from earth apart.
Fain would I fly to Thee alone!

Thy Face it is my fatherland;
It is the sunshine of my days;
My realm of love, my sunlit land,
Where through the hours I sing Thy praise;
It is the lily of the vale,
Whose mystic perfume, freely given,
Brings comfort, when I faint and fail,
And makes me taste the peace of heaven.

Thy face, in its unearthly grace,
Is like the divinest myrrh to me,
That on my heart I gladly place;
It is my lyre of melody;
My rest - my comfort - is Thy Face.
My only wealth, Lord! is thy Face;
Naught ask I more than this from Thee;
Hidden in the secret of Thy Face,
The more I shall resemble Thee!
Leave on me the divine impress 
Of Thy sweet, patient Face of love,
And soon I shall become a saint,
And draw men's hearts to Thee above.

So, in the secret of Thy Face,
Oh! hide me, hide me, Jesus blest!
There let me find its hidden grace,
Its holy fires, and, in heaven's rest,
Its rapturous kiss, in Thy embrace!
HELP SUPPORT OUR WEBSITE WITH PURCHASES
FROM OUR BOOK AND GIFT STORE
OR CAFE PRESS STORE!
CHECK OUT OUR PODCASTS HERE!

22

Return from St. Therese Prayers
to Holy Face Devotion Main Page