THE STATIONS OF THE CROSS

THE FIVE FIRST SATURDAYS IS A DEVOTION NEEDED NOW MORE THAN EVER! FIND OUT MORE HERE
THE SAINT MICHAEL PRAYER AND THE ROSARY
ARE ALSO POWERFUL PRAYERS TO HELP US THROUGH THESE VERY TURBULENT TIMES!
NOVEMBER IS AN ESPECIALLY IMPORTANT MONTH
TO PRAY FOR THE HOLY SOULS IN PURGATORY
WHO NEED AND ARE GRATEFUL FOR OUR PRAYERS!
THERE IS ANOTHER VERSION OF THIS WEBPAGE WITH THE FULL TEXT AVAILABLE HERE
THERE IS A PODCAST ON THE STATIONS
OF THE CROSS AVAILABLE HERE
Could you walk a mile in Jesus's shoes? The Stations of the Cross bring us closer to Christ as we meditate on the great love He showed for us in His most sorrowful Passion!
You can pray the Stations of the Cross (also known as the Way of the Cross) alone at anytime, but people most often pray them in a group setting Friday nights during Lent.
Tradition traces this loving tribute to our Lord back to the Blessed Mother's retracing her son's last steps along what became known as the Via Dolorosa (the Sorrowful Way) on His way to His Crucifixion at Calvary in Jerusalem.
Pilgrims to the Holy Land commemorated Christ's Passion in a similar manner as early as the 4th century A.D. The Stations of the Cross developed as a devotion in earnest, however, around the 13th to 14th centuries.
It became a way of allowing those who could not make the long, expensive, arduous journey to Jerusalem to make a pilgrimage in prayer, at least, in their church! Although the original number of stations varied greatly, they became fixed at 14 in the 18th century.
The Stations of the Cross themselves are usually represented in churches by a series of 14 pictures or sculptures covering our Lord's Passion. They are meant to be "stopping points" along the journey for prayer and meditation. Although there are variations on this list below, these 14 scenes are taken from St. Alphonsus Liguori's well-known setting of the Stations in prayers, his Way of the Cross.
Jesus is condemned to death

Jesus carries His cross

Jesus falls for the first time under His cross.

Jesus meets His sorrowful Mother.

Simon of Cyrene helps Jesus to carry His cross.

Veronica wipes the face of Jesus.

Jesus falls for the second time.

The women of Jerusalem weep over Jesus.

Jesus falls for the third time.

Jesus is stripped of His garments.

Jesus is nailed to the cross.

Jesus dies on the cross.

Jesus is taken down from the cross.

Jesus is laid in the Sepulcher (the Tomb).

In between each Station, in addition to saying the Our Father, Hail Mary, and Glory Be, congregations often sing verses from Stabat Mater, a moving hymn about the Blessed Mother's sorrow at her son's Passion. (Note that the wording on the titles given each station below may vary in different prayer books and websites)
The Stations of the Cross provide us with great material for prayer and meditation. Tracing Jesus's journey from condemnation to crucifixion increases both our sorrow for our sins and our desire for His help in avoiding temptations and in bearing our own crosses. Meditating on Christ's passion can help us become more like Him in imitating His virtues of obedience, humility, charity, patience and perseverance.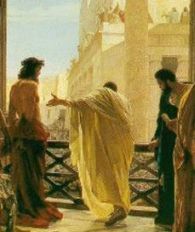 What better, and more profound example of humility and love could there be than that of Jesus, the Son of God, "one in being with the Father," as we say in the Nicene Creed, allowing Himself to be condemned and crucified like a common criminal for sins he didn't even commit, for our sins?
As St. Paul put it so well in his letter to the Romans (5:7-8) you might sacrifice your life for someone who was good or just. Yet, Christ sacrificed His life while we were sinners for our salvation.
What greater love could God the Father show for us than in giving up His only Son on our behalf, "that those who believe in Him may not perish, but may have life everlasting" (John 3:16)?
And what greater example of obedience to His Father's will could God the Son have shown for us than becoming "obedient to death even to death on a cross," as St. Paul said (Phil 2:8) so that we might share Eternal Life with Him? Many saints throughout the ages have been moved to tears at the thought of this sacrifice!
In the first of Liguori's prayers for the Stations of the Cross we read that "it was my sins that condemned You to die." Jesus died not only for the sins of mankind but also for those of each one of us as well.
In the third Station, referring to our Lord's first fall under His cross, note that "it is not the weight of the cross but my sins which have made You suffer so much pain!"
How do we deal with our sinful inclinations? In referring to our Lord's second fall, in the seventh of the Stations of the Cross we ask Him (in Liguori's words) "that in all temptations which assail me I may always commend myself to You."
In the sacrament of Penance you can confess your sins and ask for God's forgiveness. You can also pray for His grace to help you avoid sin and to get back up faster when you fall.
Meditating on Christ's Passion in the Stations of the Cross can strengthen your soul. Have you gone through days or times in your life when it seems like nothing is going right? Do you ever feel like a complete and utter failure? Well, you're not in Jesus's eyes!
And whatever you're going through, He says through His Passion, "I've been there too!" Our God isn't some lofty Being removed from it all who hasn't deeply experienced the pain and suffering of fallen humanity! Jesus was "tried in all things as we are except sin" (Heb 4:15).
Keep in mind that in addition to the events described in the Stations, our Lord was scourged, forced to wear a crown of thorns, (as you might remember from the Sorrowful Mysteries of the Rosary), spat upon, and constantly insulted throughout his lengthy ordeal. Talk about a non-stop nightmare! And how was your day?
Yet, He handled His suffering with great dignity and grace. This is not meant to diminish our own trials and tribulations but rather to give us a sense of perspective, as we look upon Christ as a model of patience and perseverance in His Passion! As St. Gregory once noted, "If we recall the Passion of Christ, nothing seems so hard that it cannot be borne with equanimity."
In the Old Testament, God tells the prophet Jeremiah that He knew him before he was formed in his mother's womb. From His Passion Jesus says to us in effect, not only did I know each of you but I died for you! He asks us in return to "keep my commandments" (John 14:15) and to make our best efforts to discern and to follow His will for us in accepting His gift of salvation.
Through His Passion, Christ saved us in satisfying Divine Justice for humanity's offenses going back to Adam and Eve's fall from grace and Original Sin. Yet, while He opened the gates of Heaven for us, He didn't promise us paradise here on earth.
One of the main tenets of our faith is that we must walk the road to Calvary (where Jesus was crucified), to get to Heaven, figuratively speaking. As Our Lord once said "He who does not take up his cross and follow me is not worthy of me" (Matt 10:38).
The great news is that Jesus is there for each of us to help us carry our crosses in life, and to inspire us to do the same for others in our charitable actions in His name. We ask Him in Liguori's prayer during the second of the Stations of the Cross that "by the merits of the pain You did suffer in carrying your Cross, to give me the necessary help to carry mine."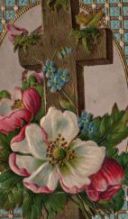 Christ is more than ready to help us as we offer up our troubles for the forgiveness of sins. In this regard, how many times have you heard or read of someone whose faith in our Lord helped get them through tragedies such as a serious illness or the death of a loved one?
Remember as well that Easter Sunday always follows Good Friday! Just as our Lord's Passion was followed by His resurrection, so too, as St. Paul said, through His grace we can be His heirs, "if we suffer with Him that we may also be glorified with Him" (Rom 8:17).
This ties in quite nicely with Liguori's prayer at the fourteenth Station when we ask Jesus to "make me rise glorious with You at the last day, to be always united with You in heaven!"
HELP SUPPORT OUR WEBSITE WITH PURCHASES
FROM OUR BOOK AND GIFT STORE
OR CAFE PRESS STORE!
CHECK OUT OUR PODCASTS HERE!

22

Return from the Stations of the Cross
to Lenten Prayers

Return from the Stations of the Cross
to Stations of the Cross (Full Version)