THE LORD'S PRAYER 
(THE OUR FATHER)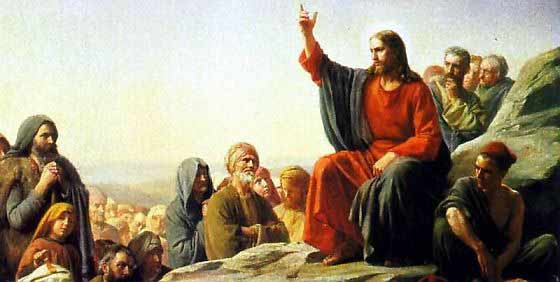 THE FIVE FIRST SATURDAYS IS A DEVOTION NEEDED NOW MORE THAN EVER! FIND OUT MORE HERE
THE SAINT MICHAEL PRAYER AND THE ROSARY
ARE ALSO POWERFUL PRAYERS TO HELP US THROUGH THESE VERY TURBULENT TIMES!
NOVEMBER IS AN ESPECIALLY IMPORTANT MONTH
TO PRAY FOR THE HOLY SOULS IN PURGATORY
WHO NEED AND ARE GRATEFUL FOR OUR PRAYERS!
 THIS WEB PAGE IS ALSO AVAILABLE AS A PODCAST HERE. 

The Lord's Prayer, also known as the Our Father, was composed by our Lord Jesus Christ Himself. This magnificent prayer beautifully reflects the wishes of its Divine Author. Jesus said in the Sermon on the Mount (pictured above) where it first appears in the Gospels (Matt 6:9-13): "When praying do not choose many words" (Matthew 6:7).
In other words, quantity doesn't necessarily mean quality in your prayer life, especially if you're not being sincere! We can marvel that the Lord's Prayer sums up what we need from God (and what He wants from us!) so succinctly:
Our Father,
who art in heaven,
hallowed be thy name;
thy kingdom come;
thy will be done on earth as it is in heaven.
Give us this day our daily bread;
and forgive us our trespasses
as we forgive those who trespass against us;
and lead us not into temptation,
but deliver us from evil. Amen.
The Lord's Prayer has had many great admirers throughout the ages! St. John Chrysostom (347-407 AD), one of the preeminent theologians known as Doctors of the Church, once wrote of it, "What prayer could be more true before God the Father than that which his Son, Who is Truth, uttered with His Own lips?"
St. Augustine, the famous Bishop of Hippo best known perhaps for his Confessions, wrote in 412 AD "If we pray rightly, and as becomes our wants, we say nothing but what is already contained in the Lord's Prayer."
Some eight centuries later, one of the Church's greatest Doctors, St. Thomas Aquinas, noted in his famous work, the Summa Theologica, that "in the Lord's Prayer not only do we ask for all that we may rightly desire, but also in the order wherein we ought to desire them, so that this prayer not only teaches us to ask, but also directs all our affections."
Finally, in the 19th century, St. Therese of Lisieux, the nun best known as the"Little Flower of Jesus," marveled in her autobiography that "Sometimes when I am in such a state of spiritual dryness that not a single good thought occurs to me, I say very slowly the 'Our Father,' or the 'Hail Mary,' and these prayers suffice to take me out of myself, and wonderfully refresh me."
(She mentions here an excellent way to say the Lord's Prayer, slowly, to get the most out of it, rather than rattling it off on auto-pilot, as we all do sometimes!)
The Lord's Prayer has 7 petitions. The first 3 (lines 1-5 above) concern God's desires from us. The last 4 (lines 6-10) concern our desires from God. Note the wonderfully communal nature of these requests from the outset:
God the Father is Our Father as well: As St. Paul wrote in his letter to the Romans "You have received the spirit of adoption of sons, whereby we cry: Abba (Father)" (Romans 8:15).
We are to honor God's name and live our lives so that His kingdom in Heaven may be one with ours on earth in love and obedience. Can you imagine what kind of world we would have if we all naturally obeyed His commandments? A world without the hatreds and the terrible wars they bring, for starters. It would be Heaven on Earth, in many ways!
Thus, when we pray "Thy Will Be Done" we pray that we may be better "citizens-in-training" for Heaven, and to remember that God's will for us is what counts. Our Lord used those very words, "Thy Will Be Done," in His prayers to God the Father the night before his Passion. This is truly the Lord's Prayer in more ways than one!
On the petitions that follow (lines 6-10 above) note that "our daily bread" has a wonderful double meaning: bread as food for our bodies and as the Body of Christ in the Eucharist as food for our souls. In lines 7-8, "forgive us our trespasses as we forgive those who trespass against us," the Lord's Prayer sums up succinctly one of Jesus's crucial points in the Gospels: "If you will forgive men their offenses, your heavenly Father will forgive you also your offenses. But if you will not forgive men, neither will your Father forgive you" (Matthew 6:14-15).
(Our Lord further stresses the necessity of forgiveness when Peter asks Him later on in Matthew's Gospel (18:21-22) if he should forgive someone "up to seven times" and Jesus replies "seventy times seven!")
Many times in our lives forgiving someone seems to be the hardest thing we can do. How often have you had problems with family members, bosses and co-workers (especially those!) that never get straightened out? How often have you found it difficult to get past your own anger and resentment over grievances? (And what about those times when people have a grudge against you? That can make life loads of fun!)
Whether others hit you with a pillow or a ton of bricks, Jesus has the same message: "Get over it." We are called to imitate Christ in this manner, as in others, so as to live so that others may see Him working in us!
We live in an unforgiving world full of people who would rather bear grudges than crosses. Nonetheless, remember that Our Lord cried out to His Father from His cross during His Crucifixion "Father, forgive them, for they know not what they do" (Luke 23:34). Talk about forgiveness! Note how this leads into the final two petitions (lines 9-10) "and lead us not into temptation but deliver us from evil." Satan (also referred to in scripture as the devil) and his forces of evil don't want you to forgive and forget, but rather to keep picking at the scabs of whatever wounds others have given you. When you do that, can they ever heal?
Life is more manageable when we can "Let Go and Let God," as a popular phrase puts it. If nothing else, we can, and should, at least pray for those who have wronged us or whom we have wronged, when we can't otherwise make amends.
There might be some confusion on line 9 when we ask God to "lead us not into temptation." Would God ever want to do that? Of course not! In the Lord's Prayer we ask for His help in resisting temptation and not letting it overcome us.
He lets us experience temptation so that we may strengthen our "spiritual muscles" by learning to resist it and asking for His help in doing so. An unforgiving heart is a good example of a major temptation. Jesus can help us to forgive others (as He can help carry all of our crosses) if we let Him.
In the final line Jesus echoes His own petition to His Heavenly Father in John's Gospel: "I am not praying that you would take them out of the world, but that you would preserve them from evil." (John 17:15). Evil in the case refers both to the Evil One, Satan, and to the evils he brings about in this world. With the help of the Lord's Prayer we can better resist evil and prepare for Eternal Life with God in the world to come, in Heaven.
HELP SUPPORT OUR WEBSITE WITH PURCHASES
FROM OUR BOOK AND GIFT STORE
OR CAFE PRESS STORE!
CHECK OUT OUR PODCASTS HERE!

22

Return from the Lord's Prayer
to Catholic Daily Prayers 

Return from the Lord's Prayer
to How To Say the Rosary