SUSCIPE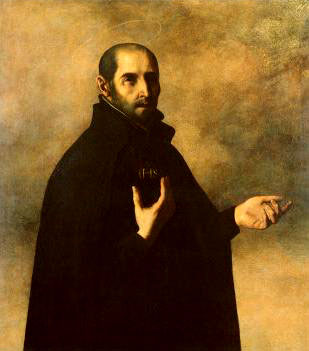 THE FIVE FIRST SATURDAYS IS A DEVOTION NEEDED NOW MORE THAN EVER! FIND OUT MORE HERE
THE SAINT MICHAEL PRAYER AND THE ROSARY
ARE ALSO POWERFUL PRAYERS TO HELP US THROUGH VERY TURBULENT TIMES!
GROW IN FAITH AND PRAYER WITH HALLOW!
THIS WEBPAGE IS ALSO AVAILABLE
AS A PODCAST HERE
Suscipe (from the Latin word "receive") is a short but powerful prayer attributed to St. Ignatius Loyola (pictured above). It can be found towards the end of his Spiritual Exercises, first published in the 16th century. He designed this work, still popular today both for retreats and private use, to bring souls closer to God through a series of meditations and prayers.
St. Ignatius, one of the outstanding figures of our faith, helped found the Society of Jesus in the 16th century to serve the pope and the Church through education and missionary work. This religious order, better known as the Jesuits, still exists today. Note the moving simplicity that underlies this "surrender" to God:
Take, O Lord, and receive my entire liberty, my memory, my understanding and my whole will. All that I am and all that I possess, Thou hast given me: I surrender it all to Thee to be disposed of according to Thy will. Give me only Thy love and Thy grace; with these I will be rich enough and will desire nothing more. Amen.
St. Ignatius mentions three key aspects of meditation in the first line of Suscipe: memory, understanding, and will. As in a retreat setting, we are invited here to shut out all the noise and distractions of everyday life and focus only on that which really matters most for our souls: our love of God; His love for us; and the ways in which we can be most attentive to discerning and doing His will!
However, you don't need to be on a retreat to savor this prayer. Any quiet time you can spend with our Lord will do. And, if nothing else, it can put you in the proper frame of mind for meditation and contemplation on God's word and His truths in mental prayer, that which doesn't require reciting particular prayers, but rather focuses on one's own interior "conversation" with God. The basics of this type of prayer are summarized very well in this article as well as this one. 

In case you find the idea of mental prayer a little too intimidating, or think that perhaps you have to be a mystic to engage in it, nothing could be further from the truth! You can start by focusing on putting yourself in God's presence and then reflecting on a scripture passage, or on a subject related to our faith. (That's where memory and understanding come into play.)
Then, with Our Lord's help (especially through the Holy Spirit), you can see how your reflections can help you become a better Christian and advance in Holiness. (Resolving to make His will yours as well constitutes the "will" part of meditation.) 

Father Jon Bartunek., in his excellent guide to meditation on the Gospels The Better Part, defines four important things (all conveniently starting with the letter C) we need to do in meditation:
Concentrate (Focusing on being in God's presence)
Consider (Think about what the scripture text or subject matter is saying to you)
Converse (Engage in your own spontaneous "dialogue" with God about what you've learned)
Commit (Think about whatever resolutions you might wish to apply from your meditation to help your spiritual growth.)
The important thing here is to take your time in all this and be patient. Jot thoughts down in a "spiritual diary" if you think that might help, by all means! And don't worry if you don't come up with any special thoughts right away.
Also, don't let times of distractions or dryness keep you from this valuable time with our Lord. The saints had such moments, so don't think that you won't! Practice and perseverance is the key in mental prayer, even if you just allow about 15 minutes each day, a couple of times a week, for it.
In addition, as Father Bartunek points out, don't think your effort is a failure if you don't come away from it "feeling" something. As he put it, your relationship with our Lord isn't just about "feelings", but rather about friendship and love.
Feelings can change. Our love of Christ shouldn't, in good times or bad. (After all, His love for us doesn't change!) If you do experience some warm, fuzzy emotions from mental prayer, so much the better. Just don't expect them, that's the point!
Along these lines it is important to note that Catholic meditation is Christ-centered, not self-centered. There's no naval gazing going on here! You have to empty yourself of all egotistical thoughts, as Suscipe implies, at least for this quiet time with God, and let Him be front and center of everything in your life.
As St. Augustine once said "Thou must be emptied of that wherewith thou art full, that thou mayest be filled with that whereof thou art empty." We hope that Suscipe can inspire you to let God fill you with his wisdom and grace! The more you engage in mental prayer, the more you can allow Him to "take charge," not just in these moments, but all throughout your day as well!
HELP SUPPORT OUR WEBSITE WITH PURCHASES
FROM OUR BOOK AND GIFT STORE
OR CAFE PRESS STORE!
CHECK OUT OUR PODCASTS HERE!

22

Return from Suscipe to Special Prayers