TANTUM ERGO
THE FIVE FIRST SATURDAYS IS A DEVOTION NEEDED NOW MORE THAN EVER! FIND OUT MORE HERE
THE SAINT MICHAEL PRAYER AND THE ROSARY
ARE ALSO POWERFUL PRAYERS TO HELP US THROUGH THESE VERY TURBULENT TIMES!
NOVEMBER IS AN ESPECIALLY IMPORTANT MONTH
TO PRAY FOR THE HOLY SOULS IN PURGATORY
WHO NEED AND ARE GRATEFUL FOR OUR PRAYERS!
The hymn Tantum Ergo pays homage to our Lord both in the Eucharist and in His glory in the Trinity. It comprises the last two stanzas ofPange Lingua, a hymn written by Saint Thomas Aquinas (pictured below) for the Feast of Corpus Christi (which honors our Lord in His body and blood in the Eucharist) when it was first instituted by the Church in 1264. This text has been set to music by composers as diverse as Palestrina, Mozart, Bruckner and Faure. It is given here in Latin with an English translation below: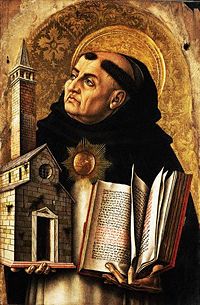 Tantum ergo Sacramentum 
Veneremur cernui:
Et antiquum documentum
Novo cedat ritui:
Praestet fides supplementum
Sensuum defectui.

Genitori, Genitoque
Laus et jubilatio,
Salus, honor, virtus quoque
Sit et benedictio:
Procedenti ab utroque
Compar sit laudatio. Amen.

Down in adoration falling,
Lo! the sacred Host we hail,
Lo! o'er ancient forms departing
Newer rites of grace prevail;
Faith for all defects supplying,
Where the feeble senses fail.

To the everlasting Father,
And the Son Who reigns on high
With the Holy Spirit proceeding
Forth from each eternally,
Be salvation, honor blessing,
Might and endless majesty. Amen.
This hymn plays an important part in what is known as the Rite of Eucharistic Exposition and Benediction of the Blessed Sacrament. In this rite, people worship our Lord in the monstrance, a vessel placed on the Altar in church, with prayers, hymns and time for silent meditation before Him. Tantum Ergo is usually sung before the Benediction when the priest blesses the congregation with the monstrance.
It is also sung, as in this rendition as part of Pange Lingua, during processions of the Blessed Sacrament. During these processions, such as the one honoring our Lord on the Feast of Corpus Christi, the faithful process behind Him as He is carried in the monstrance by the priest supported by assistants as shown in this picture below.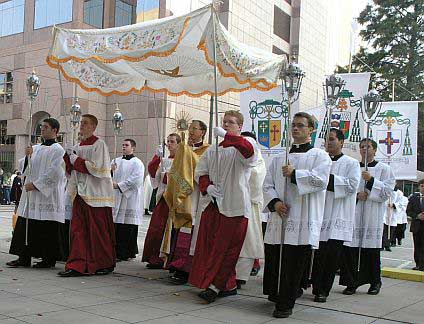 Note how Saint Thomas Aquinas, considered one of the greatest theologians of the Church, values faith as a key element of our worship of our Lord in the "sacred Host," the Eucharist! We as Catholics believe that Christ is present to us in the consecrated bread known as the Host.
This is true whether we receive Him in communion at Mass or adore Him in the monstrance or in the tabernacle, a special box containing the Eucharist.
This belief that bread and wine once consecrated at Mass aren't just symbols of our Lord but are indeed His body, blood, soul and divinity, has strong roots both in scripture (in Chapter 6 of John's Gospel, for example) and in the writings of numerous theologians going back to the 2nd century! Although we see bread and wine it is really Jesus in the appearance of these elements. (This doctrine is also called transubstantiation.) 
Aquinas himself was certainly no doubting Thomas about this dogma. As he once noted, Christ did not say at the Last Supper "this bread is my body" but rather "this is my body."
This wonderful miracle, when our Lord comes to give us His grace and support, occurs countless times every day in Masses all over the world! And every day, our Lord, like His faithful servant Saint Thomas Aquinas, invites us to see and worship Him in the Blessed Sacrament through the eyes of faith!
HELP SUPPORT OUR WEBSITE WITH PURCHASES
FROM OUR BOOK AND GIFT STORE
OR CAFE PRESS STORE!
CHECK OUT OUR PODCASTS HERE!

22

Return from Tantum Ergo to
Blessed Sacrament Prayers