A PRAYER OF THANKSGIVING AFTER COMMUNION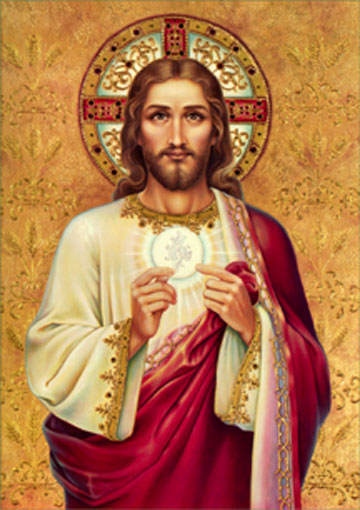 THE FIVE FIRST SATURDAYS IS A DEVOTION NEEDED NOW MORE THAN EVER! FIND OUT MORE HERE
THE SAINT MICHAEL PRAYER AND THE ROSARY
ARE ALSO POWERFUL PRAYERS TO HELP US THROUGH THESE VERY TURBULENT TIMES!
NOVEMBER IS AN ESPECIALLY IMPORTANT MONTH
TO PRAY FOR THE HOLY SOULS IN PURGATORY
WHO NEED AND ARE GRATEFUL FOR OUR PRAYERS!
This prayer of Thanksgiving after Communion to our Lord and Savior Jesus Christ hones right in on its value in describing the term used for the sacrament of Holy Communion: the Eucharist, which derives from the Greek word eucharistia, which means thanksgiving! 
I thank You, Divine Redeemer, for coming upon the earth for our sake, and for instituting this adorable Sacrament in order to remain with us until the end of the world. I thank You for hiding beneath the Eucharistic species Your infinite majesty and  beauty, which Your  angels delight to behold, so that I might have courage to approach the throne of Your mercy. I thank You, most loving Jesus, for having made Yourself my food, and for resting upon this tongue, which has so often offended You, and for entering this body, which has so often deserved to be visited with Your anger. I thank You for uniting me to Yourself with so much love in this most wonderful Sacrament that I may live in You.
I thank You, my Jesus, for giving Yourself to me in this Blessed Sacrament, and so enriching  it with the treasures of Your love that You have no greater gift to give me. I thank You not only for becoming my food, but also for offering Yourself as a continual sacrifice to Your Eternal Father for my salvation.
I thank You, divine Priest, for offering Yourself as a Sacrifice daily upon our altars, in adoration and homage to the most Blessed Trinity, and for making amends for our poor and miserable adorations. I thank You for renewing in this daily Sacrifice the actual Sacrifice of the Cross offered on Calvary, in which You satisfy divine  justice for us poor sinners. 

I thank You, dear Jesus, for having become the priceless Victim to merit for me the fullness of heavenly favors. Awaken in me such confidence in You that their fullness may descend ever more fruitfully upon my soul. I thank You for offering yourself in thanksgiving to God for all His benefits, spiritual and temporal, which He has bestowed upon me. Through You I hope to receive the grace of perseverance, a holy death, and a happy eternity. Amen.
It has become far too easy nowadays to take this truly Blessed Sacrament for granted, if we think of it or acknowledge it, (or should we say Him?) at all! Mass attendance is down considerably in Europe and the US.
Only about 30% of US Catholics even believe in the established Church teaching that our Lord is really and truly present, body, blood, soul and divinity, under the appearance of consecrated bread (wafers) and wine. Thus, contrary to regrettably popular opinion, He is very much with us today in the tabernacles in our churches and hopefully on our tongues, referenced in this prayer above.

This is well backed up from John Chapter 6, the Last Supper accounts in Scripture and the writing of the early Church Fathers and St. Paul (and not quite incidentally by numerous verified accounts of Eucharistic miracles of real blood emanating from hosts in some form).
In this sadly secular and worldly time, Our Lord suffers much from our ingratitude and indifference to the graces and help He wishes to give us in this Sacrament! Yet gratitude shouldn't seem like an obligation in our Lord's case! 

As St. Paul put it so well, "God demonstrates his love for us in that, while we were yet sinners, at the proper time, Christ died for us (Romans 5:8-9).
Indeed, He died a brutal humiliating death as the "priceless Victim" as we read in this prayer, in a truly God-sized sacrifice to His Heavenly Father to open the gates of heaven for sinful humanity (although each of us has to work out our own salvation in journeying towards those gates and avoiding hell by cooperating with Him in the graces He gives us). As we read here His death at Calvary is re-presented in a bloodless "continual sacrifice" at every mass throughout the world  
This Prayer of Thanksgiving can put us in a proper frame of mind to offer our Lord adoration as our Creator and most intimate friend, if we wish Him to be so; contrition for our sins; and supplication for His help, guidance, and most essentially, His grace in our fighting our own sinful inclinations; and that He may use our prayers, and trials to help others as well, friends, enemies, and those we don't even know alike. 
And of course we offer Jesus thanksgiving in this prayer for His "heavenly favors": Indeed besides being our Redeemer and helper par excellence in coping with our day-to-day struggles, he can remind us that thankfully, this world isn't the be-all and end-all of our existence, but that we are meant not just to know, love, and serve Him in this life but to be happy with Him forever in the next! (And yes, there is an eternal afterlife for each of us.) 

Be grateful for all these aspects of prayer, both in Mass and Eucharistic Adoration before our Lord in the Blessed Sacrament, that Jesus has provided us, for graces He very much wants to give each one of us in good times and bad. Remember that "the bad he can make good [or at least bearable] and the good he can make better" if we give Him permission to do so!
Granted, "Gratitude in your attitude" towards our Lord may not be an easy thing to acheive when you're undergoing trials, but it can help Jesus give you His graces to get through them!
And, those same graces can help you savor good moments with His peace and love. They can also enable you to share that peace and love with others!

He loves each one of us enough to have died for each one of us and, equally importantly, as the late John Cardinal O'Connor once noted to have been born for each one of us as well. As a confessor once told His Eminence, Jesus would have experienced His Incarnation (and thus His Nativity, Passion Death and Resurrection) for you if you were the only person in the world!

And while Christ's grace is freely given, our place with Him in heaven is not, at least not in the sense we can take that as such, as mentioned earlier. He wishes to strengthen us and shield us against the prospect of literally an eternity in Hell with what St. Faustina once referred to as "the constant company of Satan" (apparently he's not loads of fun at parties!) and other cursed damned souls and demons. 

When we receive Christ in the Eucharist properly without the stain of mortal sin on our souls (which can and should be removed in confession) he becomes like the shield in the armor of God, truly the breastplate of righteousness St. Paul referred to in Chapter 6 of his letter to the Ephesians. as well as our Savior.

Think of humbly and sincerely thanking our Lord after receiving Him in Communion as a way for His word (analogized in the Parable of the Sower in the Gospels) and His graces to take root and produce good fruit in your soul!
God Bless,
Christopher Castagnoli
for www.ourcatholicprayers.com
HELP SUPPORT OUR WEBSITE WITH PURCHASES
FROM OUR BOOK AND GIFT STORE
OR CAFE PRESS STORE!
CHECK OUT OUR PODCASTS HERE!

22

Return from A Prayer of Thanksgiving After Communion to Prayer Blog Page

Return from A Prayer of Thanksgiving After Communion to Prayers After Communion