THEIR EYES WERE OPENED!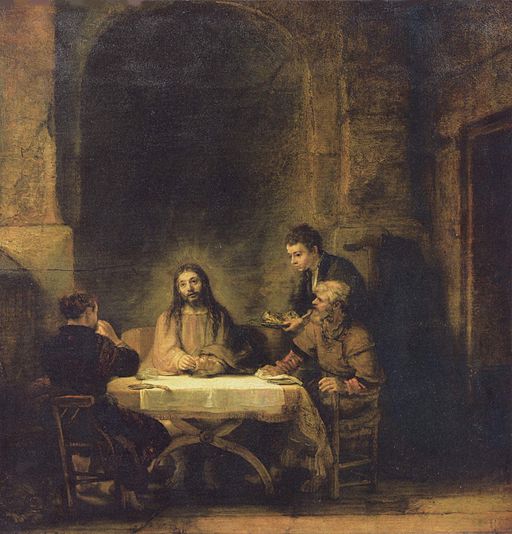 THE FIVE FIRST SATURDAYS IS A DEVOTION NEEDED NOW MORE THAN EVER! FIND OUT MORE HERE
THE SAINT MICHAEL PRAYER AND THE ROSARY
ARE ALSO POWERFUL PRAYERS TO HELP US THROUGH VERY TURBULENT TIMES!
JOIN IN THE 54-DAY ROSARY NOVENA
 FOR OUR NATION FROM AUGUST 15TH
TO OCTOBER 7TH, 2023 HERE!
We read in the book of Genesis, how our first parents, Adam and Eve, while in the Garden of Eden, were tricked by Satan as a serpent to eat the forbidden fruit from the tree of knowledge of good and evil which he told them would make them like God, knowing good and evil.
Yet, according to Genesis Chapter 3, Verse 7, after eating the forbidden fruit "the eyes of both were opened, and they knew that they were naked; and they sewed fig leaves together and made themselves aprons." Suddenly everything changed!
When God saw what they had done, they were exiled from the Garden of Eden. And what's worse, the preternatural bond they had with God was broken as humanity was then tainted with having sinful proclivities in what we call Original Sin.
Now, let us fast forward thousands of years: On the Sunday directly following Christ's death on the cross, two disciples were walking on the road to Emmaus talking about the momentous events among themselves. A stranger came among them and asked them about what they were discussing so earnestly.
They proceeded to tell him about the prophet Jesus who was "mighty in deed and word before God and all the people" (Luke 24:19). They had hoped He would redeem Israel but He was crucified instead and yet apparently His tomb was empty.
To which the stranger responded "O foolish men, and slow of heart to believe all that the prophets have spoken! Was it not necessary that the Christ should suffer these things and enter into his glory" (Luke 24:25-26)?
He then gave them a full explanation of how this Jesus was indeed the focal point of the scriptures, from Moses and all the prophets onward. They hospitably invited this gentleman to stay with them, as evening was approaching, as pictured above. Little did they know that they were in for an astounding surprise!
We read in Luke's Gospel in Chapter 24, Verses 30-31, that "When he was at table with them, he took the bread and blessed and broke it, and gave it to them. And their eyes were opened and they recognized him; and he vanished out of their sight." Their guest was Jesus, that "prophet mighty in deed and word" indeed!
Yet He was so much more than just a prophet! He was and is God from God, light from light, true God from true God, as we say in the Nicene Creed. Christ had just conquered death to open the gates of heaven to fallen humanity and restore our relationship with our Creator.
While Adam and Eve's eyes were opened to their (and subsequently humanity's) Fall, the disciples' eyes were opened to the One who would bring about our salvation.
Or to put it another way, Adam and Eve's eyes were opened to a break in belonging with God, whereas the disciples' eyes were opened to our Lord and Saviour Jesus Christ in their midst, the One who would restore that belonging through His Death and Resurrection.
After Jesus' sudden disappearance the disciples said to each other, "Did not our hearts burn within us while he talked to us on the road, while he opened to us the Scriptures" (Luke 24:32)? That must have been one incredible lesson! I find myself wishing that they could have taken notes on scrolls as He was giving them all His scriptural references.
It is also worth noting that, just as the disciples recognized Christ in the breaking of the bread, so too can we recognize Him in the breaking of the bread at Mass where He comes to us not symbolically but truly in Body, Blood, Soul and Divinity in the Eucharist!

The Gospel accounts of the Resurrection give us some other wonderful "eye opening" details, not literally of course, as in the case of these disciples, but certainly figuratively.
When Mary Magdalene tearfully asks a gardener to tell her where he's taken Jesus' body when she discovered His empty tomb she then recognizes Him as Jesus just by His saying her name! She expresses enough joyful surprise that Jesus has to tell her to stop holding onto Him, as He has not yet ascended to His Father who is also hers as well (John 20:14-17)!
And when He appears in His Resurrected body before the other disciples on that first Easter Sunday, they think they are seeing a spirit until He shows them His wounds from His crucifixion and then He eats a piece of broiled fish before them (Luke 24:36-43).
And the Apostle Thomas still doesn't open up His eyes to the fact of Jesus' Resurrection, figuratively speaking, until our Lord has him touch His wounds as he has requested as proof a week later (John 20:24-28)!
Also, in one of the final scenes in John's Gospel, when he and Peter and several other disciples have been fishing all night without catching anything, suddenly a stranger appears on the shore giving them the ultimate tip for a successful haul to cast their net over the right side of the boat. In so doing they catch 153 large fish all at once. Only then do they recognize this stranger as the Lord, who is cooking fish on a charcoal fire with bread for them (John 21:7-14)!
Granted, although Jesus predicted His Resurrection during His earthly ministry some six times in Matthew's Gospel, His disciples couldn't fully grasp either its meaning nor its significance until after it had occurred.
For example, we see Peter, James, and John wondering what Jesus means when He tells them not to say anything about His Transfiguration which they have just witnessed until He Himself has risen from the dead (Mark 9:10).
Speaking more of sight, Jesus calls the eyes the lamp of the body in the Sermon on the Mount (Matt 6:22) that can reflect either light (goodness) or darkness (evil). In another instance He chides the Pharisees as being hypocritical blind guides (Matt 23:16).
And turning from sight to vision, what is one of the most precious gifts God can give us in heaven? What is known as the Beatific Vision! This refers not only to seeing Him face to face as He is (1 John 3:2), but to being able to experience His great love and goodness in a way we can only begin to imagine in our limited intellectual capacity in our earthly pilgrimage.
So how can we see more clearly on the road to Eternal Life? Do you let Jesus work in and through you in your daily life so that He may be seen at work in you?
Can you help others who might be blind, spiritually speaking, or whose spiritual sight might be impaired, as so many are these days, to the truths of the Gospels and what real love of neighbor means in love of God?
Also, in this regard, do you need to remove the splinter in your own eye before helping some difficult neighbor remove a wooden beam in theirs (Matt 7:3-7)? Now more than ever, keep your eyes open to our Lord in prayer and the sacramental life in humility and loving obedience.
That way, hopefully, others might see Jesus at work through you, even if it is only to get a first glimpse of Him, in the case of those whose hearts are most hardened by the apostatic rather than apostolic messages all around us in these trying times!
God Bless,
Christopher Castagnoli
for www.ourcatholicprayers.com
HELP SUPPORT OUR WEBSITE WITH PURCHASES
FROM OUR BOOK AND GIFT STORE
OR CAFE PRESS STORE!
CHECK OUT OUR PODCASTS HERE!

22

Return from Their Eyes Were Opened
to Prayer Blog Page