THOUGHTS ON PURGATORY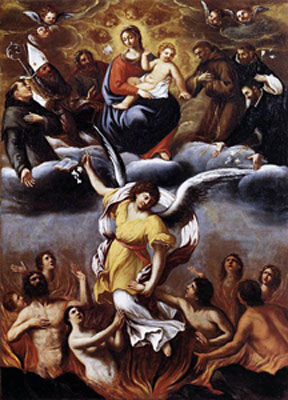 THE FIVE FIRST SATURDAYS IS A DEVOTION NEEDED NOW MORE THAN EVER! FIND OUT MORE HERE
THE SAINT MICHAEL PRAYER AND THE ROSARY
ARE ALSO POWERFUL PRAYERS TO HELP US THROUGH VERY TURBULENT TIMES!
JOIN IN THE 54-DAY ROSARY NOVENA
 FOR OUR NATION FROM AUGUST 15TH
TO OCTOBER 7TH, 2023 HERE!
THIS WEBPAGE IS ALSO AVAILABLE AS A PODCAST HERE
November is very special time in the Church's liturgical calendar. It's dedicated to the Holy Souls in Purgatory to help them (and ourselves as well!) on the road to heaven.
All Saints' Day on November 1st and All Souls' Day on the 2nd set an appropriate tone of reverence for those souls who have attained Eternal Life (the Saints), followed by those who are assured of Heaven but not quite ready for it, because of sins for which they have not fully satisfied Divine Justice here on earth. 
While we have a further discussion of Purgatory on this prayer page, and there is more important information on the subject here, I would like to offer here some brief thoughts as a summary as well. There is also a suggested reading list at the bottom of this page for those who wish to study this important doctrine of Church teaching further.
This great prayer printed below is very powerful in helping souls! According to tradition, Our Lord promised the St. Gertrude the Great, a Benedictine nun and mystic who lived in the 13th century, that 1000 souls would be released from Purgatory each time it is said devoutly. Whether or not this is actually the case, this is a great prayer for focusing on helping the Holy Souls in Purgatory, nonetheless:
Eternal Father, I offer Thee the Most Precious Blood of Thy Divine Son, Jesus, in union with the Masses said throughout the world today, for all the Holy Souls in Purgatory, for sinners everywhere, for sinners in the Universal Church, those in my own home and within my family. Amen.
We believe that, while God desires us all to be with Him in heaven upon our passing away, we can't join him there with the slightest impurity or imperfection on our souls. Yet given our proclivity to sin, this might inspire fear or despair. Perfection? When we're all sinners? Really??? And yet God gives us the means to reach heaven regardless, with penance, prayer and good works. 
If we avail ourselves frequently of the Sacrament of Penance (Confession) we can take full advantage not only of our Lord's mercy and forgiveness for our mortal and venial sins, but also for the graces He gives us in that important Sacrament to resist committing them in the future. 
And yet, while God's forgiveness, and our acknowledging our need for it, are essential, committing sin is like breaking a window. You may be forgiven for it but you still have to pay to fix the damage! Purgatory is a place where we make restitution. It is a place of expiation for whatever stains of sins remain on our souls upon our death.
As such it is a place, paradoxically, of both great pain as well as joy. The pain is from the fire that burns away whatever attachment we have to sin, or sins for which reparation still needs to be made. The intensity of and duration of these pains, which are quite intense, depends on the condition of one's soul at death. Yet the soul's joy comes from knowing it will be with God forever once it's freed from Purgatory.
There is also another kind of pain souls experience in Purgatory from what we might call the fire of love. (Indeed there is a level of Purgatory, what might be called the highest, where that is the only fire!) This ties in with joy. The soul in Purgatory knows it will be with God in the bliss of heaven forever and intensely longs for this while realizing it still has "dues to pay". This longing for God's love and being able to reflect His glory is apparently quite overwhelming indeed.
Fortunately, we can avoid Purgatory, and should, by aiming for holiness and heaven in the way we conduct our lives; and also by offering up our prayers for the Holy Souls in Purgatory, that they may be released from there as soon as possible.
Don't just assume your loved ones are in heaven. Pray for their souls and have Masses said for them at your parish (or another one nearby if possible). This can get them into heaven that much faster! Pray also for those who have no one to pray for them. Too many people just assume the departed go straight to either heaven or hell, but this is not so!
Some inspiring figures in our faith, including Saints Padre Pio, Faustina, and Margaret Mary Alacoque all were visited by Souls in Purgatory in need of assistance to get to Heaven. Lay people have also experienced these appeals. This is all well documented in the book Hungry Souls which appears on the suggested reading list below, and in this excellent article from the Mystic of the Church website as well.
Please note, however, that we are not to try to communicate with the Holy Souls, our dear departed loved ones, or any of the dead ourselves, whether through mediums, seances or other such means. 
Such practices take us into occult territory. They not only violate the First Commandment (see the Catechism of the Catholic Church #2115-2117), but they can also in certain situations open you up to demonic influence. (It ain't dear Aunt Rose who you're communicating with! More like one of the many counterfeits among Satan's minions!) The Holy Souls in Purgatory (also called the Poor Souls) appear to certain people only with God's approval, without being invited.
It is important also to note that while the Holy Souls in Purgatory cannot pray for themselves, they can and do pray for us, and will do so even more lovingly and gratefully when they get to heaven! Rest assured that if your dearly departed is already there, God will apply your prayers to help some Poor Soul join Him more quickly.
The well-known Catholic author Susan Tassone, who has written extensively on this subject, sums up what we can do to avoid Purgatory or shorten our own time there quite nicely in this article: "Avoid sin. Pray the Rosary. Go to monthly confession. Accept trials. Forgive. The more you pray on earth — constant, fervent prayer throughout life — the closer you will be to getting out of Purgatory if you go there." 
Note also this important fact when she suggests we accept trials: Our pains, penances, and sufferings on earth, when offered up to God on behalf of the Poor Souls, can shorten or even eliminate our own time in Purgatory! 
Remember, we're all in this together: the Church Militant (those of us here on earth), the Church Triumphant (those in heaven) and the Church Suffering (those in Purgatory)!

God Bless,
Christopher Castagnoli
for www.ourcatholicprayers.com
A SUGGESTED READING LIST ON
THE DOCTRINE OF PURGATORY
The following titles are available on www.amazon.com except for the first which has been linked to another online store.
Purgatorian Manual (from Daughters of Mary Press)
Hungry Souls (from Tan Books)
Stories about Purgatory and What They Reveal (from Tan Books)
Purgatory: Explained by the Lives and Legends of the Saints (from Tan Books)
Prayers, Promises and Devotions for the Holy Souls in Purgatory (from Our Sunday Visitor)
An Unpublished Manuscript on Purgatory
Visions of Purgatory: A Private Revelation (from Scepter Publishers)
HELP SUPPORT OUR WEBSITE WITH PURCHASES
FROM OUR BOOK AND GIFT STORE
OR CAFE PRESS STORE!
CHECK OUT OUR PODCASTS HERE!

22

 Return from Thoughts About Purgatory to Prayer Blog Page

Return from Thoughts About Purgatory
to Prayers for Souls in Purgatory