THREE SPECIAL PRAYERS TO
THE SACRED HEART OF JESUS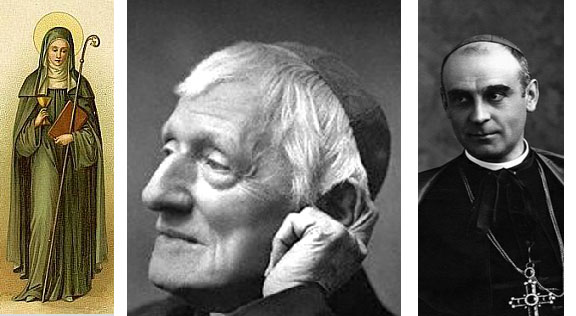 THE FIVE FIRST SATURDAYS IS A DEVOTION NEEDED NOW MORE THAN EVER! FIND OUT MORE HERE
THE SAINT MICHAEL PRAYER AND THE ROSARY
ARE ALSO POWERFUL PRAYERS TO HELP US THROUGH THESE VERY TURBULENT TIMES!
NOVEMBER IS AN ESPECIALLY IMPORTANT MONTH
TO PRAY FOR THE HOLY SOULS IN PURGATORY
WHO NEED AND ARE GRATEFUL FOR OUR PRAYERS!
THIS WEBPAGE IS ALSO AVAILABLE
AS A PODCAST HERE
These three special prayers pay tribute to the Sacred Heart of Jesus, all with the desire that our hearts should become one with His! They are all good for praying in devotion to our Lord's Sacred Heart. This devotion is a great way to "bond" with Jesus with love and trust for His blessings.
It also makes atonement for the indifference and hostility he has experienced from fallen humanity in tabernacles and on altars all over the world, whether at Mass or in Adoration before the Blessed Sacrament.

Speaking of the Blessed Sacrament, Jesus once told the author of our first prayer below, St. Gertrude the Great (pictured at left above), "I have done my utmost to manifest the tenderness of My Heart in the Blessed Eucharist."
St. Gertrude was a celebrated 13th century Benedictine nun and mystic who received numerous visions from Jesus, including a touching one in which He invited her to rest her head on His breast so she could hear His heart beating!

Hail, Sacred Heart of Jesus, living and strengthening source of eternal life, infinite treasury of the divinity, burning furnace of divine love! You are my refuge and my sanctuary. My loving Savior, consume my heart in that burning fire with which Your own is inflamed. Pour into my soul those graces which flow from Your love. Let my heart be so united with Yours that our wills may be one, and my will in all things conformed with Yours. May Your Will be the guide and rule of my desires and of my actions. Amen.

Our second prayer to the Sacred Heart of Jesus here comes from John Cardinal Henry Newman, (pictured in the center above) a renowned 19th century convert to Catholicism from Anglicanism who wrote extensively about our faith. He was beatified by Pope Benedict XVI in September, 2010 and canonized by Pope Francis in October, 2019.
Appropriately enough, Cardinal Newman chose as his motto on his coat of arms when he became Cardinal in 1879 the phrase "Cor ad cor loquitur", which is Latin for "Heart speaks unto heart", reflecting his desires expressed beautifully below:

Most Sacred, most loving Heart of Jesus,
You are concealed in the Holy Eucharist,
And You beat for us still.
Now, as then, You say: "With desire I have desired."
I worship You with all my best love and awe,
With fervent affection,
With my most subdued, most resolved will.
For a while You take up Your abode within me.
O make my heart beat with Your Heart!
Purify it of all that is earthly,
All that is proud and sensual,
All that is hard and cruel,
Of all perversity,
Of all disorder,
Of all deadness.
So fill it with You,
That neither the events of the day,
Nor the circumstances of the time,
May have the power to ruffle it;
But that in Your love and Your fear,
It may have peace.

And, finally we have this short prayer to the Sacred Heart of Jesus from Rafael Cardinal Merry de Val, (pictured at right above) a Spanish Cardinal who served several popes in various diplomatic missions in the late 19th and early 20th centuries, and was Pope St. Pius X's Secretary of State. He is perhaps best known for his Litany of Humility.

Jesus, reveal Your Sacred Heart to me and show me Its attractions. Unite me to It forever. Grant that all my desires and every beat of my heart, which does not cease even while I sleep, may be a witness to You of my love for You and tell You: Yes Lord, I am Yours! The pledge of my loyalty to You rests ever in my heart and shall never cease to be there. Accept the little good that I do and be pleased to make up for all my wrong-doing so that I may be able to praise You in time and in eternity. Amen.

Cardinal de Val's humility certainly comes through in the last line of this prayer. But in being able to praise Jesus "in time and in eternity" he clearly has his eyes on heaven. It brings to mind our Lord's famous words from scripture about the humble being exalted (Matt 23:12; Luke 11:14)!

I hope these prayers from these illustrious figures can help you draw closer to our Lord in His Sacred Heart. May you increase in His grace and share His Gospel message so that others may see Christ working in and through you and may be inspired to follow your loving example!

God Bless,

Christopher Castagnoli
for www.ourcatholicprayers.com

HELP SUPPORT OUR WEBSITE WITH PURCHASES
FROM OUR BOOK AND GIFT STORE
OR CAFE PRESS STORE!
CHECK OUT OUR PODCASTS HERE!

22

Return from Three Special Prayers to
Prayers to the Sacred Heart of Jesus

Return from Three Special Prayers
to Prayer Blog Page