A UNIVERSAL PRAYER FOR ALL THINGS NECESSARY TO SALVATION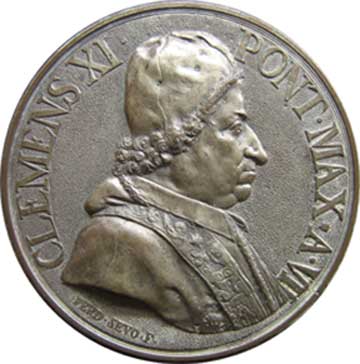 THE FIVE FIRST SATURDAYS IS A DEVOTION NEEDED NOW MORE THAN EVER! FIND OUT MORE HERE
THE SAINT MICHAEL PRAYER AND THE ROSARY
ARE ALSO POWERFUL PRAYERS TO HELP US THROUGH VERY TURBULENT TIMES!
GROW IN FAITH AND PRAYER WITH HALLOW!
THIS WEBPAGE IS ALSO AVAILABLE
AS A PODCAST HERE
This Universal Prayer has been attributed to Pope Clement XI from the 18th century. This prayer provides a good outline of what we need to do we strive for sanctity and Eternal Life, as "citizens-in-training" for Heaven!

My God, I believe in You; strengthen my faith. All my hopes are in You; secure them. I love You; teach me to love you daily more and more. I am sorry that I have offended You; increase my sorrow. 

I adore you as the Author of my first beginning. I aspire after you as my last end. I give you thanks as my constant Benefactor, I call upon you as my sovereign Protector.

My God, be pleased to conduct me by your wisdom; to restrain me by the thought of Your justice; to comfort me by Your mercy; to defend me by Your power.

To You I desire to consecrate all my thoughts, words, deeds, and suffering, that henceforth I may think of You, speak of You, refer all my actions to Your greater glory, and suffer willingly whatever You shall appoint.

Lord, I desire that in all things Your Will be done, because it is Your Will, and I desire that all things be done in the manner that You will them. 

Grant that I may always esteem whatsoever is pleasing to You, despise what You abhor, avoid what You forbid, and do what You command.

I beg You to enlighten my understanding, to inflame my will, to purify my body, and to sanctify my soul.

My God, give me strength to atone for my sins, to overcome my temptations, to subdue my passions, and to acquire the virtues proper to my state of life.

Fill my heart with tender affection for Your goodness, hatred of my faults, love of my neighbor, and contempt of the world. May Your grace help me to be obedient to my superiors, kind and courteous to my inferiors, faithful to my friends, and charitable to my enemies.

Assist me to overcome sensuality by self-sacrifice, avarice by almsdeeds, anger by meekness, and carelessness by devotion. My God, make me prudent in my undertakings, courageous in danger, patient in trials, and humble in success.

Grant that I may be ever attentive at my prayers, temperate at my meals, diligent in my work, and faithful in my good resolutions.

Let my conscience be ever upright and pure, my behavior modest, my conversation kind, and my actions edifying.

Assist me that I may continually strive to overcome the evil inclinations of my nature, to cooperate with Your grace, to keep Your commandments, and to work out my salvation.

My God, make me realize the nothingness of this world, the greatness of heaven, the shortness of time, and the length of eternity.

Grant that I may prepare for death; that I may fear Your judgment; that I may escape hell and in the end obtain heaven. Through Christ our Lord. Amen.

Does all this seem to be too tall an order? You've heard that even the just man sins seven times a day? Don't lose hope! As you can tell, Pope Clement is not shy in asking God for His assistance to "obtain heaven".
And there's good news! While our Lord did not guarantee each one of us salvation from His Passion, He wants very much to help you in your journey (and at times your struggle) towards sanctity in this life so that you can spend eternity with Him in heaven and not be lost forever in Hell in the next!
(Not incidentally by any means Our Blessed Mother Mary, whom St. Alphonsus Liguori once called the "dispenser of all divine graces"  is also more than ready to help you get closer to her Son through prayers such as the Rosary.) 
As Jesus Himself said most famously in the Gospels "I am the vine, you are the branches. He who abides in me, and I in him, bears much fruit,for without me you can do nothing" (emphasis added) (John 15:5). You weren't meant to "go it alone", to achieve your salvation without Divine assistance, in part through prayers like this one above.

In fact, our Church calls the idea that one can achieve salvation without God's help Pelagianism, a heresy! Just remember Our Lord has given us His Church, prayer and the Sacraments to help us receive His graces. And we are all sinners in need of God's mercy. Don't be afraid to ask Him for it, especially in the sacrament of Penance! 
If you sin 7 times a day, Jesus can forgive you 70 times that amount. After all, He did tell Peter to be ready to forgive others that much in Matthew's Gospel (18:22). Just don't treat our Lord's mercy as a license to sin, with no real contrition or purpose of amendment when you fall.
Note also, in the reference to "the nothingness of this world", that doesn't mean that you shouldn't strive to achieve success, hopefully using whatever talents God gave you, and to be able to raise a family and have friends and the like. Just don't get too attached to anything created rather than to our Creator.

It all comes and goes quicker than any of us realize! And, as St. James once wrote "What is your life? It is a mist that appears for a while, and then vanishes" (Jas 4:15). Or, as the Prophet Isaiah said "All flesh is grass" (Is 40:6).
But don't despair about that, either! The important thing, in all your work, is to give glory to God in love and obedience. When things go well, thank God for His blessings. When things go badly, as they do for so many these days, ask God for His help in getting through the tough times.
And remember always that, however crooked or straight, bumpy or smooth, the path to Heaven is for each of us, the end of this road takes us to a whole new glorious place! An eternity free of sickness, sadness, hatred, and all that ails us here on earth, one overflowing with God's peace and love, real love!
As St. Paul wrote "Eye has not seen nor ear heard, nor has it entered into the heart of man, what things God has prepared for those who love him" (1 Cor 2:9).
HELP SUPPORT OUR WEBSITE WITH PURCHASES
FROM OUR BOOK AND GIFT STORE
OR CAFE PRESS STORE!
CHECK OUT OUR PODCASTS HERE!

22

Return from a Universal Prayer
to Special Prayers