WHAT'S IT TO YOU?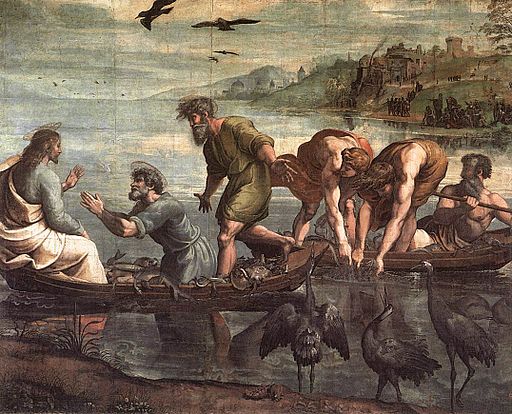 THE FIVE FIRST SATURDAYS IS A DEVOTION NEEDED NOW MORE THAN EVER! FIND OUT MORE HERE
THE SAINT MICHAEL PRAYER AND THE ROSARY
ARE ALSO POWERFUL PRAYERS TO HELP US THROUGH VERY TURBULENT TIMES!
GROW IN FAITH AND PRAYER WITH HALLOW!
THIS WEB PAGE IS ALSO AVAILABLE AS A PODCAST HERE
In one of the resurrection scenes in Chapter 21 of John's Gospel, (depicted in the painting above) Peter asks Jesus a question about his fellow Apostle St. John the Evangelist, "Lord, what about this man" (John 21:21)? Jesus has just given Peter instructions to tend to and feed his flock as the chief shepherd of His universal church.
Our Lord's response is one that should resonate with each of us in some way. He replies, in part: "What is that to you? Follow me" (John 21:22). He says to Peter in effect "John has his mission to do for Me and you have yours and that's as it should be."' What's it to you?
Granted, Peter probably felt nothing but admiration for his fellow apostle but I've always felt a good lesson can be learned from this exchange somehow about the dangers of comparing oneself to others. (This applies to those of us in the pews and/or serving in various Catholic apostolates and ministries. It can become a bigger problem for those for whom such work is their livelihood.)
This matter of comparisons comes up in Luke's and Mark's Gospels as well with the disciples arguing among themselves as to who's the greatest among them. Jesus puts them in their place about the importance of humility and service in following Him! 
Still, the question gets asked countless times by those who haven't set foot in a church in years as well: What about him? Or her? Or them?
Isn't that what we all want to know in this seemingly zero sum game world where we perceive others as getting love, admiration, or success not as well as us but rather instead of us? In this mode of existence is it any wonder how easily and quickly jealousy springs up like a bad weed? And how hatred can often follow suit? 
We can all feel naturally insecure about our purpose or position in life, and many of us do. Yet this breeds jealousy and anger, and all sorts of toxic emotions.
And Social Media isn't helping things any, with people judging each other by how many cyber friends they have or how much their good times (often contrived or otherwise exaggerated) compare to those of others!

St. Jean-Marie Vianney, the great 19th century Curé of Ars in France, also known as the Patron Saint of Parish Priests described the sin of envy quite well in one of his sermons:
"Since we are all members of the same Body of which Jesus Christ is the Head, we should so strive that unity, charity, love, and zeal can be seen in one and all. To make us all happy, we should rejoice, as St. Paul tells, in the happiness of our fellow men and mourn with those who have cares or troubles. But, very far from experiencing such feelings, the envious are forever uttering scandals and calumnies against their neighbors. It appears to them that in this way they can do something to assuage and sweeten their vexation."

Yet God has a purpose for each one of us, and that includes me and you! St. Therese of Lisieux, the "Little Flower", wrote in her famous autobiography Story of A Soul published after her death from tuberculosis, of her "Little Way" of serving God, even in the most menial tasks, by doing everything out of love for Him. This provides us all with a comforting reminder that the little things we do aren't so little at all if they're done for God! 

St. Paul points out that while we all have our place in the mystical body of Christ (His church), each of us has a different mission in serving Him, just as the human body has different parts with different functions (1 Cor, Ch. 12; Rom 12:3-8). 
I don't mean to be Pollyannaish about this, however. You might ask quite understandably how do we recognize our calling in life, if it doesn't seem readily obvious, as is the case for most of us? It seems harder at times to discern God's will than to do it!
This prayer might be of some help:
God of wisdom and of counsel, You see in my heart a sincere desire to please You alone and to conform myself entirely to Your holy Will in the choice of my state in life. Grant me, I humbly implore You, by the intercession of the Blessed Virgin, my Mother and my holy Patrons, the grace to know what state in life I should choose and to embrace it when known, in order that thus I may seek Your glory and increase it, work out my own salvation, and deserve the heavenly reward which You have promised to those who do Your holy Will. Amen. 
While we may feel lost and anxious about our place in this world, remember that not one of us should feel useless. However cloudy or foggy our horizons may be, particularly in these troubling times, we are all precious in God's sight. Each of us is meant to be a "link in a chain" as John Henry Cardinal Newman once put it.
We have to trust that God will help us to discern and fulfill His mission for each of us if we ask Him for His guidance with humility and sincerity. We may feel perplexed or anxious as to what our state in life should be. Yet we need not despair. God desires each of us to do His will in a particular way, which may or may not seem important to others.
Furthermore, as St. Paul put it, as members of Christ's mystical body we all have God-given abilities, "different gifts, according to the grace that is given us" (Rom 12:6).
It is important however, not to brood if you don't get to make use of those talents in making a living; or if you even find yourself struggling to make a living, as many people do nowadays!
While God asks us to bear our crosses in following him on our journey to Heaven, He will see us through whatever troubles we may experience if we strive to love Him, seek His will, and offer Him up our troubles for our salvation and that of others.
Have our Lord help you deal with various social or family rivalries, in prayer and in receiving His graces through the sacraments of the Eucharist and Penance. Don't let your worries on how you may or may not fit in with others get the better of you in any case!
Keep in mind that in Satan's empire of envy you get a shot at something he and his fellow fallen angels (the demons) have lost forever. An eternity with God experiencing the supernatural splendor of the beatific vision in heaven! Keep that in mind and don't let the devil bully you when you're undergoing trials in this crazy world!
Granted, this is hard in a competitive working or social environment, but try as much as possible otherwise to be able to detach from those feelings of jealousy and insecurity that can plague family and other relationships. 
This isn't easy, but it gives you a chance with God's help to experience real peace of mind. Remember also that this life is essentially a pilgrimage towards eternity, and your time spent her isn't all there is for you by any means. Your soul is immortal, and how much you follow our Lord will determine whether your eternal destiny is literally heavenly or hellish!
Although no one's place in heaven is by guaranteed by any means, God created You to be with Him for eternity there. If you find yourself overwhelmed with insecurity, say to God, in effect, "I feel lost now. Help see me through this situation so that I can reflect Your goodness one way or another." 
Ultimately, our vocation, whatever it may be, only has value if it serves God. It has been said that in the end, all that will matter is what we have done for God and for others. And even now, as Jean-Marie Vianney put it so well "My children, we are in reality only what we are in the eyes of God, and nothing more." 
God Bless,
Christopher Castagnoli
www.ourcatholicprayers.com
HELP SUPPORT OUR WEBSITE WITH PURCHASES
FROM OUR BOOK AND GIFT STORE
OR CAFE PRESS STORE!
CHECK OUT OUR PODCASTS HERE!

22

Return from What's It To You
to Prayer Blog Page