LET GOD MAKE
ALL THINGS NEW FOR YOU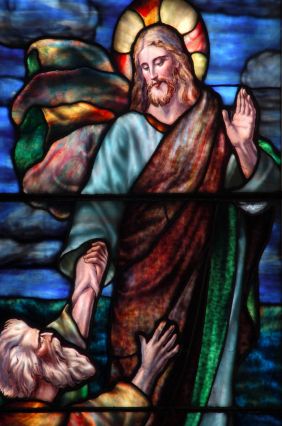 THE FIVE FIRST SATURDAYS IS A DEVOTION NEEDED NOW MORE THAN EVER! FIND OUT MORE HERE
THE SAINT MICHAEL PRAYER AND THE ROSARY
ARE ALSO POWERFUL PRAYERS TO HELP US THROUGH THESE VERY TURBULENT TIMES!
NOVEMBER IS AN ESPECIALLY IMPORTANT MONTH
TO PRAY FOR THE HOLY SOULS IN PURGATORY
WHO NEED AND ARE GRATEFUL FOR OUR PRAYERS!
THIS WEBPAGE IS ALSO AVAILABLE
AS A PODCAST HERE
As we start the new year, many of us find it in our hearts as the calendar changes to want to become saints, or at least more saintly. Do you draw up New Year's resolutions? Have numbered lists of what you hope to accomplish under the heading we often see in magazines, "New Year New You"? Going to lose weight, shed some holiday pounds? Be nicer to your in-laws? Your coworkers? Exercise more? 
All these are noble goals, and I don't mean to make fun of them, by any means! Only to the degree to which these resolutions can become like an ice cube on a hot stove! 
Here's a way to turn your good intentions into actual improvements. I'm suggesting here some good Spiritual Resolutions! Ask God to help you with your prayer life and some good spiritual reading for starters! 
Let Him enrich your life and increase the chances that this year will be a better year for you, no matter what this past troubled turbulent year has been like! If nothing else, our Lord can help you cope with all the trials we're all facing in the midst of the pandemic and so much loss of faith!  
Now's a good time to get a jump on Lent, which starts on March 2nd in 2022. Try making up a list or perhaps a table or chart in your favorite word processing or other such program in which each week you gradually, bit by bit as time allows, increase, say the time you spend in prayer, in reading scripture or other such material and praying the rosary.
Here's an example:

WEEK OF: 1/1             1/8            1/15

PRAYERS  15 min.       20 min.      25 min.

ROSARY    2 rosaries   3 rosaries  4 rosaries

READING  30 min.       35 min.      40 min.
Note that these times listed above are just suggestions. You can add or subtract time from your goals, although if you can challenge yourself, even just a little that will bring better results (much as with exercise)!

Use your own instincts guided by the Holy Spirit as to what will work best for you. For prayers, for example, you could use one of the many prayers from our site, other good websites, or any one of many good prayer books sold on Amazon or in our web store.
There are a couple of good links at the bottom of this page that have extensive lists of some excellent reading material as well.

If you feel especially pressed for time, you can always start out simple, say with one Our Father one Hail Mary and one Glory Be at the beginning and end of each day.
Or perhaps some short prayers during the day such as ones suggested here to ask God to help you cope, or for guidance with particularly challenging situations! A morning offering and an evening prayer are great ways to start and finish the day.

You might want to get in the habit of praying the Rosary if you're not doing so already. This is a very powerful prayer, one highly favored by numerous saints as well as our Blessed Mother at Fatima. If you're not sure what to reflect on when praying it, try our scriptural rosary page to give you food for thought.
If you find you can't pray all five decades of the Rosary for each day's mysteries all at once, try praying a decade at a time during the day meditating on a particular mystery.
We have some suggestions below for spiritual reading as well. These include various Classics of our faith written by and about various saints, and our page of links from Catholic Answers, a great source for learning more about Catholicism.
Don't feel intimidated by these various links and suggestions! Take them for what they are: suggestions. I've found it best in giving myself various assignments to "underpromise" so I can then hopefully "overdeliver". I found those terms in an old EBay guide to good customer service.
(Too many people do the opposite, "overpromising" and "underdelivering" on something, such as those hawking TV gadgets that never work, or shady used car salesmen or other such sleazy businessmen.)
This should not be an excuse for laziness in pursuing your spiritual goals, but, quite the opposite, to encourage you to go further in your journey with our Lord and our Lady. 
For example, promise them, say, 1 hour of prayer time and reading per week, for example, keeping in mind what you think you can do, realistically speaking, in keeping with your daily responsibilities. Then give them 1 hour and a half! Promise our Blessed Mother 3 Rosaries per week. Then give her four! 
Here's another good idea for all Catholics: add more Mass attendance to your schedule, and make it a point to go to Confession at least once a month, conditions during this pandemic permitting. The Sacraments of the Eucharist (in Mass) and Penance (Confession) provide essential spiritual nourishment and can bring you closer to our Lord! Make it a point not to be just a "C&E" (Christmas and Easter) Catholic! 
Also whenever possible. promise them some acts of charity or self-denial such as fasting perhaps one day a week, and then try for two. Whatever you think might be best, but do this all out of love for God. Keep in mind, in accordance with the Little Way of St. Therese, that even the smallest tasks when done out of love for our Redeemer can become mighty deeds indeed!

I hope these links listed below can be of some help and that some of these suggestions I've mentioned may help you put on the Armor of God against the assaults of the devil that St. Paul spoke of in his letter to the Ephesians (verses 11-17). 
On behalf of Our Catholic Prayers I'd like to wish all of our readers a Blessed and Happy New Year! 
Christopher Castagnoli
for www.ourcatholicprayers.com
HELP SUPPORT OUR WEBSITE WITH PURCHASES
FROM OUR BOOK AND GIFT STORE
OR CAFE PRESS STORE!
CHECK OUT OUR PODCASTS HERE!

22

 Return from Let God Make All Things New
to Prayer Blog Page