AN ASHES TO ASHES WEDNESDAY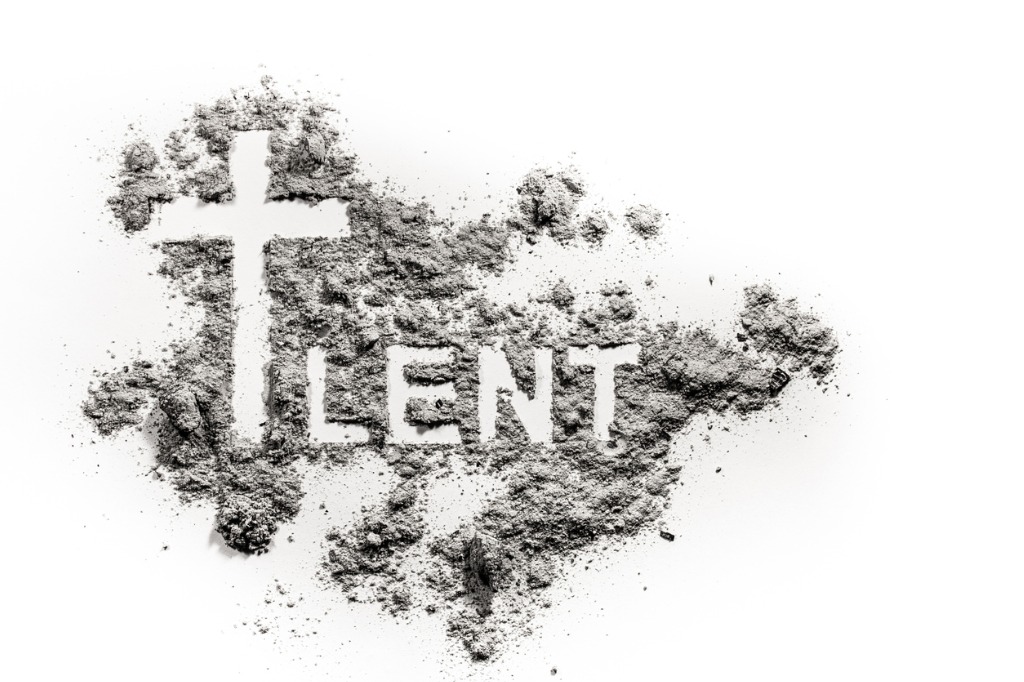 THE FIVE FIRST SATURDAYS IS A DEVOTION NEEDED NOW MORE THAN EVER! FIND OUT MORE HERE
THE SAINT MICHAEL PRAYER AND THE ROSARY
ARE ALSO POWERFUL PRAYERS TO HELP US THROUGH THESE VERY TURBULENT TIMES!
NOVEMBER IS AN ESPECIALLY IMPORTANT MONTH
TO PRAY FOR THE HOLY SOULS IN PURGATORY
WHO NEED AND ARE GRATEFUL FOR OUR PRAYERS!
THIS WEBPAGE IS AVAILABLE
AS A PODCAST HERE
At the beginning of Lent, we are given a reminder of our need for humility and penitence on Ash Wednesday, when we receive ashes on our foreheads. Bringing to mind that memorable phrase "ashes to ashes, dust to dust" the priest says at that moment "Remember that you are dust, and to dust you shall return." Alternatively, the priest may speak the words, "Repent and believe in the Gospel."
Granted in this Covid age there might not be as many opportunities available for people to get this particular sacramental. (As a reminder, sacramentals, as defined in the Baltimore Catechism, are "anything set apart or blessed by the church to excite good thoughts and to increase devotion". Think of rosaries, holy water, medals, scapulars, and the ashes on Ash Wednesday, as examples of these.) 
Ashes have been used to reflect penance and sorrow since Old Testament days. We read in Chapter 3 of the book of Jonah, for example of how the Ninevites donned sackcloth and ashes to avert Divine destruction. 

In the early days of Christianity those who committed grave sins put on sackcloth (or hairshirts) and ashes, but from about the 11th century onward popes and the faithful received ashes in acknowledgement of their all being sinners. In 1099, Pope Urban II officially introduced the name "Ash Wednesday" for the first day of Lent.

People line up for ashes in droves every year but how many think of receiving them in terms of repentance, much less humility? Perhaps you've heard of A&P Catholics, as in Ashes and Palms. This pejorative term refers to those of lukewarm or otherwise superficial faith who show up at church only on Ash Wednesday and Palm Sunday. (Interestingly enough the ashes we receive come from the palms burnt up from the previous Palm Sunday.) 

Would that more people had shown up for regular masses as they did for their ashes before the pandemic hit! According to one internet study from 2018, when churches were fully open, only about 21% of Catholics attend Mass weekly then and about twice that many on a monthly basis. 

In these trying times, pray that more people previously caught up in various worldly distractions will turn back to God. And pray as well that those suffering from so much uncertainty these days don't turn away from Jesus thinking He's abandoned us and left us to fend for ourselves. That would indeed be no small chastisement!

Speaking of fending for ourselves we hear a lot from the so-called woke among us pointing out what they see as injustice.Their concerns are often more of a worldly nature regarding such issues as climate change and diversity and they engage in a lot of virtue signaling on social media these days!
Those religious hypocrites our Lord scorns in the Ash Wednesday Gospel (Matt 6:-6, 16-18) were clearly virtue signaling themselves! In this Gospel, as in other instances, Jesus is not at all shy in expressing his disapproval for those whose piety is pretentious.  
In doing all their fasting, prayer, and almsgiving only for public acclaim, not out of love for God in humility, they received their reward (as Jesus mentioned in Matt 6:2, 5, and 16) in the hollow praise of others! Such a reward can be fleeting indeed, as opposed to the everlasting one God wishes to give us in Eternal Life with Him in heaven.
Sadly, we've probably had more than a few virtue signalers among the clergy over the centuries who've valued human respect more than God's respect, as we do today! 
Note that the line that the priest says on Ash Wednesday mentioned earlier about our being dust brings to mind the reproach God gave Adam when He banished him and Eve from the Garden of Eden, in the book of Genesis: "In the sweat of your face you shall eat bread till you return to the ground, for out of it you were taken;  you are dust, and to dust you shall return." (Gen 3:19)

Psalm 103 resonates with these words from Genesis as well. The psalmist there observes that  God "knows our frame; he remembers that we are dust. As for man, his days are like grass; he florishes like a flower of the field; for the wind passes over it, and it is gone; and its place knows it no more" (Ps 103:14-16).

This is not meant to denigrate our earthly existence but to instill in us a proper detachment from those worldly matters that might keep us from seeking God's will for us here. 
If we live only for our fleeting bodily wants and pleasures, we risk imperiling our souls and missing out on giving Christ wonderful opportunities to work within us!

Clearly we all need to put on sackcloth and ashes, figuratively speaking in prayer, fasting and almsgiving this Lent, considering there's so much confusion and separation from our Creator these days, both in terms of churches closed and an aggressively secular mindset we see all around us. In this regard it is worth noting that those with hyper secular sensitivities would just as soon have us all worship only behind our own closed doors 
Yet while our Lord indeed touts the value in Matthew's Gospel of praying to His Father (and ours!) in secret (6:6) instead of pious posturing, remember that prayer expressed publicly in itself is not necessarily a bad thing if it is done out of a spirit of love and penitence for God. 
Eucharistic Processions, which were once a staple in many communities, need to make a comeback, for example. And those who gather to pray the rosary outside of abortion clinics for example should be encouraged and lauded. We need more of that kind of public prayer nowadays, not less!  
May whatever penances we adopt during Lent help strengthen not only our contrition but our love of God in our desire to get closer to him and, as a result, hopefully to each other as well! 
And remember in the spirit of this Lenten season as well the parable of the Pharisee and the Publican (Luke 18:9-14). You may recall the Pharisee was much like the fellow in the Ash Wednesday gospel full of himself, while the publican (a tax collector) was justified in our Lord's eyes from his humble utterance "O God, be merciful to me a sinner". It is important to note here that the well-known Jesus Prayer, almost the same is quite good for Lent or any other time for that matter: "Lord Jesus Christ, Son of God, have mercy on me a sinner." 
God Bless,

Christopher Castagnoli
for www.ourcatholicprayers.com
HELP SUPPORT OUR WEBSITE WITH PURCHASES
FROM OUR BOOK AND GIFT STORE
OR CAFE PRESS STORE!
CHECK OUT OUR PODCASTS HERE!

22

Return from An Ashes to Ashes Wednesday
to Prayer Blog Page