GIFTS FOR
THE CHRIST CHILD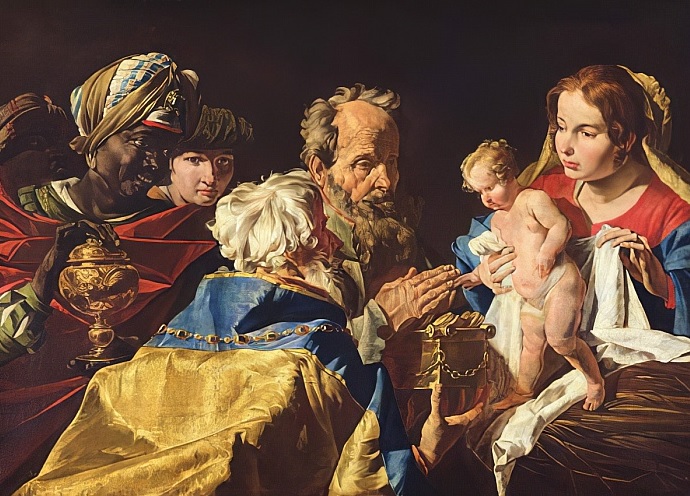 THE FIVE FIRST SATURDAYS IS A DEVOTION NEEDED NOW MORE THAN EVER! FIND OUT MORE HERE
THE SAINT MICHAEL PRAYER AND THE ROSARY
ARE ALSO POWERFUL PRAYERS TO HELP US THROUGH THESE VERY TURBULENT TIMES!
NOVEMBER IS AN ESPECIALLY IMPORTANT MONTH
TO PRAY FOR THE HOLY SOULS IN PURGATORY
WHO NEED AND ARE GRATEFUL FOR OUR PRAYERS!
THIS WEBPAGE IS ALSO AVAILABLE
AS A PODCAST HERE
I'd like to start off this essay with a quote attributed to the noted Theologian Hans Urs Von Balthesaar: "What you are is God's gift to you. What you become is your gift to God." Given the difficult times in which we live, I thought that might be an inspiring way to look at the Advent and Christmas season.

Think of this as being a time when we can give the Infant Jesus our loving response to the Divine graces and supernatural gifts God has given us, in prayer and in the way we live our lives. In so doing we can make our attentiveness to following His will for us a "gift" to the Christ Child in the manger!
I realize that this might be confusing and even mystifying, that we are paying homage to the same God, as a little baby incarnate, who has also been the source of these graces and gifts.
This indeed may be a hard concept to get your head around in terms of its being part of a Divine mystery we accept on faith, as it is not readily understandable to us from purely human reasoning, namely, that Christ existed in the second person of the Trinity way before He was incarnated as the word becoming flesh (John 1:14).
That means that your gifts to the Infant Jesus are a way of saying "thanks'' to Him as part of the Triune God, Father, Son and Holy Spirit in three persons who have given you these gifts and graces in the first place!
Keep in mind as well that God exists outside of our notion of time as human beings. He is living in a panoramic kind of "now" where he is present to all things past, present, and future. As Msgr. Charles Pope once wrote "God sees the past, present, and future all at once….My tomorrow, even my whole future, has always been present and known
to God…..Indeed, God is not waiting for time to pass.For him, everything just is; all is eternally present to Him in a comprehensive "now.""
I remember a young lady a few years back in one of my RCIA classes, designed for adults who wish to convert to our faith, pondering that if her future and the status of her salvation were already known to God, what should she do? I told her "just keep following Jesus in His footsteps", figuratively speaking, of course!
The season of Advent is a special time where we anticipate the arrival of Jesus both in the birth of the Christ Child on Christmas Day and in His Second Coming in glory as well! Although our Lord Himself said that no one knows the day nor the hour of His return except for His Heavenly Father (Mark 13:32), this is still a good time for us to prepare our souls as if He were coming back any day now "in glory to judge the living and the dead", as we say in the Nicene Creed!
The commercial aspects of the Christmas season can very well overshadow those preparations as we run around trying to fill Christmas gift lists and stockings as well.
In that "most wonderful time of the year" as crooner Andy Williams referred to this season, many businesses and retail establishments depend on robust activity during this time for their economic health and well being. The economic headwinds these days are making buying presents for many people more burdensome than usual.
But what about our spiritual health and well being? I would like to suggest, with an eye toward Epiphany as well as Christmas, that we emulate the Three Wise Men (also known as the Three Kings) who came with gifts of gold, frankincense and myrrh for the Christ child in the manger, as depicted in this painting above.
Each year as this time approaches, particularly when meditating on the third joyful mystery of the Rosary, the Nativity, I find myself looking at my own "shopping list" of what I want to give the Christ child in loving response to the Divine gifts we've been offered as mentioned above. Please note that in doing your own "shopping" by all means you can pray to God for whatever graces you feel you need for your particular list.
What could your list include? For starters, you can show Him His wonderful Divine supernatural gifts of faith, hope and love for Him at work in your soul! That when He sees you both in church and elsewhere, he sees a soul honoring not only His sacrifice at Calvary for our salvation, but also whatever suffering he endured being born in a cold cave rather than an inn in Bethlehem, much less the Great Temple in Jerusalem, to teach us from the crib to the cross the importance of humility.
Speaking of humility, what better gift can we give the Christ Child than to show Him humble and contrite hearts by making sincere and heartfelt confessions in the sacrament of Penance, with a spirit of true repentance of our sins?
Think also regarding humility about the treacherous trek which the Holy Family, Jesus, Mary and Joseph, had to endure as exiles in Egypt for a time in order to avoid the murderous wrath of King Herod who felt threatened by a little baby!
Not incidentally, humility is a great grace, a great virtue and thus a great gift idea for the Christ Child. As both Sts. Peter and James pointed out in their respective letters, God opposes the proud but gives grace to the humble (James 4:6 and 1 Pet 5:5).
There are other great gifts you can give Him by showing them working in your soul as well! Think of any or all of the seven gifts of the Holy Spirit in this regard: wisdom, understanding, counsel, fortitude, knowledge, piety, and fear of the Lord. Or perhaps any or all of the Four Cardinal Virtues of prudence, justice, fortitude and temperance.
And don't feel overwhelmed by all this. Pray for enlightenment from the Holy Spirit as to which one or more virtues has been the most fruitful for you to "give" Jesus this Christmas. And keep in mind Christmas may come but once a year but cultivating these virtues is a year-round goal for us as Catholics.
The more we try to make use of these various gifts with humble and contrite hearts the more we can advance in holiness, and, at the very least, get much needed strength, courage and patience from Our Lord to deal with life's many often contorted twists and turns, especially nowadays!
St. Peter, in chapter one of his second letter, provided us with an intriguing "stepping stone" example of how to progress from faith to love As he wrote "Make every effort to supplement your faith with virtue, and virtue with knowledge, and knowledge with self-control, and self-control with steadfastness, and steadfastness with godliness, and godliness with brotherly affection, and brotherly affection with love. For if these things are yours and abound, they keep you from being ineffective or unfruitful in the knowledge of our Lord Jesus Christ" (2 Pet 1: 5-8).
Incidentally, it is worth noting as well that St. Peter didn't ignore the virtue of hope in his letters! As he writes in His first letter when encouraging disciples encountering various trials to be ready to stand up for Jesus and our faith "Always be prepared to make a defense to any one who calls you to account for the hope that is in you, yet do it with gentleness and reverence" (1 Pet 3:15).
This hope is fueled in large part by the glorious prospect of our salvation and eternal life with God in heaven, with never ending peace and joy that we can only begin to imagine as being possible!
St. Paul gives us another take on this wonderful virtue that has a distinct Advent flavor! In his letter to the Romans (vv. 24-25) he writes: "Now hope that is seen is not hope. For who hopes for what he sees? But if we hope for what we do not see, we wait for it with patience."
Aren't we all waiting for our Lord both in His birth as well as in His return in glory this season? As we read in the book of Isaiah, Chapter 30 verse 18, "Blessed are all who wait for the Lord."
I've found the supernatural virtues of faith and hope to be a great springboard for two other virtues I find myself striving to be able to give the Christ child at Christmas: those of perseverance and equanimity; and from these two, the most important one of all, that of trusting in Jesus to get me through any bad times up ahead.
I pray everyday for this trust, thinking of the simple but stirring words from the Divine Mercy portrait our Lord "commissioned" from the Polish nun St. Faustina in the 1930's: "Jesus I trust in You". (Incidentally the Surrender Novena is a great prayer to increase trust in our Lord!)
As with all these prayers and petitions you need not feel like a hypocrite if you see your heart is not in them. As long as you're striving to advance on Holiness, God can work with that and thus with you.
Perseverance involves making a continuing effort to do or accomplish something despite whatever difficulties may stand in your way.
That means not slacking off or shrinking from one's stated goals or tasks when the going gets tough. We will all need this trait in whatever hard times lie ahead, if nothing else in prayer, for God to give us the strength and graces to keep us on the narrow road to follow Him.
Likewise, such activity can better lead us to bear with the stormy seas, or even earthquakes in our lives, with equanimity, which involves keeping our temperaments cool, calm, and collected in both good times and bad.
Equanimity allows you to stay at an even keel in serving our Lord, no matter what the circumstances, and to trust in Him to see you through both good times and bad with His grace!
This Advent and Christmas and beyond, keep focused on prayer, and on reading scripture and good books about our faith, and seek to advance in sanctity with the help of the Holy Spirit.
In so doing you can give our Lord whether in the crib, on the cross, (where you can always offer up to Him your or sorrows, misfortunes, and difficulties) or wherever else you may find Him, such as in the Holy Eucharist, the satisfaction in knowing you're trying your best to do His will. And this can show Him your ultimate act of Love!!
God Bless,
Christopher Castagnoli
for www.ourcatholicprayers.com
HELP SUPPORT OUR WEBSITE WITH PURCHASES
FROM OUR BOOK AND GIFT STORE
OR CAFE PRESS STORE!
CHECK OUT OUR PODCASTS HERE!

22

Return from Gifts for the Christ Child
to Prayer Blog Page