A NOVENA TO THE
HOLY SOULS IN PURGATORY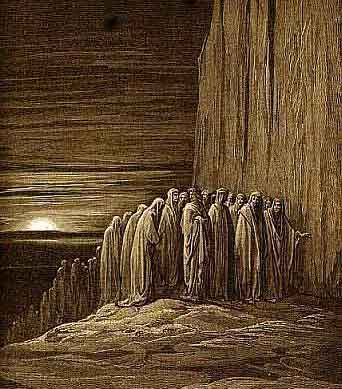 THE FIVE FIRST SATURDAYS IS A DEVOTION NEEDED NOW MORE THAN EVER! FIND OUT MORE HERE
THE SAINT MICHAEL PRAYER AND THE ROSARY
ARE ALSO POWERFUL PRAYERS TO HELP US THROUGH THESE VERY TURBULENT TIMES!
EXCERPTS FROM THIS PAGE ARE AVAILABLE AS A PODCAST HERE
In this Novena to the Holy Souls in Purgatory (pictured above), we members of what is called the church militant (those of us still living on Earth) seek assistance from those of the church suffering (the souls in purgatory) so that one blessed day we may all be together as members of the church triumphant (all the souls sharing eternal Life with God in Heaven)!
These three different groups together comprise the full body of the Church, also known as the mystical body of Christ. We are truly all in this together!
Oh holy souls in purgatory, you are the certain heirs of heaven. You are most dear to Jesus as the trophies of His Precious Blood and to Mary, mother of mercy. Obtain for me through your intercession the grace to lead a holy life, to die a happy death and to attain to the blessedness of eternity in heaven. Dear suffering souls, who long to be delivered in order to praise and glorify God in heaven, by your unfailing pity help me in the needs which distress me at this time, particularly (and here you may state your need or intention) so that I may obtain relief and assistance from God. In gratitude for your intercession I offer to God in your behalf the satisfactory merits of my prayer and work, my joys and sufferings of this day (week, month, or whatever space of time you wish to designate). 

The souls in purgatory are satisfying the temporal punishment still due from venial or confessed mortal sins they've committed during their lives.
Although they have died in God's grace and will definitely share Eternal Life with Him in Heaven, they must first be purified as they pay their remaining spiritual "dues." While the length and severity of the pains each soul undergoes to make restitution to God varies, they can no longer pray for themselves but they can and do pray for us.
Traditionally, November is an especially important month to pray for the holy souls (although we should keep them in our thoughts and prayers all year round). Many people around the world visit the graves of the departed on All Souls' Day, November 2nd. In addition to making the offerings to God described in this novena to the holy souls in purgatory on their behalf, we can always help them with prayers such as this one to St. Gertrude and the Way of the Cross as well.
Most importantly, besides offering God our own sufferings for the holy souls, we should have have Masses said for them as well. In all of these activities we will earn the deep gratitude and prayers of those who we know are certainly on their way to Heaven!
HELP SUPPORT OUR WEBSITE WITH PURCHASES
FROM OUR BOOK AND GIFT STORE
OR CAFE PRESS STORE!
CHECK OUT OUR PODCASTS HERE!

22

Return from A Novena to the
Holy Souls In Purgatory to Novenas

Return from A Novena to
the Holy Souls In Purgatory
to Prayers for Holy Souls In Purgatory