NUNC DIMITTIS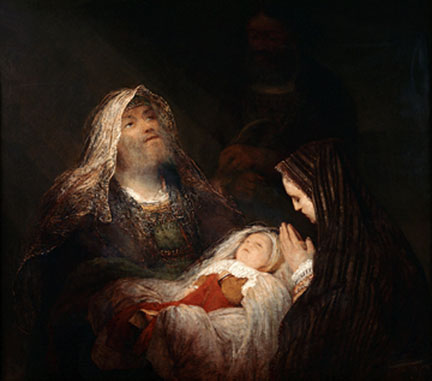 THE FIVE FIRST SATURDAYS IS A DEVOTION NEEDED NOW MORE THAN EVER! FIND OUT MORE HERE
THE SAINT MICHAEL PRAYER AND THE ROSARY
ARE ALSO POWERFUL PRAYERS TO HELP US THROUGH THESE VERY TURBULENT TIMES!
THIS WEBPAGE IS AVAILABLE
AS A PODCAST HERE
In these crazy, turbulent times, when peace is everywhere sought but so little to be found, this simple prayer printed below known as Nunc Dimittis, ("Now Thou dost dismiss" in its original Latin) points the way towards where true peace can be found, in Jesus Christ!
It is also called the Canticle of Simeon, named after the man who first uttered these words. The prayer is taken from Luke's Gospel 2:25-32. It is featured in the Gospel every February 2nd on what is known as the Feast of the Presentation, which commemorates Simeon's great joy at seeing the little baby Jesus, as described below.  

Nunc Dimittis delivers a profound message quite simply and has been used in Compline (night prayer) in the Liturgy of the Hours, the prayer of the Church since the 4th century. It makes a great prayer to conclude one's day for religious and laity alike!

Now thou dost dismiss thy servant, O Lord,
according to thy word in peace; 
Because my eyes have seen thy salvation,
Which thou hast prepared before the face of all peoples: 
A light to the revelation of the Gentiles,
and the glory of thy people Israel
Through the incarnation of His Son our Lord Jesus Christ, God extended the special covenantal relationship He established with the Jews as recorded in the Old Testament to the Gentiles as well, that is to say to all of us. 

We read in Chapter 2 of Luke's Gospel how a "just and devout" man named Simeon was awaiting the consolation, (that is to say the restoration of God's rule), of Israel and was told by the Holy Spirit that he would see the Lord's Anointed One, the Messiah, Jesus, before his death. 

When Mary and Joseph, following Mosaic law, brought the baby Jesus to be presented in the Jerusalem Temple there the Spirit led Simeon straight to Him. Jesus at that moment was truly a Bundle of Joy for the old man!
Simeon took that little baby into his arms, and blessing God, spoke these famous words printed in the prayer above. Indeed, Jesus was to be a guiding light for our salvation and for Eternal Life with God in heaven!

The Church reminds us in the Feast of the Epiphany, observed on January 6th, that with Jesus God manifested Himself to the whole world, Gentile and Jew alike. He was not just the God of Abraham, Isaac and Jacob but of all of mankind! 

The three kings acknowledged a kingship that would extend to the whole world. So did Simeon in these words above! In the Church's Liturgical Calendar, the Feast of the Presentation of the Lord on February 2nd commemorates Simeon's turn to be both the bearer and the recipient of the good news of the Gospel messages of "light" and "glory"!
(This feast is also called Candlemas for the candles blessed at Mass that day marking Christ as the Light of the World.) 

In holding that little baby, as pictured above, Simeon experienced the peace of Christ! It's almost as if he experienced a sensation of the true peace Jesus would speak about to His disciples in the Last Supper discourse a little over three decades later, when He told them "Peace I leave with you, my peace I give to you; not as the world gives do I give to you. Do not let your heart be troubled or afraid" (John 14:27). 

St. Paul similarly wrote to the Philippians "may the peace of God which surpasses all understanding guard your hearts and minds in Christ Jesus" (Phil 4:7) 

Christ's peace truly transcends all the anxious hustle and bustle of the world where people are constantly at war with each other (and with themselves as well) for power and prestige. 

And what does that peace entail? In part, surrendering all your worries, doubts, and fears to the care of a loving God in prayer. Being aware of your dignity as a child of God made in His image and likeness, no matter what your circumstances. 
Christ's peace can leave you free of the guilt and shame mortal sin can bring or even repeated venial sins. It's the peace that comes from having a clear conscience helped by frequent access to the sacrament of penance (confession) for those times you sin; as well as from Christ's graces from the Eucharist. 

It's a peace that comes from putting on Christ, (in trying earnestly to follow Him in the Ten Commandments) not putting Christ on (in thinking that lip service suffices in doing His will). A peace in which you have no skeletons rattling around in your closets. No slavery to addictions or other demonic snares!

While this may all seem like a tall order, keep in mind that you don't have to be as just and devout as Simeon to experience Christ's peace, but the closer you can come to being free from sinful entanglements the better! Our Lord well understands what fallen creatures prone to sin we are! Let Him help you dig out those weeds in your garden!

Sadly, the revelation and glory Simeon speaks of in Nunc Dimittis would not come without great cost. We read a few lines later in this chapter of Luke's Gospel that this little baby would be a sign that would be contradicted by many who one way or another would reject Him and His saving message! Indeed a tragic "contradiction" occurred shortly thereafter.
The Holy Family had to flee to Egypt to keep baby Jesus from being killed by the wicked King Herod who saw Him as a threat to his position as King of the Jews! 

This event is also commemorated in the 4th decade of the Joyful Mysteries of the Rosary. It has a bittersweet aspect to it in that the Blessed Mother became tragically aware then that, as Simeon told her, the sword of that contradiction would pierce her soul, as she would experience immense sorrow in seeing how much her beloved Son would suffer and be rejected, in His earthly ministry and in His Passion. (Also arguably for centuries to come, as we see from various Church approved apparitions of our Lady such as those at LaSallette, Fatima, and Akita, in the 19th and 20th centures).

Christ's kingdom, as brutally as it was "contradicted" in His Passion, as well as in the subsequent persecution of Christians worldwide ever since, is one that is meant to encompass the whole world, even while His kingdom as He would tell Pontius Pilate was not of this world (John 18:36)! 

Keep in mind that each of us has the God-given free will to contradict this contradiction in our hearts as it were and not listen to the naysayers who would dismiss Jesus as just some prophet, philosopher or, worse, some mythical figure impinging on our freedom. 

As a reminder, (although I hope one is not needed) Christ is God, the second person of the Trinity with two natures, one human and one divine! And He loves all of us and each one of us enough to have died for us at Calvary so that we might be able to spend eternity with Him in heaven.
He loved you enough to die for you that you may experience His goodness peace and overwhelming joy in heaven but you must let him work with you as a citizen in training for there.

We hope this prayer, whether you say it at night or at any time during the day, can inspire you to strive for the peace of Christ Simeon spoke of, not for death right away of course, but for that peace of soul that comes from following our Lord and His commandments as best you can in loving obedience, so that you may experience consolation in troubled times from Him as you turn to Him for his graces, guidance and support. 

And that when you reach your end, when you pass from death to life you may be ready as fully as possible to hear those beautiful words, in effect, "Well done, good and faithful servant....enter into the joy of thy master" (Matt 25:33) that your joy may be complete (John 15:11)!
HELP SUPPORT OUR WEBSITE WITH PURCHASES
FROM OUR BOOK AND GIFT STORE
OR CAFE PRESS STORE!
CHECK OUT OUR PODCASTS HERE!

22

Return from Nunc Dimittis
to Prayer Blog Page

Return from Nunc Dimittis
to Evening Prayers