ST. TERESA'S BOOKMARK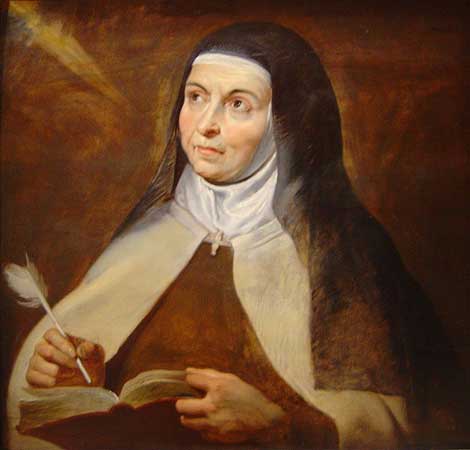 THE FIVE FIRST SATURDAYS IS A DEVOTION NEEDED NOW MORE THAN EVER! FIND OUT MORE HERE
THE SAINT MICHAEL PRAYER AND THE ROSARY
ARE ALSO POWERFUL PRAYERS TO HELP US THROUGH THESE VERY TURBULENT TIMES!
 THIS WEB PAGE IS ALSO AVAILABLE
AS A PODCAST HERE. 

Is today driving you crazy? This prayer below, known as St. Teresa's Bookmark, can help you calm down. Is your stomach all tied up in knots with worries? Is your mind racing like a hamster in a cage going around and around on a wheel? Give yourself a break! Take a deep breath. St. Teresa's Bookmark can give you some much needed perspective on things!
Let nothing disturb you,
Let nothing frighten you,
All things are passing;
God only is changeless.
Patience gains all things.
Who has God wants nothing.
God alone suffices.
St. Teresa of Avila, the celebrated Carmelite nun, mystic and Doctor of the Church wrote this prayer in the 16th century. It's called St. Teresa's Bookmark because, according to tradition this great saint carried it around in her prayer book, where it was found after her death in 1582.
St. Theresa herself was a truly inspiring figure in Catholicism. She joined the Carmelite order in 1535. When she felt that it had become too lax she, along with St. John of the Cross, founded, the Discalced (i.e. "shoeless", sandal-wearing actually!) Carmelites, dedicated to a more austere life of prayer, work and penance, in the 1560's.
This famous mystic received many visions from our Lord in the form of "intellectual locutions", that is to say, insights and images that she perceived with her mind rather than her senses. Her Autobiography, along with her other famous works The Interior Castle and The Way of Perfection, are among the great classics of our faith in their treatments of mysticism and prayer to achieve union with God.
St. Teresa experienced many hardships during her life, including illnesses and struggles both in her prayer life and in establishing her reformed Order. Still, she had an amiable disposition and a good sense of humor as well, as evidenced by a well-known story related to her.
Supposedly, Jesus said to St. Teresa after she experienced some trial, "That's how I treat my friends" to which she replied "and that's why you have so few"! Actually, as to her real feelings, she wrote in The Interior Castle that "However many years life might last, no one could ever wish for a better friend than God."
Keep in mind, in relation to this incident, that Jesus was not acting like some kind of killjoy here. Our Lord has called on mystics, religious and lay people alike to share their sufferings with His on the cross at Calvary for others' salvation, as discussed here. 

The line in St. Teresa's Bookmark about all things passing is both challenging and comforting. After all, neither the good things we experience in this world, nor the bad ones, last forever. We are challenged to share God's blessings with others rather than to hoard them for our own selfish desires. And we are comforted in the knowledge that whatever hardships and pains we experience, even the really bad ones, also pass away! (Or as St. Teresa herself once said, "Pain is never permanent".)
St. Teresa's assertion that "God only is changeless" also brings to mind our Lord's own words about what really lasts: "Heaven and earth will pass away, but my words will not pass away" (Matt 24:35).
She also brings up the importance of patience in our journey towards Eternal Life. Indeed, patience is one of the 12 fruits of the Holy Spirit! It can help us endure even the most difficult trials with God's grace. The patience we show others also reflects the love we have in our hearts. We can make a nice scriptural link here in trying to discern God's will for us. As St. John put it in one of his letters, "God is Love" (1 Jn 4:8). And, as St. Paul once wrote, "Love is Patient" (Cor 1:13:4).
Ultimately, the important thing, as St. Teresa's Bookmark reminds us, is to keep God front and center in our lives as much as possible, even with all the day-to-day distractions of making a living and providing for our families that can often threaten our peace of mind.
After all, didn't Jesus tell us in the Sermon on the Mount to "seek first the kingdom of God….and all these things [our material needs] shall be given you" (Matt 6:33)? St. Teresa's Bookmark echoes that wonderful sentiment in its last two lines. Hopefully this great prayer can help you keep your cool in troubling times!
HELP SUPPORT OUR WEBSITE WITH PURCHASES
FROM OUR BOOK AND GIFT STORE
OR CAFE PRESS STORE!
CHECK OUT OUR PODCASTS HERE!

22

Return from St. Teresa's Bookmark
to Special Prayers