TE DEUM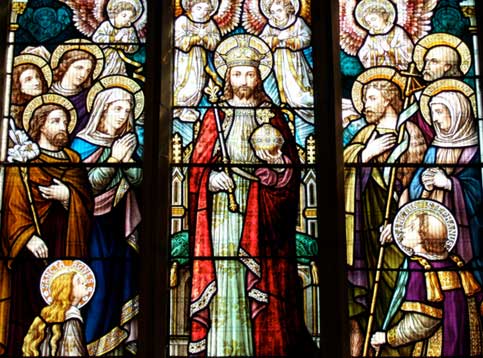 THE FIVE FIRST SATURDAYS IS A DEVOTION NEEDED NOW MORE THAN EVER! FIND OUT MORE HERE
THE SAINT MICHAEL PRAYER AND THE ROSARY
ARE ALSO POWERFUL PRAYERS TO HELP US THROUGH THESE VERY TURBULENT TIMES!
NOVEMBER IS AN ESPECIALLY IMPORTANT MONTH
TO PRAY FOR THE HOLY SOULS IN PURGATORY
WHO NEED AND ARE GRATEFUL FOR OUR PRAYERS!
THIS WEBPAGE IS ALSO AVAILABLE
AS A PODCAST HERE
The hymn Te Deum is a moving tribute to God in His triune majesty. Its authorship has been traditionally attributed to Saints Ambrose (it has often been called an Ambrosian Hymn) and Augustine from the latter part of the 4th century.
It was more likely written by St. Niketas, bishop of Remesiana in about the same time period. It is still part of the Liturgy of the Hours, the public prayers of the Church that are recited daily by the clergy and other religious, along with many of the laity as well.
Te Deum has been set to music by such illustrious composers as Mozart, Haydn, Verdi, Dvorak, Britten and Penderecki. Its name comes from its opening words in Latin, "Te Deum Laudamus" ("O God we praise you").
As you read the English translation of the text of this hymn printed below (which can also be recited as a prayer, of course), you can get a sense of its grandeur! It gives us a glimpse of heaven, with saints and angels praising God, before focusing on Christ in lines suggestive of the Apostle's Creed. It also includes some verses from the Psalms (the lines in brackets below).
O, God, we praise You and acknowledge You
to be the supreme Lord. 
Everlasting Father, all the earth worships You.
All the angels, the heavens and all angelic powers,
All the cherubim and seraphim, continually cry to you:
Holy, holy, holy, Lord God of Hosts!
Heaven and earth are full of the majesty of Your glory.
The glorious choir of the apostles,
The wonderful company of prophets,
The white-robed army of martyrs, praise You.
Holy Church throughout the world acknowledges You:
The Father of infinite majesty;
Your adorable, true and only Son;
Also the Holy Spirit, the Comforter.
O Christ, You are the King of glory!
You are the everlasting Son of the Father.
When You took it upon Yourself to deliver man,
You did not disdain the Virgin's womb.
Having overcome the sting of death, 
You opened the kingdom of heaven to all believers.
You sit at the right hand of God in the glory of the Father
We believe that You will come to be our Judge.
We, therefore, beg You to help Your servants
whom You have redeemed with Your Precious Blood.
Let them be numbered with Your saints in everlasting glory.
[Save Your people, O Lord, and bless Your inheritance!
Govern them, and raise them up forever.
Every day we thank You.
And we praise Your name forever; yes, forever and ever.
O Lord, deign to keep us from sin this day.
Have mercy on us, O Lord, have mercy on us.
Let your mercy, O Lord be upon us, for we have hoped in You.
O Lord, in you I have put my trust; never let me be put to shame.]

Te Deum combines important elements of prayer to God, including adoration, supplication (particularly towards the end in its appeal for God's mercy), and thanksgiving. (It is often referred to as a Hymn of Thanksgiving). The Church triumphant (those in heaven) and the Church militant (those on earth) sing God's praises in adoration in this hymn.
We can see thanksgiving here in the acknowledgement of Christ's opening "the kingdom of heaven to all believers" and redeeming us with His Precious Blood at Calvary.
The reference to Christ's having overcome the sting of death also brings to mind the words of St. Paul, who spoke of our Lord as having overcome sin and death in His passion, saying "death, where is thy sting?" (1 Cor 15:55).
We see another good example of gratitude in Te Deum as well in the line that our Lord "did not disdain the Virgin's womb", becoming human like us in order to save us. (Indeed, as we hear in the Liturgy of the Eucharist at Mass, Jesus "humbled Himself to share in our humanity"!)
The last line, taken from Psalm 25, verse 2, is particularly moving. It brings to mind the importance of trusting in our Lord to see us through our troubles if we stay close to him in prayer, obedience and love. And we are reminded here as well of the importance of asking God for His mercy in our often challenging journey towards Eternal Life with Him in the Kingdom of Heaven! We hope this hymn, in whatever musical setting you may enjoy it from the internet or otherwise, or just in quiet recitation, can help draw you closer to God in His awesome Triune Majesty!
HELP SUPPORT OUR WEBSITE WITH PURCHASES
FROM OUR BOOK AND GIFT STORE
OR CAFE PRESS STORE!
CHECK OUT OUR PODCASTS HERE!

22

Return from Te Deum
to Special Prayers