THE FIRST SORROW

THE PROPHECY OF SIMEON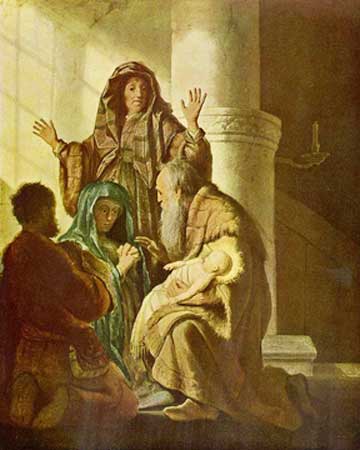 THE FIVE FIRST SATURDAYS IS A DEVOTION NEEDED NOW MORE THAN EVER! FIND OUT MORE HERE
THE SAINT MICHAEL PRAYER AND THE ROSARY
ARE ALSO POWERFUL PRAYERS TO HELP US THROUGH THESE VERY TURBULENT TIMES!
NOVEMBER IS AN ESPECIALLY IMPORTANT MONTH
TO PRAY FOR THE HOLY SOULS IN PURGATORY
WHO NEED AND ARE GRATEFUL FOR OUR PRAYERS!
This prayer below devoted to Mary's First Sorrow, is the first of a set of seven that was approved by Pope Pius VII in 1815. The set starts with this introduction below, which uses a familiar verse/response pattern for groups, (but you can say each of these lines by yourself, of course)! Each prayer in the set ends with the Hail Mary.
V. O God, come to my assistance. 
R. O Lord, make haste to help me.
V. Glory be to the Father, and to the Son, and to the Holy Ghost,
R. As it was in the beginning, is now, and ever shall be, world without end. Amen. 

I grieve for thee, O Mary most sorrowful, in the affliction of thy tender heart at the prophecy of the holy and aged Simeon. Dear Mother, by thy heart so afflicted, obtain for me the virtue of humility and the gift of the holy fear of God. 

Hail Mary, etc.
Some of you who are devoted to the Rosary might look at the title of this prayer, the Prophecy of Simeon (depicted in this Rembrandt painting above) with a little confusion. You might think "wait a minute. Isn't Simeon's prophecy (Luke 2:22-35) part of the Joyful Mysteries, in the decade devoted to our Lord's Presentation in the temple?"
Well if that mystery is joyful, it is truly bittersweet. On one hand, the devout Simeon, led by the Holy Spirit, experienced the true joy of seeing the Messiah before his death in the little baby Jesus. You might say he was one of the first to experience "the peace of Christ"! Indeed, as the old man put it prophetically, this Child would be a 'light unto the Gentiles and a glory for your people Israel" (Luke 2:32). The sorrowful part is what followed.
Mary later told the mystic St. Bridget of Sweden centuries later that she felt great anguish over what Simeon said after that. She said that "On that day [of the Presentation] my pain was increased. For though, by divine inspiration, I knew that my Son was to suffer, yet this grief pierced my heart more keenly at Simeon's words when he said that a sword would pierce my soul [Luke 2:35], and that my Son should be set for a sign to be contradicted [Luke 2:34]". She realized even more forcefully than before how much Jesus' message would be rejected and how much He would suffer during His Passion for our redemption.
As Archbishop Fulton Sheen once wrote poignantly and poetically "from that moment on, every time she would lift infant hands, she would see them fall across them the shadow of nails."
The Blessed Mother also revealed to St. Bridget that this grief pierced her soul for the rest of her life. As she put it "as often as I looked at my Son, as often as I wrapped Him in His swaddling-clothes, as often as I saw his hands and feet, so often was my soul absorbed, so to say in fresh grief; for I though how he would be crucified."
And while Mary said her grief was tempered by the consolation from God's Spirit, it never left her heart. Indeed, what would you do if you knew for certain your beloved child was to die a horrible death in the prime of his life?
We can indeed thank Mary for her loving strength in carrying on and raising her Divine Son knowing His horrible but necessary sacrifice lay ahead in the increasingly near future. Her equanimity facing this is certainly worth imitating!
Incidentally, it is worth noting here, in referencing the virtue of "humility" mentioned in the First Sorrow prayer above, that Mary and Joseph brought the baby Jesus to the Temple to present Him to the Lord, following the required custom of Mosaic law, without any fanfare, in poverty.
They presented a pair of turtle doves as a sin offering rather than a lamb, which they could not afford. And to think that her son would offer Himself to His Heavenly Father as the ultimate lamb of atonement, the Lamb of God, some three decades later!
(Next) The Second Sorrow
HELP SUPPORT OUR WEBSITE WITH PURCHASES
FROM OUR BOOK AND GIFT STORE
OR CAFE PRESS STORE!
CHECK OUT OUR PODCASTS HERE!

22

Return from the First Sorrow to
Prayers to the Sorrowful Mother