THE SECOND SORROW

THE FLIGHT INTO EGYPT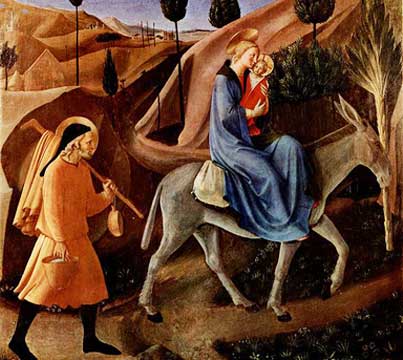 THE FIVE FIRST SATURDAYS IS A DEVOTION NEEDED NOW MORE THAN EVER! FIND OUT MORE HERE
THE SAINT MICHAEL PRAYER AND THE ROSARY
ARE ALSO POWERFUL PRAYERS TO HELP US THROUGH THESE VERY TURBULENT TIMES!
NOVEMBER IS AN ESPECIALLY IMPORTANT MONTH
TO PRAY FOR THE HOLY SOULS IN PURGATORY
WHO NEED AND ARE GRATEFUL FOR OUR PRAYERS!
I grieve for thee, O Mary most sorrowful, in the anguish of thy most affectionate heart during the flight into Egypt and thy sojourn there. Dear Mother, by thy heart so troubled, obtain for me the virtue of generosity, especially toward the poor, and the gift of piety. 

Hail Mary, etc.
This prayer above for Mary's Second Sorrow, the Flight into Egypt, (pictured above in this rendering by Fra Angelico), brings to mind the aged Simeon's words from the First Sorrow, that her newborn son would be a "sign that would be contradicted" (Luke 2:34).
For some background, Magi came from the East to Bethlehem to pay homage to Jesus, whom they called "the newborn King of the Jews", shortly after His birth. (We celebrate their story on Epiphany, or, in some places, on what is known as Three Kings Day.)
Yet, as we read in Chapter 2 of Matthew's Gospel, this joyful event had heartbreaking repercussions. The Magi traveled a great distance following a star to see the Christ Child. They made one innocent, yet tragic, mistake, however. They didn't go to Bethlehem first, but rather to Jerusalem, thinking He would be there. (It made sense to think the baby who would be King of the Jews would be born there, right?)
Unfortunately, they inquired as to Jesus' whereabouts from the then current king, Herod the Great. "Great" is probably a better term to describe the many buildings he erected during his reign, including his impressive reconstruction of the Second Temple in Jerusalem.
Herod himself was a ruthless paranoid leader who thought nothing of having anyone he thought was a threat to him murdered, including quite a few family members and rabbis over the years. The Roman Emperor Augustus once observed that it was better to be Herod's pig than his son!
So when the Magi asked about Jesus' whereabouts, Herod saw this little baby as "competition" for his "turf". As St. Alphonsus Liguori put it in his great work The Glories of Mary "Herod, having heard that the expected Messiah was born, foolishly feared that he would deprive him of his kingdom."
The upshot was that, soon after the Magi left Bethlehem, an angel told Joseph in a dream to flee for Egypt immediately with Mary and Jesus. He warned Joseph that Herod would soon order the massacre of all boys under the age of two in Bethlehem, the place of Jesus' birth, to make sure the child was killed!
Talk about, as Simeon said, a sign that would be contradicted! Our Savior is just an innocent little baby here but already He's being marked for death! Speaking of innocence, what we now know as Herod's Massacre of the Innocents took place soon after.
By this time, the Holy Family was making the long, arduous trek into safer territory hundreds of miles away. (Egypt was at that time a traditional source of refuge for those fleeing from danger in Palestine, where Jesus was born.)
The road they traveled was, according to St. Bonaventure's description of it, "rough, unknown and little frequented." "As they were destitute," says St. Basil, "it is evident that they must've labored much to provide themselves with the necessities of life."
Clearly, Our Blessed Mother, Joseph, and their Divine Son experienced what so many people have over the centuries up until this present time in fleeing persecution! And yet, Mary and Joseph still had faith in God and in His sacred purpose for them as they carried their Divine Son, our Redeemer, on their journey.
What an image of humility this is, the Creator of the world, assuming human flesh and human vulnerability, all for us! The Holy Family left Egypt for the town of Nazareth in the region of Galilee after Herod's death. It is worth noting, as Matthew does in his Gospel (Matt 2:15), that this fulfilled the prophet Hosea's prediction in Scripture: "Out of Egypt I called my Son" (Hos 11:1).
We ask Mary in the prayer Hail Holy Queen that "after this our exile, show unto us the Blessed Fruit of thy Womb Jesus." This Second Sorrow shows us how Our Lord and His Blessed Mother were not strangers to the notion of being exiles themselves!
(Back) The First Sorrow (Next) The Third Sorrow
HELP SUPPORT OUR WEBSITE WITH PURCHASES
FROM OUR BOOK AND GIFT STORE
OR CAFE PRESS STORE!
CHECK OUT OUR PODCASTS HERE!

22

Return from the Second Sorrow
to Prayers to the Sorrowful Mother