THE SEVENTH SORROW

JESUS IS PLACED IN THE TOMB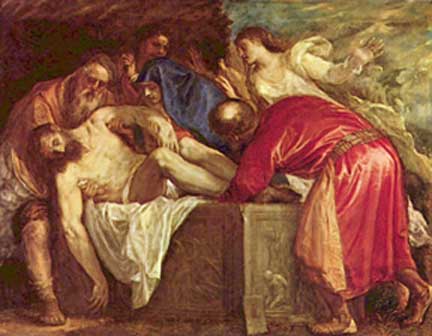 THE FIVE FIRST SATURDAYS IS A DEVOTION NEEDED NOW MORE THAN EVER! FIND OUT MORE HERE
THE SAINT MICHAEL PRAYER AND THE ROSARY
ARE ALSO POWERFUL PRAYERS TO HELP US THROUGH VERY TURBULENT TIMES!
GROW IN FAITH AND PRAYER WITH HALLOW!
This prayer below, devoted to Mary's Seventh Sorrow, is the last of a set of seven that was approved by Pope Pius VII in 1815. The set concludes with the familiar verse/response pattern for groups, (but you can say each of these lines by yourself, of course!) followed by a closing prayer.
I grieve for thee, O Mary most sorrowful, for the pangs that wrenched thy most loving heart at the burial of Jesus. Dear Mother, by thy heart sunk in the bitterness of desolation, obtain for me the gift of wisdom. 

Hail Mary, etc. 

V. Pray for us, O Virgin most sorrowful, R. That we made be worthy of the promises of Christ
Let us Pray
Let intercession be made for us, we beseech Thee, O Lord Jesus Christ, now and at the hour of our death, before the throne of Thy mercy, by the Blessed Virgin Mary, Thy Mother, whose most holy soul was pierced by a sword of sorrow in the hour of Thy bitter Passion. Through Thee, Jesus Christ, Savior of the world, Who with the Father and the Holy Ghost lives and reigns, world without end. Amen.
In this Seventh Sorrow, we see a day so dreadful and yet, at the same time, so important for our redemption finally coming to a close! Scripture tells us of how Joseph of Arimathea, a distinguished member of the Jewish Sanhedrin but secretly a disciple of Jesus, took down our Lord's body from the cross, wrapped it in a clean linen cloth, and laid Him in a new tomb hewn out of a rock in a garden in which no one had yet been buried.
He was assisted by another prominent Jewish leader named Nicodemus, and most likely, others as well not mentioned in the Gospels. (The 16th century Italian painter Titian's picture of that scene is shown above.) This was done before nightfall, as Friday, the day of our Lord's Passion, was also the day of preparation for the Sabbath. (The traditional Jewish custom of resting on the Sabbath was still being observed even in the midst of tragedy.)
Our Blessed Mother told the famous mystic St. Bridget of Sweden, what was going through her mind when they placed Jesus in the Holy Sepulcher:
"It would be impossible for anyone to describe how sad I was then….Oh, how gladly would I have allowed them to entomb me alive with my Son, if it had been His will! I can truly say that when my Son was entombed, there were two Hearts in one sepulcher. Is there not the saying: where your treasure is, there is also your heart? [Matthew 6: 21; Luke 12:34] Therefore my thoughts and my heart were always in the Tomb of my Son."
How could anyone not feel immense heartache like Mary's at this scene?
And yet, there was incredibly good news straight ahead. Our Lord's glorious Resurrection was on the horizon, on Easter Sunday. He would soon be walking, talking, and even eating a piece of fish (Luke 24:42) among his astonished disciples. (This was quite appropriate, considering the fact that some of His apostles were originally fisherman!)
Christ would also tell the disciples on the road to Emmaus that His Passion was necessary for Him to enter into His glory. (Luke 24:26).
Indeed, Jesus had predicted several times during His earthly ministry that His Resurrection would follow His Passion and Death. His apostles couldn't really grasp what He was saying, however.
For example, after they witnessed His Transfiguration, (see here for details) Jesus told Peter, James, and John not to say anything about this awesome miracle until after He had risen from the dead. We read in Mark's Gospel that they didn't understand what he meant by that! (Mark 9:10). Could any of us have really understood Him if we'd been in that situation?
Certainly the chief priests and the Pharisees who insisted the Romans crucify Jesus didn't understand Him! After His death they specifically asked Pontius Pilate to place both a stone and a guard in front of Christ's tomb "lest His enemies come and steal His body and say He is risen" (Matt 28:64).
Pilate grated their request, inadvertently giving us quite tangible evidence that our Lord did indeed conquer death. After all, when Mary Magdalene and the other holy women came to anoint His body on that incredible Sunday morning, we read in Matthew's Gospel that an earthquake rolled away the stone and then an angel sat on it (Matt 28:2). And there was no one in the tomb!
(Sadly, however, there have been skeptics about our Lord's Resurrection ever since then. One well-known contemporary scholar has even speculated that Christ's body couldn't be found because it had been eaten by wild dogs!)
Mary herself gave St. Bridget this inspiring thought. As related in our Sixth Sorrow essay our Sorrowful Mother had a glimmer of hope mixed in with her tremendous anguish:
"Though I felt a grief over the death of my Son that could not be compared to any other, I also rejoiced in my soul, because I knew that my Son would not die again, but would live forever. And thus, some joy was mingled with my sorrow. Then they placed Him in the tomb."
Before that, our Sorrowful Mother helped prepare her Divine Son for His burial, as she told St. Bridget, although, her role here is not mentioned in Scripture. (We can certainly believe she played an important part in these preparations, however!) She told the famous mystic, something else that attests to her great faith:
"I did not sew up the cloth, for I knew for sure that He would not decay in the tomb."
This fits right in line with what St. Ambrose once said about Mary "She was not ignorant of the mystery that she had given birth to a child who was to rise from the dead."
As with all these approved private revelations from St. Bridget and others, we are not required to believe in them as Catholics the way we would the Nicene Creed, for example, but the thoughts expressed here certainly are inspiring and can give us great hope!
After all, Christ fulfilled His mission for our salvation in His death, that His Resurrection may one day be ours as well! As St. Jerome once said "by Christ's burial we will rise again." May this great hope help us all to live as "citizens in training" for heaven through prayer, obedience to His will, and the love we show Him, Our Blessed Mother, and each other as well!
(Back) The Sixth Sorrow 

HELP SUPPORT OUR WEBSITE WITH PURCHASES
FROM OUR BOOK AND GIFT STORE
OR CAFE PRESS STORE!
CHECK OUT OUR PODCASTS HERE!

22

Return from the Seventh Sorrow to
Prayers to the Sorrowful Mother