THE SIXTH SORROW
MARY RECEIVES THE DEAD BODY OF JESUS IN HER ARMS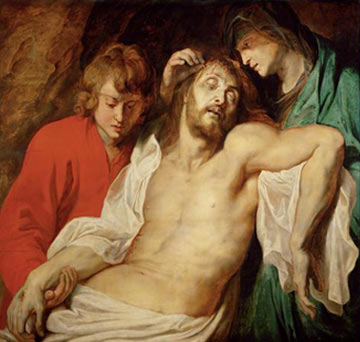 THE FIVE FIRST SATURDAYS IS A DEVOTION NEEDED NOW MORE THAN EVER! FIND OUT MORE HERE
THE SAINT MICHAEL PRAYER AND THE ROSARY
ARE ALSO POWERFUL PRAYERS TO HELP US THROUGH THESE VERY TURBULENT TIMES!
I grieve for thee, O Mary most sorrowful, in the wounding of thy compassionate heart, when the side of Jesus was struck by the lance and His Heart was pierced before His body was removed from the Cross. Dear Mother, by thy heart thus transfixed, obtain for me the virtue of fraternal charity and the gift of understanding. 

Hail Mary, etc.
This Sixth Sorrow, referenced in the prayer above, covers events right after Our Lord's death on the Cross. It was also called by St. Alphonsus Liguori, in his book The Glories of Mary, "The Piercing of the Side of Jesus, and His Descent from the Cross".
St. John in his Gospel recorded the incident described above, in which blood and water flowed out of Jesus' side after a solider thrust a lance into it upon His death (John 19:34). This was arguably the most brutal thrust of the sword that Simeon warned Mary would pierce her soul, as we read about in the First Sorrow. 

As Archbishop Fulton Sheen wrote once "Simeon had foretold that a sword her own soul would pierce; this time it came through the riven side of Her Son. Literally in his case, metaphorically in hers, it was a piercing of two hearts with one sword."
Mary revealed to St. Bridget of Sweden some extraordinarily painful details in one of many private revelations which have been approved by the church as having nothing in them contrary to faith and morals.
She told her that "A man [the soldier, commonly known to us today as Longinus] came up and drove a spear so forcefully into His [Jesus'] side that it almost came out of the other side. And as soon as he drew it out, its point was all red with blood. The Heart of my beloved Son was so violently and mercilessly pierced that the spear split His heart in two. When I saw that my Son's Heart had been stabbed through, I felt that my own heart was likewise pierced, and it was a wonder that it did not break."
Talk about a heartbreak indeed!
St. Bridget herself related a corroborating vision she had about our Blessed Mother's reaction to this incident. According to this 14th century mystic, one of the Patron Saints of Europe, Mary "trembled so violently, and with bitter groans, that her countenance and manner showed that her soul was then pierced with a keen sword of grief."
As St. Bernard said: "The lance which opened his side passed through the soul of the Blessed Virgin, which could never leave her Son's heart."
And yet, she stayed by Jesus until His body was taken down from the cross soon afterwards. Although there are no specific scriptural references to our Blessed Mother's having received our Lord's body, tradition has it that she did indeed hold Him in her arms one last time before He was laid in the tomb. This Sixth Sorrow is also the Thirteenth of the Stations of the Cross. 

The 17th century Flemish baroque painter Peter Paul Rubens, painted a moving interpretation of that scene called "the Lamentation of Christ by Mary and John", shown above. Michelangelo's famous sculpture Pietahas touched countless souls over the centuries with its own heartrending portrayal of our Blessed Mother's grief, as shown below.
Let Mary describe the scene further, again, in her revelations to St. Bridget:
"While the others left the scene, I did not want to go away. Later my Son was taken down from the Cross…. we carried Him to a stone which I had covered with clean linens. All my Son's limbs had become stiff and cold in death, and the blood which had flowed over them during His Passion adhered to them. But I was indeed consoled that I could touch His body and take him onto my lap, examine His wounds and dry up the blood…. Then they laid Him out on some clean linen, and with my cloth, I washed His wounds and His limbs. And with my fingers I closed His eyes and His mouth, which were open when he died."
Can you imagine the care with which Mary cleaned those wounds? How lovingly she must have washed off Jesus' Precious Blood, shed for our sake! The composure she must have shown in the midst of all this tragedy. And all for us, that we might have Eternal Life! As Our Lady said to St. Bridget "So you see, my daughter, what my Son suffered for you."
Let us try to console Mary for her sacrifice and sorrows by turning to Jesus in prayer with all our hearts, with love and a sincere contrition for our sins. And if you feel afraid to do so, ask our Blessed Mother to assist you.
Consider these words from St. Alphonsus Liguori as he quotes another religious figure: "If you desire, O children of Mary, to find a place in the heart of Jesus, without fear of being rejected…'go with Mary; for she will obtain the grace for you.'"
(Back) The Fifth Sorrow (Next) The Seventh Sorrow

HELP SUPPORT OUR WEBSITE WITH PURCHASES
FROM OUR BOOK AND GIFT STORE
OR CAFE PRESS STORE!
CHECK OUT OUR PODCASTS HERE!

22

Return from the Sixth Sorrow to
Prayers to the Sorrowful Mother