THOUGHTS ABOUT ADVENT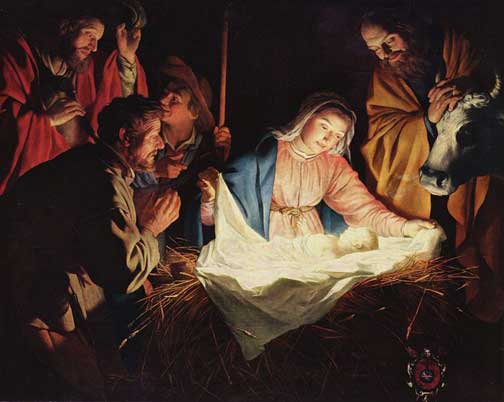 THE FIVE FIRST SATURDAYS IS A DEVOTION NEEDED NOW MORE THAN EVER! FIND OUT MORE HERE
THE SAINT MICHAEL PRAYER AND THE ROSARY
ARE ALSO POWERFUL PRAYERS TO HELP US THROUGH THESE VERY TURBULENT TIMES!
NOVEMBER IS AN ESPECIALLY IMPORTANT MONTH
TO PRAY FOR THE HOLY SOULS IN PURGATORY
WHO NEED AND ARE GRATEFUL FOR OUR PRAYERS!
As we head into the Christmas season, Catholics and other Christians all over the world celebrate Advent. This is a very special time, one in which we await Jesus' birth in Bethlehem. In reflecting on his first coming among us as a baby in a stable, we can also use this time to focus on His second coming in triumph and glory at the end of time.
Some of our Mass readings this time of year have a distinct eschatological (end times) flavor to them. They deal with getting ready for an era of great cataclysmic events (such as in Luke 21:20-28) which will be followed by a glorious time of peace, joy, and harmony with Jesus' return, when the lion finally lies down with the calf and war becomes a tragic memory at best (such as in Isaiah 11:1-10).  
While we don't know when Jesus will return, each of us will face our own "end times" at death when we will face our Lord and our Eternal destiny in heaven or hell (with a possible period in Purgatory) in what we call our general judgment. 
As such Advent is a good time to take stock of our lives, to make sure, as in the Parable of the Ten Virgins (Matt 25:1-13) there is enough oil in our lamps as we prepare to meet the Bridegroom as he comes by examining our consciences and going to confession whenever possible.
It's too easy to let this time of year become a source of needless stress and distractions over the trappings of the season, particularly over Christmas shopping. It seems we get bombarded more and more by ads to "buy buy buy!!!" and "give give give!!!" We can't even stop for Thanksgiving! Black Friday has now been extended into Thursday night, and don't forget Cyber Monday!! 
And in the midst of all this, we have a new somewhat sad tradition: that of arguing over about whether or not we should even be wishing each other "Merry Christmas". Most people would have no problem saying "Merry Christmas" and "Happy Chanukkah" in addition to "Happy Holidays" but that last greeting seems to have won out, in this Politically Correct world we live in, as the only polite greeting!  
In addition, sadly during this time of year there is a spike in depression, and even suicides, from those who feel left out of the Great Advertised Utopia of the Holly Jolly World where everyone seems to be finding love, family harmony, happiness and great gifts, except you! Never mind that this is an illusion. It weighs heavily on many hearts in any case, like anxiety over how many Facebook friends one has! (Friends?? How can you be a friend to 2000 people anyway? How can they be friends to you this side of heaven with our constraints of space and a 24 hour day??)
And yet…Advent can be and should be a joyful time, in a key way. The late John Cardinal O'Connor put it this way in his book A Moment of Grace, a wonderful collection of His Eminence's homilies on the Catechism of the Catholic Church. He related in a homily on the first Sunday in Advent in 1993 how he'd been to confession with an elderly priest who shared with him this wonderful insight on the season:
"Now is a moment of grace. Something big is about to happen; something very big. And it's going to happen to you. We are about to begin Advent. God has become incarnate in the human condition, for you, personally for you. God has become a little baby in the middle of the sins you have just told me about. You have reason for new and wonderful hope."
His Eminence continued: 
"I left that confessional feeling highly excited over the coming of Advent—a very personal excitement over the fact that Christ came to us almost two thousand years ago as one of us, and that He is still coming each day, in each Mass, and in a thousand different ways. And that He would have come if I—if you—were the only person in the world."
We read often at Christmastime, and certainly during Epiphany which follows soon afterwards, of the Three Kings who came to visit and adore the Christ child, bearing gifts having followed the star of Bethlehem to the grotto (cave) where the Holy Family were staying.
In the midst of all the Christmas preparations, think of what you might want to give that little baby who was born in a cave to die on a cross so that you might have Eternal Life!
What better gift could we give ourselves and our loved ones than to become more Christian, more loving, more Christ-like, that is to say, to give Him permission, as Mother Teresa once suggested, to work within us? What better gift to present to the little baby in that stable in a grotto outside of Bethlehem? 
As the Blessed Mother told Ven. Mary of Agreda in a church-approved private revelation: "Great were the gifts which the Kings offered to my most holy Son, but greater still was the affection with which they offered them….There are few in the world who use temporal riches well and offer them to their Lord with the generosity and love of those holy Kings. You too can make such an offering of the things necessary for sustenance, giving a part to the poor. Your ceaseless offer, however, must be love, which is the gold; continual prayer, which is the incense; and the patient acceptance of labors and true mortifications which is the myrrh. All that you do for the Lord, you should offer up to Him with ardent affection." 
Think also of what Jesus was trying to tell us in his birth under such seemingly ignominious circumstances. His birth could have been as regal as was befitting His personage as God made man.
He could have chosen to been born in a palace, or even perhaps in the great Temple in Jerusalem. Instead, he chose to take his first glimpse in His humanity in a stable, with a manger for his crib! 
Truly this was a scene of great contrasts, of animals and angels, of shepherds and kings! And yet we have here a poignant lesson in the importance of humility. Christ chose poverty for His birth just as much as ignominy for His death to teach us all just how much He values that Godly virtue! 
It's as if to say, if these kinds of humble circumstances aren't too lowly for God, then why should they be for us? In a world gone so awry with worship not of the true God born at Bethlehem, but of the false Gods of power and privilege, this is a lesson worth learning indeed, even though it seems so elusive to so many of us!!
As the Blessed Mother told Ven. Mary: "Who would be so hardened as not to be moved to tenderness at the sight of their God become man, humiliated in poverty, despised, unknown, entering the world in a cave, lying on a manger surrounded by brute animals, protected only by a poverty-stricken Mother, and cast off by the foolish arrogance of the world? Who will dare to love the vanity and pride which was openly scorned and condemned by the Creator of Heaven and earth in His actions?"
In keeping with spirit of the season, I would like to present some Advent prayers as well as excerpts here from various private revelations that have been properly vetted by the church for having nothing that contradicts faith and morals.
While we as Catholics are not required to believe them, they nonetheless provide some nourishing "food for thought" and meditation for this Advent and Christmas season. On behalf of Our Catholic Prayers, I'd like to wish all of our readers a Blessed Advent and Christmas season!
God Bless,
Christopher Castagnoli
for www.ourcatholicprayers.com
A GREAT ONLINE ADVENT RETREAT! 
Would you like to go on a retreat this Advent but don't think you have the time? I'd like to recommend this great free resource: http://rcspirituality.org/! Join Father John Bartunek, LC, online as he explores "The Hidden Treasures of Christmas" in his Retreat Guide for Advent.
You can check out his inspiring, accessible talks anytime, anywhere, on your schedule! And they're available in three formats: Video, Audio and PDF (for the illustrated text version).
You can even download these talks in all three formats so you can enjoy them on your computer, smartphone or tablet. Take advantage of this great way to draw closer to our Lord and our wonderful faith!
HELP SUPPORT OUR WEBSITE WITH PURCHASES
FROM OUR BOOK AND GIFT STORE
OR CAFE PRESS STORE!
CHECK OUT OUR PODCASTS HERE!

22

Return from Thoughts About Advent
to Catholic Prayers Blog Page List