THE FIFTH SORROW

JESUS DIES ON THE CROSS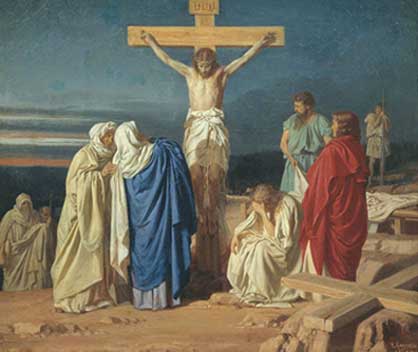 THE FIVE FIRST SATURDAYS IS A DEVOTION NEEDED NOW MORE THAN EVER! FIND OUT MORE HERE
THE SAINT MICHAEL PRAYER AND THE ROSARY
ARE ALSO POWERFUL PRAYERS TO HELP US THROUGH VERY TURBULENT TIMES!
GROW IN FAITH AND PRAYER WITH HALLOW!
I grieve for thee O Mary, most sorrowful, in the martyrdom which thy generous heart endured in standing near Jesus in His agony. Dear Mother, by thy afflicted heart, obtain for me the virtue of temperance and the gift of counsel. 

Hail Mary, etc.
In this Fifth Sorrow, covered in this prayer above, as well as in this scriptural reference, we see Mary's agony joined to Jesus' in facing His death. Our Blessed Mother told St. Bridget, a 14th century Swedish mystic to whom she gave many private revelations, that she knew from the time of Christ's birth, "by divine inspiration," that her Son would die for our salvation. But the fact that we would be redeemed served only to alleviate, not eliminate her anguish.
(Just as a side note, the private revelations we're referring to here are those given by God or Mary, for example, to certain people, that we as Catholics are not required to believe, but that the church has determined have nothing in them contrary to faith and morals.)
Our Lord didn't shy away during His ministry from predicting His death any more than he flinched from being, as St. Paul would describe Him in his letter to the Philippians "obedient [to His Heavenly Father] unto death, even death upon a cross." (Phil 2:8) (Jesus mentioned it several times in the Gospels.) At His arrest in Gethsemane He insisted that His Passion must proceed for Scripture to be fulfilled (Matt 26:54).
As Christ put it, no one took His life from Him, he laid it down, for us(John 10:18). Still, we might ask, why in such a brutal manner? In short, to show God's immense love for us, that we might love Him, and each other, in return, realizing that we have been redeemed as St. Paul said "at a great price" (1 Cor 6:20).
So, in this Fifth Sorrow our Blessed Mother herself paid a tremendous price. She gave us her Son! He, in turn gave us His Mother, when He entrusted her to St. John's care with His words from the Cross "Behold thy son….behold thy mother." (John 19:27). (The Church has long held these words made Mary our Mother as well as St. John's, spiritually rather than biologically, of course.)
Mary stood at the foot of Christ's cross, along with this beloved disciple, one or two other Holy Women, and Mary Magdalene. Jesus at that point had been, as he put it once to Sr. Josefa Menendez, a Spanish nun, "reduced to such a state of pitiful disfigurement as to no longer resemble a human being".
(Those of you who've seen Mel Gibson's movie The Passion of the Christcan confirm that. Our crucifixes, as heart-wrenching as they are, looked "cleaned-up" by comparison, for the most part!)
Mary was powerless to help Jesus. There was no way to stave off this brutal expiation for the sins of humanity. And what's more, as St. Thomas Aquinas wrote, "The cruelty of His crucifiers pierced Mary's heart, which is clear from the fact that they would not permit her to moisten with a drop of water, the parched and feverish lips of her dying son, nor even allow her to console her child in any manner. She who would gladly have given her own life to save His."
Mary's words to St. Bridget capture her mood in this whole scene quite well:
"I stood right next to His Cross, and because the nearer something is to the heart the keener is its stab, so His suffering was more painful to me than to others. And when He looked down at me from the Cross, and I looked up at Him, tears streamed from my eyes like blood from veins…..His suffering became my suffering because His heart was mine…in a certain my Son and I redeemed the world with one Heart."
What's more, the sight of Mary and the others' profound grief at seeing our Lord in this horrible state only increased His anguish. She continues:
"Though He was in the midst of such suffering, when He looked down at His weeping friends, who rather than see Him suffer thus, would have wished to undergo the same pains themselves, the sorrow which the suffering of His friends caused Him was far greater than all the bitter pain which He had to endure in His body and His Heart, for He loved them tenderly."
Then came Christ's death:
"Finally His head dropped, and His beard rested on His chest. Then my hands became numb. Darkness appeared before my eyes. My face turned white as a corpse. My ears could no longer hear, and I could not utter a word. My feet gave way. And I sank to the ground. But when I arose again and saw my Son more despised than a person afflicted with leprosy, I directed my will completely toward Him."
During those bitter hours of Jesus' Crucifixion, Mary also had to endure the jeers of all those who mocked our Lord, taunting Him to "come down" from the Cross if He really was the Son of God (Matt 27:40). (People's cluelessness and heartlessness were fully on display here! It's not for nothing that among our Lord's last words were "Father, forgive them for they know not what they do"; Luke 23:34.)
As our Blessed Mother later told St. Bridget "I heard some say that my Son was a thief; others, that he was an impostor; others, that no one deserved death more than he did; and every word was a new sword of grief to my heart." Had Simeon not indeed prophesized years earlier that Jesus would be a sign that would be contradicted and that a sword would pierce her soul? (Luke 2:34-35)
We can get an idea from these quotes above just how much our Blessed Mother she suffered, as well as how much strength and determination it took for her to remain at the foot of the cross and not leave before her Divine Son died. In that sense she was indeed a true martyr for our faith, (The word martyr means "witness" in the original Greek from which it is derived.)
St. Bernard called Mary a martyr "not by the sword of the executioner, but by the bitter sorrow of her heart." Indeed, the Church calls her the Queen of Martyrs!
And yet, Mary told St. Bridget about one intriguing, and what should be for us, inspiring consolation she experienced. (Again, we emphasize here that none of these revelations are required beliefs for Catholics. You can choose to take them at face value or not. But they certainly can help us grow in our faith!)
As we mentioned earlier, Christ said in John's Gospel how no one took His life from Him, that He laid it down voluntarily (John 10:18 ). Mary says that at Jesus' death "I fully understood that everything had happened in accordance with His Will and that it could not have happened unless He had permitted it. And I thanked Him for everything. A certain joy was mingled with my grief, for I perceived how He, who had never sinned, had willed to suffer so much for sinners, out of His great love."
Speaking of thankfulness, as St. Albert the Great once said "As we are indebted to Jesus for what he suffered for love of us, we are also to Mary for the martyrdom which she, in the death of her Son, voluntarily suffered for our salvation."
Let us indeed show our gratitude to our Lord and our Lady for their suffering in how we live our lives as Christians. And remember you can always offer up your own trials to God for the forgiveness of sins, just as Christ did at Calvary!
(Back) The Fourth Sorrow (Next) The Sixth Sorrow
HELP SUPPORT OUR WEBSITE WITH PURCHASES
FROM OUR BOOK AND GIFT STORE
OR CAFE PRESS STORE!
CHECK OUT OUR PODCASTS HERE!

22

Return from the Fifth Sorrow to
Prayers to the Sorrowful Mother