THE FOURTH SORROW
MARY MEETS JESUS ON THE WAY TO CALVARY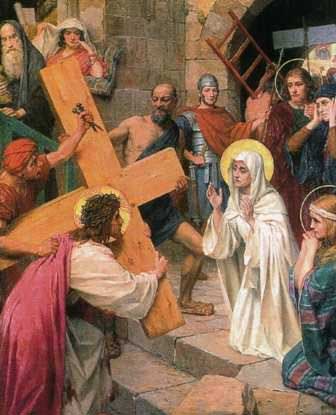 THE FIVE FIRST SATURDAYS IS A DEVOTION NEEDED NOW MORE THAN EVER! FIND OUT MORE HERE
THE SAINT MICHAEL PRAYER AND THE ROSARY
ARE ALSO POWERFUL PRAYERS TO HELP US THROUGH THESE VERY TURBULENT TIMES!
NOVEMBER IS AN ESPECIALLY IMPORTANT MONTH
TO PRAY FOR THE HOLY SOULS IN PURGATORY
WHO NEED AND ARE GRATEFUL FOR OUR PRAYERS!
I grieve for thee, O Mary most sorrowful in the consternation of thy heart at meeting Jesus as he carried His Cross. Dear Mother, by thy heart so troubled, obtain for me the virtue of patience and the gift of fortitude. 

Hail Mary, etc.
Although the event of this Fourth Sorrow, mentioned in this prayer above, has no specific scriptural reference, it shows up as the Fourth of the Stations of the Cross prayed throughout the year, but especially during Lent.
Private revelations, along with words from theologians, give us some moving insights as to what might have been going on in Our Blessed Mother's mind, in this heartbreaking moment, when as St. Bernard said "the most sorrowful Mother met the most sorrowful Son"!
(Just as a side note, the private revelations we're referring to here are those given by God or Mary, for example, to certain people that we as Catholics are not required to believe, but that the church has determined have nothing in them contrary to faith and morals.)
To set this up, keep in mind the horrible scene unfolding before Mary's eyes. Jesus was heading straight to His death, His sacrifice for us at Calvary for our redemption. He had been kicked, beaten, and scourged so brutally that His entire body was covered with wounds, almost literally from head to toe. (And this was before the Roman prefect Pontius Pilate sent Him to be crucified.) Our Lord was then made to carry the heavy cross on which He was to die, as was common for criminals being given this barbaric form of punishment.
Mary had already experienced extraordinary sorrow from all the events up to this point in Christ's Passion. Mary revealed to St. Bridget of Sweden that when she went with St. John to see her Divine Son, as he carried His cross, "by the footsteps of my Son, I knew where he had passed, for along the way the ground was marked with blood."
The 19th century German nun and mystic Anne Catherine Emmerich provides further details concerning this Fourth Sorrow from her visions of Our Lord's Passion, published in book form as The Dolorous Passion of Our Lord Jesus Christ. (Mel Gibson used this work as source material for his movie The Passion of the Christ.)
Sister Emmerich relates how Mary and John stood at an entranceway along the street where Jesus was to pass by. They saw Him "almost sinking under the heavy weight of his cross…his head, still crowned with thorns, was drooping in agony on his shoulder. He cast a look of compassion and sorrow upon his Mother, staggered, and fell for the second time upon his hands and knees. Mary was perfectly agonized at this sight; she forgot all else; she saw neither soldiers nor executioners; she saw nothing but her dearly-loved Son; and, springing from the doorway into the midst of the group who were insulting and abusing him, she threw herself on her knees by his side and embraced him…A momentary confusion ensued. John and the holy women endeavored to raise Mary from the ground, and the archers [who were assisting in this dreadful procession] reproached her, one of them saying, 'What hast thou to do here, woman? He would not have been in our hands if he had been better brought up.'"
Can you imagine such brutal cluelessness and lack of compassion for the One who was all about compassion, and His Blessed Mother?
Christ Himself gave the following poignant account of this heartrending encounter to Sister Josefa Menendez, a Spanish nun in the 1920's. He invited her to picture this scene:
"Come a little further with Me…There you will see My blessed Mother, who heart is pierced with grief. She comes to meet Me, and that for two reasons: that seeing Me, her God, she may have fortitude to endure, and then to give Me, her Son, courage to carry on and complete the work of Redemption helped by the sight of her heroism. Consider the martyrdom of these two hearts. What does this Mother love more than her Son?...And far from being able to help Him, she knows that the sight of her anguish increases His. And I, what do I love more than My Mother? Not only can I offer her no comfort, but I know that the terrible plight in which she sees Me pierces her heart with a sorrow like My own; for if I suffer death in the body, she suffers death in her heart. See those eyes fixed on Mine, as Mine, dulled and blinded with blood are fixed on hers! No word is spoken, but what a world of intercourse our two hearts exchange in one heartrending glance…"
As our Lord said, their sufferings increased greatly just looking at each other in this horrible situation. As we read in St. Alphonus Liguori's meditation on the Way of the Cross, "Jesus and Mary looked at each other, and their looks became as so many arrows to wound those hearts which loved each other so tenderly." This scene makes us appreciate even more the sacrifice and sufferings both Mother and Son experienced for our salvation!
(Back) The Third Sorrow (Next) The Fifth Sorrow
HELP SUPPORT OUR WEBSITE WITH PURCHASES
FROM OUR BOOK AND GIFT STORE
OR CAFE PRESS STORE!
CHECK OUT OUR PODCASTS HERE!

22

Return from the Fourth Sorrow
to Prayers to the Sorrowful Mother