A CHRISTMAS NOVENA:
FOR ADVENT, JESUS, AND YOU!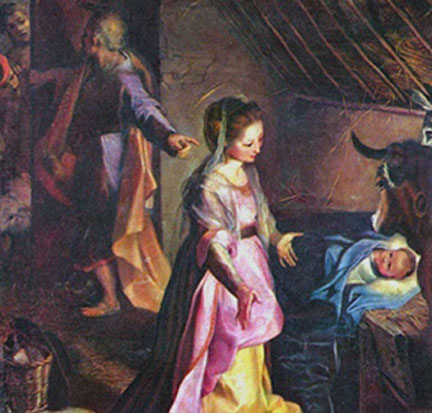 THE FIVE FIRST SATURDAYS IS A DEVOTION NEEDED NOW MORE THAN EVER! FIND OUT MORE HERE
THE SAINT MICHAEL PRAYER AND THE ROSARY
ARE ALSO POWERFUL PRAYERS TO HELP US THROUGH VERY TURBULENT TIMES!
JOIN IN THE 54-DAY ROSARY NOVENA
 FOR OUR NATION FROM AUGUST 15TH
TO OCTOBER 7TH, 2023 HERE!
THIS WEB PAGE IS ALSO AVAILABLE
AS A PODCAST HERE 

This wonderful short Christmas Novena sets an appropriate mood for our reflection below:

Hail and blessed be the hour and moment
In which the Son of God was born of the most pure Virgin Mary at midnight, in Bethlehem, in the piercing cold.
In that hour vouchsafe, I beseech Thee, O my God,
to hear my prayer and grant my desires,
[here mention your request]
through the merits of Our Savior Jesus Christ and of His blessed Mother. Amen.
(Some websites suggest praying this novena 15 times a day between now and Christmas if possible. If you can't do that many, pray it when you can in any case!)
Traditionally, novenas are prayed for the nine days leading up to their feast day, in this case, from December 16th through the 24th, but again, this is not a hard and fast rule. Pray this novena whenever you'd like as the Holy Spirit moves you.
The season of Advent can provide us all with uniquely Christ-centered backdrop for Christmas. During these weeks leading up to Christmas Day we have a wonderful opportunity to focus on Jesus, and not just on all the commercial trappings that come with this "most wonderful time of the year".
It is easy to feel somewhat lost in the midst of the frenetic pace of the Christmas season. So much to do! So much to get! And yet for many of us, this time of year can be very depressing. 
TV, now available on multiple screens and even on your phone(!), bombards us with commercials filled with people brimming with smiles and good cheer with just the right gifts at just the right gatherings! All of this advertised Holiday Happiness can enhance loneliness. It often feels like everyone's loved except you. Don't fall for this!
But where is love? Real love? It can be found in a manger from a child born to take away sin for our salvation. The miraculous beauty of the Incarnation and the Nativity gets lost all too easily in the midst of the carols, cards, and egg nog: God became a little baby over 2000 years ago to open the gates of heaven by dying on a cross at Calvary some 33 years later. He did this for each one of us, and that means for you as well!
The late John Cardinal O'Connor related in a homily on the first Sunday in Advent in 1993 how he'd been to confession with an elderly priest who shared with him this wonderful insight on the season:
"Now is a moment of grace. Something big is about to happen; something very big. And it's going to happen to you. We are about to begin Advent. God has become incarnate in the human condition, for you, personally for you. God has become a little baby in the middle of the sins you have just told me about. You have reason for new and wonderful hope."
His Eminence continued: 
"I left that confessional feeling highly excited over the coming of Advent—a very personal excitement over the fact that Christ came to us almost two thousand years ago as one of us, and that He is still coming each day, in each Mass, and in a thousand different ways. And that He would have come if I—if you—were the only person in the world."
Think of it! The creator of the universe sharing our humanity so that we might one day be able to partake of his divinity in heaven! And where does this newborn Savior draw his first breath, cry his first tears? In a stable in a cave outside of Bethlehem! There's not even room for the Holy Family in an inn! 
Christ is trying to show us the value of humility in our sanctification. It's as if He were saying "If I can handle indignity in this world, so can you!" As we read in scripture God resists the proud but gives grace to the humble (Jas 4:6). The virtue of humility is essential for us to be able to receive God's love and share it with others! 
Our Lord once told the 14th century mystic Saint Bridget of Sweden "If I had come [to earth] with great power and honor, how then would the proud have been humbled? Or will the proud now enter Heaven? Not at all! And so I came humbly [in a manger] in order that man might learn humility."
As the 18th century Saint Alphonsus Liguori once observed "The sons of princes are born in rooms adorned with gold; they have cradles enriched with precious stones, fine clothes, a retinue of the first lords of the kingdom; and has the King of heaven nothing but a cold stable without a fire to be born in, some poor swaddling-clothes to cover him, a little straw for his bed, and a vile manger to lie in?...O happy grotto, that witnessed the birth of the divine Word….when we think of the birth of Jesus Christ and the manner in which it took place, we ought all to be inflamed with love."
Speaking of grottos, St. Jerome once offered our Lord his recently finished translation of the Holy Bible one Christmas in a grotto outside Bethlehem. Jesus asked him to give him his sins as a more welcome Birthday gift! Along this line, this is an especially good time to seek out our Lord in Confession, also known as the sacrament of Penance.
Let Christ give you His graces in this very special sacrament to strengthen your inclinations to avoid sin and have true contrition for those times you do fall, as we all do. 
Do you feel all alone these days? Jesus felt so too in His earthly ministry, and He still does today, waiting for us to visit Him in tabernacles too often located off to the side in empty churches!
He complained to Sister Josefa Menendez, a Spanish nun and Mystic in the 1920's, of souls who received Him in Holy communion with indifference or boredom, not realizing He not only had graces to give them but wished to help them with their troubles, as a friend as well as their Lord! 
Spend some time with Christ in prayer at home or when commuting to work perhaps; or better yet, in Eucharistic Adoration in front of a tabernacle or monstrance where he dwells, as described here, even if just for a few minutes. Don't feel you need to recite long prayers to be in His presence. Short prayers like these will do just fine. Feel free to just speak to Him in your own words as well, as you would to a good friend!
Don't let your worldly cares and anxieties keep you from experiencing God's great love for you. And then share it with others, as a "Citizen-In training" for heaven! 
Make "room in the inn" for the Christ Child in your heart this season and beyond, in how you you love Him and in how you treat others. Let His love for you help pull you through these tough times. As Jean-Marie Vianney once said "My children, we are in reality only what we are in the eyes of God." It's what we are not what we own that counts!
God will measure how we lived by how we loved! Gifts aren't just those on a list: God has given each of us the supernatural gift of grace to better understand and to do His will. Smile, offer to help a neighbor, call a relative you haven't spoken to in a while, volunteer in a charity drive, soup kitchen, etc. These are all special ways of letting the Christ child come alive in your hearts!
And in those times you feel somewhat empty this Advent season, offer up that emptiness and anxiety to Jesus in the crib and on the cross so that He might be able to fill you up with His goodness and love! And keep in mind that offering up our sufferings to our Lord can work wonders for the salvation of you and your fellow sinners!
God Bless,
Christopher Castagnoli
for www.ourcathoicprayers.com
A GREAT ONLINE ADVENT RETREAT! 
Would you like to go on a retreat this Advent but don't think you have the time? I'd like to recommend this great free resource: http://rcspirituality.org/! Join Father John Bartunek, LC, online as he explores "The Christmas Apostle: A Retreat Guide on St. John the Evangelist" in his Retreat Guide for this season.
You can check out his inspiring, accessible talks anytime, anywhere, on your schedule! And they're available in three formats: Video, Audio and PDF (for the illustrated text version).
You can even download these talks in all three formats so you can enjoy them on your computer, smartphone or tablet. Take advantage of this great way to draw closer to our Lord and our wonderful faith!
ADDITIONAL ADVENT PAGES ON
OUR CATHOLIC PRAYERS
HELP SUPPORT OUR WEBSITE WITH PURCHASES
FROM OUR BOOK AND GIFT STORE
OR CAFE PRESS STORE!
CHECK OUT OUR PODCASTS HERE!

22

   Return from A Christmas Novena to
Catholic Liturgical Calendar

Return from A Christmas Novena
to Catholic Prayer Blog Page List