LENTEN OFFERINGS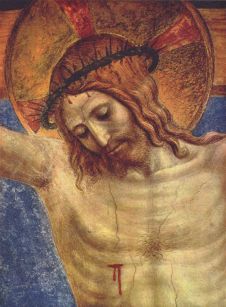 THE FIVE FIRST SATURDAYS IS A DEVOTION NEEDED NOW MORE THAN EVER! FIND OUT MORE HERE
THE SAINT MICHAEL PRAYER AND THE ROSARY
ARE ALSO POWERFUL PRAYERS TO HELP US THROUGH VERY TURBULENT TIMES!
GROW IN FAITH AND PRAYER WITH HALLOW!
Lent is a very special time for us to reflect on the state of our souls, and on our Lord's Passion for our salvation as well, with prayer, fasting and almsgiving. I've linked to some pages and podcasts below from our site that we hope can inspire you in these 40 days and beyond as well! We here at Our Catholic Prayers wish you all a Blessed Lent!
God Bless,
Christopher Castagnoli
for www.ourcatholicprayers.com
Lenten Prayers: For Our Souls' Springtime
The Sorrowful Mysteries: A Scriptural Version
Fasting and Lent: When Giving Up Something is Growing With God
THE FOLLOWING WEBPAGES ALSO ARE AVAILABLE AS PODCASTS AS WELL!
Lent and the Cross: On Following Jesus
Prayer Before A Crucifix: For God's Grace in the Midst of Grief
Stabat Mater: A Sorrowful Hymn About The Passion
A Prayer to the Shoulder Wound of Christ: Honoring His Anguish
A Three O'Clock Prayer: A Tribute to Christ's Love For Us
The Agony and the Angels: A Look at Contrasting Visions
The Crowning With Thorns: A Tales of Two Salutes to Our King
Peter's Denial and Ours: His Challenge And Ours
JESUS AND JOSEFA:
CHRIST'S LENTEN REFLECTIONS 

We also have some links below from our series "Jesus and Josefa" as briefly summarized from one of our webpages. They provide some riveting accounts from our Lord Himself about His Passion as given to a Spanish Nun, Sister Josefa Menendez, in the 1920's. These pages are available as both webpages and podcasts, and are linked below this description.
Would you like to read some inspiring words for Lenten and Rosary meditations from Christ Himself?  First, I'd like to introduce you to a very courageous, yet unassuming Spanish nun who practiced her vocation in France in the early 1920's.
As is often the case, God reveals Himself or otherwise bestows special blessings on those we might not think of as being very significant. Sister Josefa was one such person. She was by all accounts humble and yet quite good natured in performing her tasks at the convent in which she resided. 
Our Lord singled out Sister Josefa for some very important work, to articulate His thoughts about His religious and about humanity as a whole, and to help Him save souls in reparation for their sins.
Jesus gave her many graces and many wonderfully transcendent moments with Him when He would show up in her cell at various times. However, as with other religious and laity alike, he also allowed her to experience great suffering, in atonement for sinners. 
You and I can do this as well. While Christ died to save humanity as a whole, each of us are called to imitate Him not only in the love we show others but also in our willingness to offer up to God our own misfortunes and tragedies so that wayward sinners among us today might have Eternal Life. That's right. Your sufferings, your pains, can help souls reach Heaven and save them from Hell! 
What He told her goes under the heading of a private revelation, which we are not required to believe as Catholics, but that nonetheless has a great deal of merit for meditations.
Jesus' words to Sister Josefa appear in two books: The Way of Divine Love (a detailed biographical account of her life) and Christ's Appeal for Love (a shorter version). The Way of Divine Love is available in print and as an e-book. Christ's Appeal for Love is available only in electronic form at this time.
Both of these have the church's imprimatur that there is nothing in them that is contrary to faith and morals. (Indeed, the late Cardinal Eugenio Pacelli recommended her work the year before He became Pope Pius XII in 1939!). 
I hope they can help you draw closer to our Lord and help you, no matter what your situation might be, to realize just how much Jesus loves you. Remember that Christ would have undergone His humiliating Passion for you even if you'd been the only person in this world! 
Jesus and Josefa: His Thoughts Given to Sister Josefa Menendez
Jesus and Josefa: His Thoughts about the Introduction of the Eucharist

Jesus and Josefa: From the Agony in the Garden to Peter's Denial
Jesus and Josefa: His Thoughts about His Worsening Passion
Jesus and Josefa: From the Way to the Cross to Christ's Crucifixion
Jesus and Josefa: On His Seven Last Words on the Cross
Return from Lenten Offerings
to Prayer Blog Page
HELP SUPPORT OUR WEBSITE WITH PURCHASES
FROM OUR BOOK AND GIFT STORE
OR CAFE PRESS STORE!
CHECK OUT OUR PODCASTS HERE!

22